FHSU Foundation welcomes two new directors of development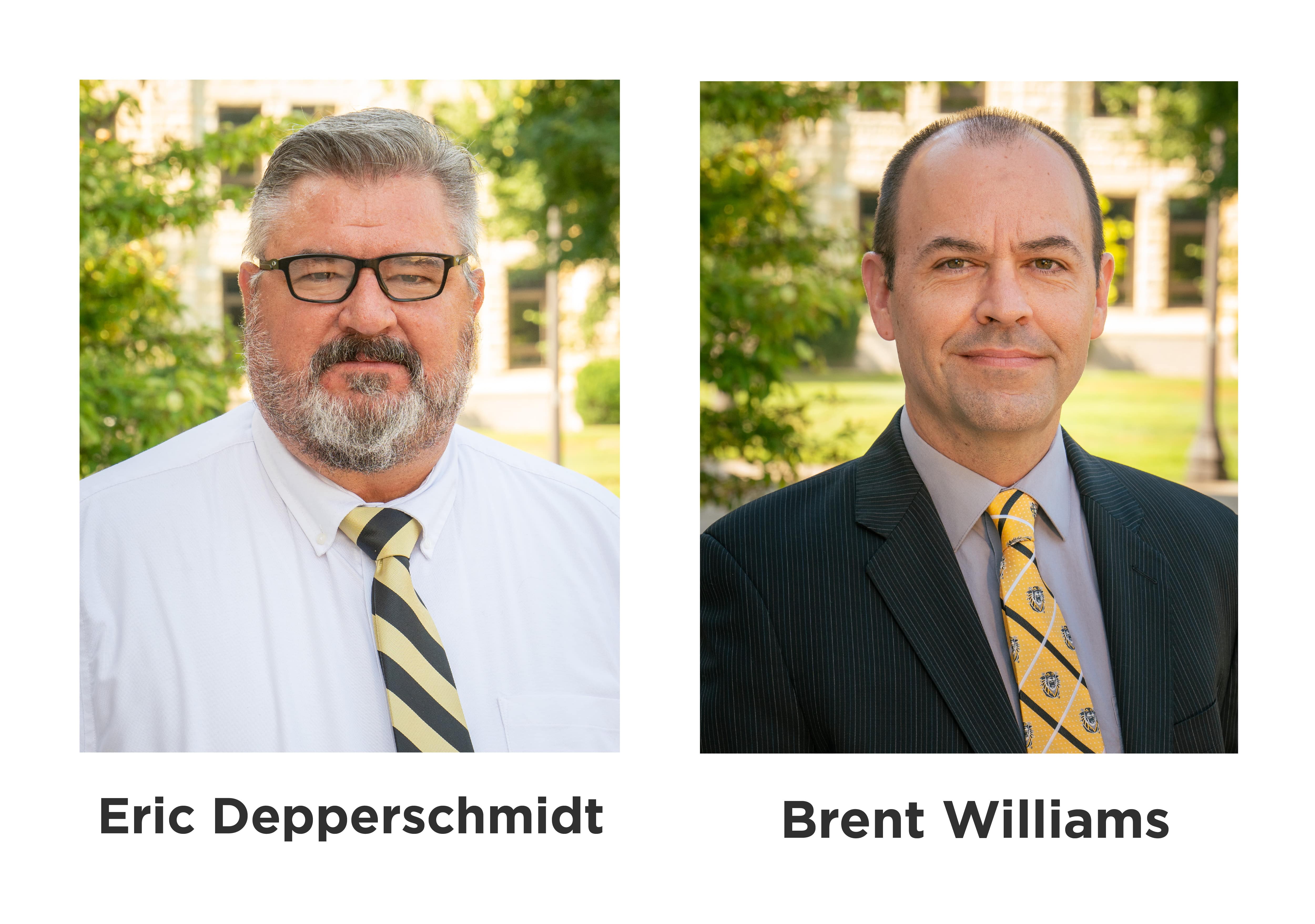 08/16/22
By FHSU University Communications
HAYS, Kan. – The Fort Hays State University Foundation is pleased to welcome Eric Depperschmidt and Brent Williams as directors of development. Depperschmidt will work primarily to raise funds for FHSU's Werth College of Science, Technology and Mathematics, while Williams will fundraise in support of the College of Health and Behavioral Sciences.
"I am pleased to have joined the Fort Hays State University Foundation team. I have great pride in Fort Hays State University and in being an alumnus," said Depperschmidt.
A western Kansas native, Depperschmidt has worked in economic development in Kansas, Colorado, and Oklahoma and as a loan officer in commercial and agriculture banking in western Kansas. Prior to working in economic development and banking, Depperschmidt served as Kansas' 1st district legislative liaison for Congressman Jerry Moran. His areas of responsibility were agriculture, rural development, and military and veterans affairs issues. He is a 1999 graduate of FHSU and an air force and national guard veteran.
Brent Williams holds a bachelors from the University of Oklahoma and master's and doctoral degrees from Florida State University in violin performance. While most of his formal experience relates to music as a prominent violinist, he also has diverse administrative, teaching, relationship-building, and non-profit experience. This background has provided a great understanding of how a university functions and the importance of donor support for student success. Williams is new to the Hays area, joining his wife, Ginger Williams, Forsyth Library dean.
"The Foundation office has such an important mission. I look forward to raising funds for FHSU student scholarships, helping to achieve capital campaign goals, and growing the endowment. This is an exciting time for Fort Hays State University and for the College of Health and Behavioral Sciences, and I am fortunate to be a part of it," said Williams.
"I am pleased to welcome Depperschmidt and Williams to our team," said Jason Williby, FHSU Foundation president and CEO. "Both bring knowledge, connections, skillsets, and a passion for FHSU to their positions."
Established in 1945, the FHSU Foundation is committed to cultivating lasting relationships with alumni, friends, corporations, and other organizations that have a passion for Fort Hays State and want to continue its legacy of excellence. As an independent, non-profit organization, the Foundation's donors have an impact on all facets of university life, and their support continues to translate into success for FHSU students.
To learn more about the FHSU Foundation, visit https://foundation.fhsu.edu, call 785-628-5620, or email foundation@fhsu.edu.