Dane G. Hansen Foundation brings cutting-edge technology to allied health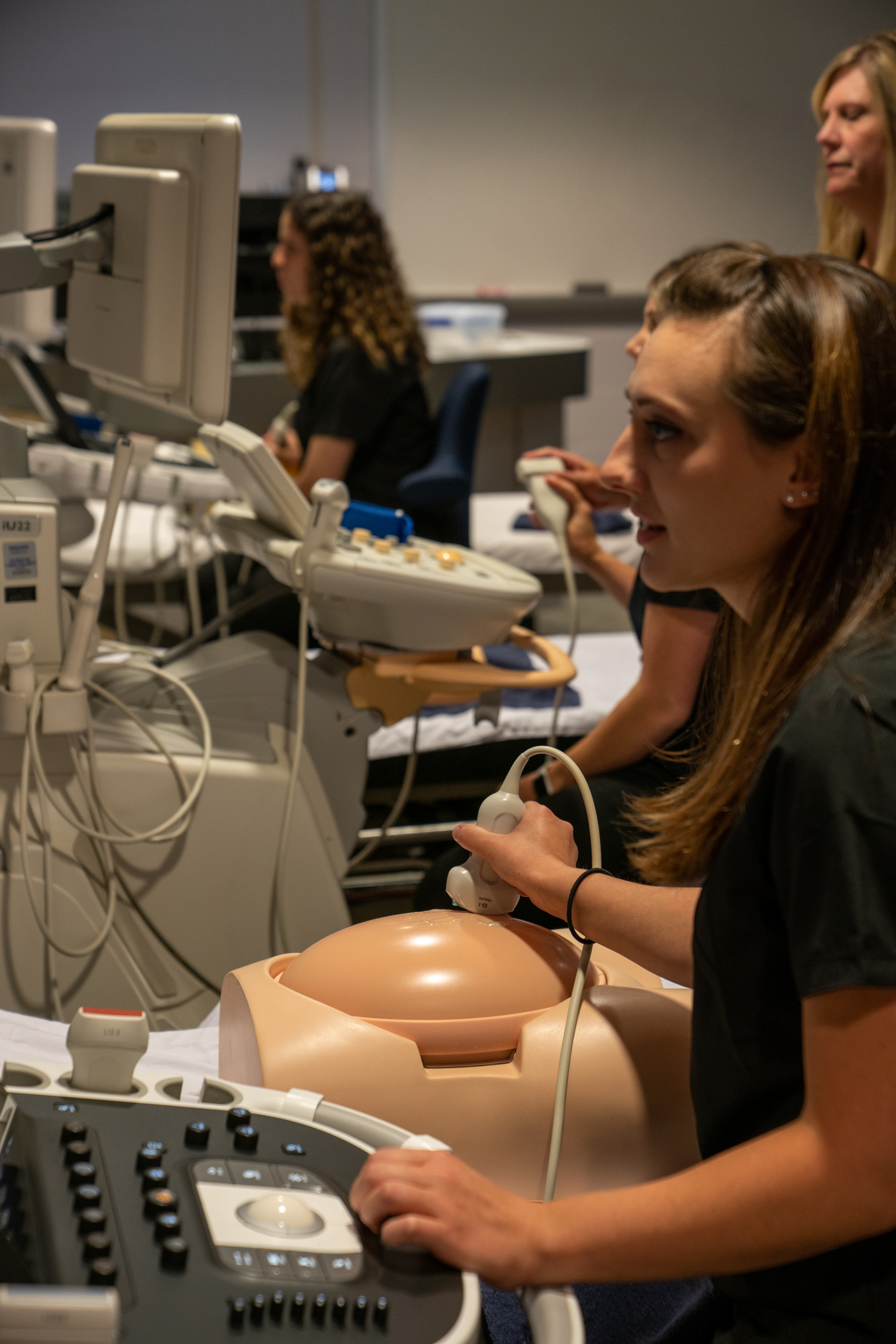 Thanks to a $100,000 grant awarded by the Dane G. Hansen Foundation, the Department of Allied Health at Fort Hays State University has recently acquired cutting-edge technology that will better prepare students for their chosen professions. FHSU dedicated an additional $75,000 in support of this project and its implementation.
At Fort Hays State University, providing students with emerging technology and training is central to its mission of fostering innovation. The new technology impacts multiple areas of medical imaging and includes a full body, radiologic imaging mannequin, and a wireless digital plate for the radiographic equipment. In addition, they have attained MRI and CT training and simulation software and multiple sonographic tissue-mimicking phantoms for simulation. Working with phantoms provides real-life, hands-on learning and allows students to hone their skills before working with live patients.
Allied Health's oldest radiographic unit in the department was upgraded to include newer digital capabilities. The new simulation training software enables students to practice Magnetic Resonance Imaging (MRI) and Computed Tomography (CT) skills within the classroom. In addition to helping students perfect their skills, this simulation software allows online students participating in the department's MRI certificate program to imagine they're in a clinical setting anywhere in the world.  
Before, the department had only one radiographic mannequin to practice imaging technology which began deteriorating due to wear and tear. In addition to its age, the old mannequin was limited in its ability to move into certain positions. The new mannequin, which will arrive later this year, will be fully articulated allowing students to move its limbs, head, and body like a real patient.
Students interested in working with sonography or ultrasound can now practice on the new tissue-mimicking phantoms, which include a full abdominal model, models for different stages of pregnancy, and for breast imaging. These phantoms replicate real tissue and allow students to practice a variety of scenarios frequently encountered in the field. For students interested in obstetric imaging, the phantoms mimic real pregnancies.
When the COVID-19 pandemic began, students were unable to practice without obstetrical guest patients, a critical tool to execute their training. By purchasing new technology, students no longer need to rely solely on guest patients to implement their skills. The expansion of training tools also allows more students in lab courses to practice at a time than ever before.
Brenda Hoopingarner, associate professor and chair of the allied health department, says the new equipment will allow Fort Hays State University students to gain more real-life experience on campus, making the transition to the clinical setting easier.
"With students having limited time working in a clinical facility, these tissue-mimicking phantoms and radiographic mannequin allow students to increase their efficiency and speed in learning here on campus," Hoopingarner says.
Hoopingarner emphasized that the new technology, in addition to the talented faculty and staff, offers students a "second to none" opportunity at FHSU.
"We want our grads to come in and have the resources crucial to succeeding in their degree program. Our training and equipment will make them the most successful so that when they enter the field upon graduation, they're able to step in and function as a graduate would," she says.
The Department of Allied Health at FHSU offers several highly competitive on-campus and online programs that train students for careers in medical diagnostic imaging. The technology purchased with this funding will prepare highly qualified and credentialed medical imaging professionals who are dedicated to the region of northwest Kansas.
Visit fhsu.edu/alliedhealth to learn about the Department of Allied Health at Fort Hays State University.