CSD students win first place trophy at state competition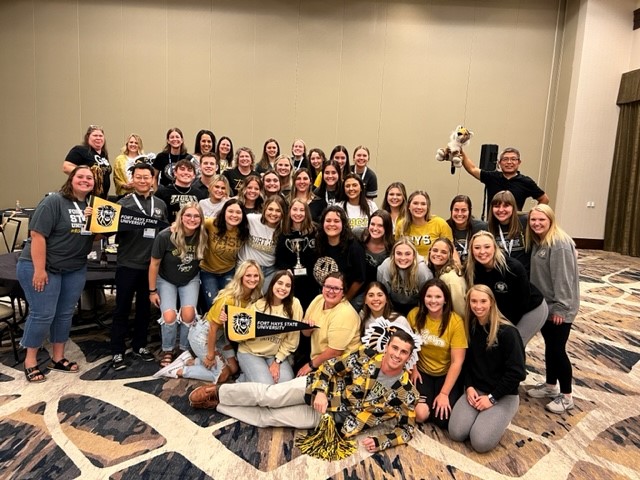 10/19/22
By FHSU University Communications
Hays, Kan. - For the second time in two years, students in Fort Hays State University's Department of Communication Sciences and Disorders brought home first-place honors from the Prairie Cup Knowledge Quest. The competition, offered as part of the annual Kansas Speech-Language-Hearing Association conference, was held this fall in Manhattan, Kansas.
Second-year students Emma Harmon, Paeton Buchanan, Mindi Uhland, and Amanda Miller competed against teams from Kansas State University and Wichita State University to take home the trophy. Thirty-five students and nine faculty members attended the conference.
"I thought it was super cool to win it two years in a row," Miller said. "It feels like FHSU is the underdog a lot of times because we're competing with much larger universities. It felt amazing to show everyone the quality of our education and the level of support we have from our staff and our peers."
"The cohort we have here is truly unmatched, and it showed through in this competition."
One research group included Uhland, Haylee Sheffield, and Alysan Buehler, with Dr. Yan Ma as their research advisor. The other group included Harmon, Buchanan, Jessie Graves, and Sarah Simminger, with Dr. Karmen Porter as their research advisor. These students all won the Margaret Byrne Sarricks Student Scholarships for outstanding poster presentations. Students from KSU, KU, and WSU all had the opportunity to apply for this scholarship as well. In addition, Harmon won the Dixie Heinrich Servant Leadership Award and was recognized by her supervisors as "an exemplar of not only excellence, but also humility, commitment, and service to others and her future profession."
The knowledge quest ran five rounds, each consisting of a series of questions related to communications science and disorders. The FHSU team won every round, thus achieving the highest number of points. Each team member won an Amazon gift card.
In November, CSD students will travel to New Orleans to attend and present their research at the American Speech-Language-Hearing Association (ASHA) Conference.