Free Hearing Screenings from Fort Hays State to be provided in Scott City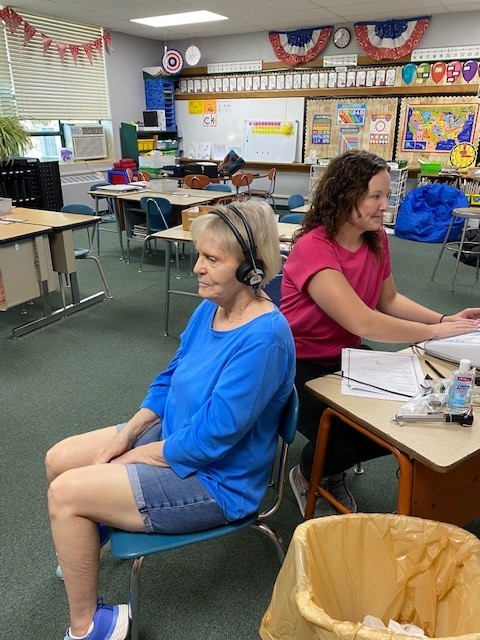 10/20/22
HAYS, Kan. – Department of Communication Sciences and Disorders graduate students will travel to Scott City, Kansas, to offer free community hearing screenings. The screenings will be under the supervision of an FHSU Herndon Clinic instructor.
This event will mark the second screening in the sixth year of free community hearing screenings. It will be held from 9 a.m. to 1 p.m., Friday, Nov. 4, at The Masonic Center, 600 Cedar Drive, Scott City, Kansas and is sponsored by Anthem Masonic Lodge #384.
Thanks to a generous grant from the Kansas Masonic Foundation, the program offers numerous opportunities for western Kansas residents of all ages to receive important health screening services that are currently scarce or difficult to access.
Appointments are encouraged, but walk-ins will be welcomed on a first-come, first-served basis. Each site will have four stations, each screening lasting approximately 15 minutes. Information about hearing loss and follow-up services will be shared during the screenings.
Participants will receive hearing screening results, free hearing protection earplugs, referral information if needed, and helpful handouts related to hearing loss such as tinnitus, hearing in noise, protecting residual hearing, and hearing aids. Hearing aids will not be for sale at the screening.
 "The partnership between the FHSU Communication Sciences and Disorders Herndon Clinic and Kansas Masons is a win-win opportunity as we are helping many communities have easy access to an important free service yet also simultaneously gaining valuable clinical experiences for our students," said Marcy Beougher, speech-language pathologist and an instructor in the Department of Communication Sciences and Disorders. "We are grateful to the Kansas Masons for their support of this quality program."
FHSU Communication Sciences and Disorders Department graduate students have screened more than 1,000 people since the screenings launched in 2016. They were not able to travel during COVID restrictions but have typically hosted screenings in five or six communities each year. During 2022, they are beginning to return to communities they visited in the past, which benefits individuals who wish to be rechecked to compare results from a previous screening. They are returning to Scott City for the first time since 2016.
This is the final screening for the fall semester. In the spring semester of 2023, screening events will be in three different communities. 
To schedule an appointment for the Scott City screening, contact Terry Phillips at 620-214-3827 or 620-872-5488.
 For more information, visit fhsu.edu/herndon-clinic/ or contact the Department of Communication Sciences and Disorders at 785-628-5366.