FHSU Criminal Justice Club shines at regional competition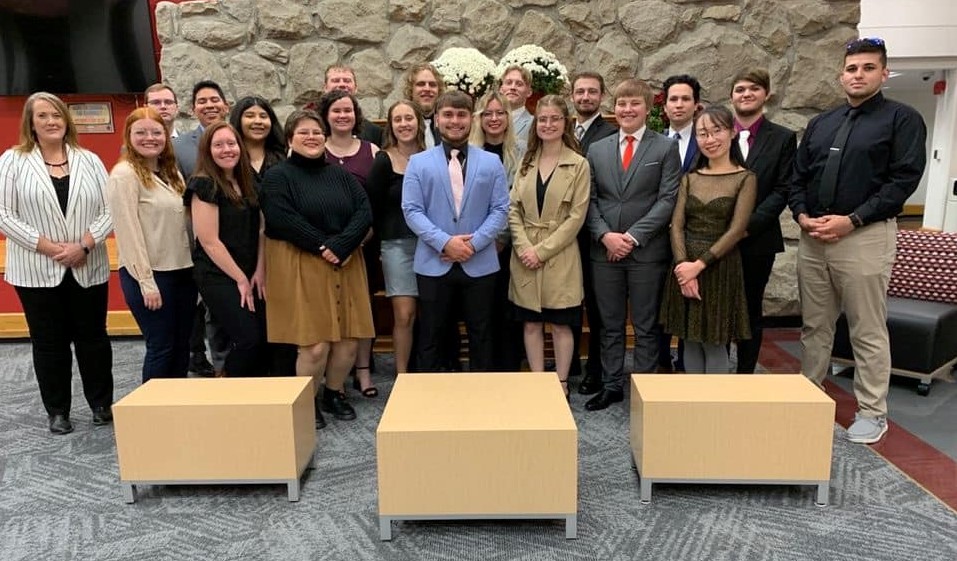 11/16/22
By FHSU University Communications
HAYS, Kan. - Members of the Delta Tau Omega chapter of the American Criminal Justice Association/Lambda Alpha Epsilon (ACJA/LAE) traveled to Warrensburg, Missouri, this fall to compete in the Region 3 Conference. With its 21 members, the FHSU's team was the largest Criminal Justice Club group to travel to a regional or national conference. In addition, team members brought home more awards than had been received at any previous competition.
 "This speaks highly of the criminal justice majors and minors who take their participation in this organization and their education seriously," said Dr. Tamara Lynn, associate professor of criminal justice. "We look forward to the ongoing success of all members of the organization."
The club competed against chapters from Garden City Community College, Metro Community College (Nebraska), Peru State University (Nebraska), University of Central Missouri, Central Methodist University (Missouri), and California State University, Long Beach.
Club members competed in written exams, including corrections, criminal law, juvenile justice, police administration, and ACJA/LAE Knowledge about the organization. Students also competed in skills-based contests, including crime scene teams, firearms (individual and teams), and physical agility. 
The final competition included scholarly poster presentations.  Written exams, crime scene processing, and firearms competition levels included lower (freshmen and sophomores), upper (juniors, seniors, and graduate students), and professional.  The physical agility competition, separated by age, male, and female, included 18 – 25, 26 – 35, and 36 + years of age.  The poster presentations were divided into lower, upper, and graduate levels.  Individual award winners, according to the level of competition, from this year's conference include:
Lower Division
Ryan Deitering, 2nd poster presentation
Storm Flores, 1st poster presentation
Ty Pearce, 3rd in Police Administration exam
David Schawe, 3rd poster presentation 
Storm Flores, Caleb Purvis, and Karen Thew, 3rd firearms team
Upper Division
Zoe Buffington, 2nd in Corrections and Criminal Law exams
Taylor Kowitz, 2nd poster presentation 
John Clayton, Abby Hayes, and Caleb Koehn, 3rd firearms team
Graduate Division
Laurelle Augustine, 3rd poster presentation
Professional Division
Laurelle Augustine, Morgan Steele, and Ziwei Qi, 3rd crime scene team
Enrique Cabrera-Rodriguez, Abby Hayes, and Tamara Lynn, 1st crime scene team
Juan Colegio, Tamara Lynn, and Morgan Steele, 3rd firearms team
Tamara Lynn, 2nd in ACJA/LAE Knowledge and 3rd in Corrections exams
Morgan Steele, 1st in Criminal Law, Juvenile Justice, and Police Administration exams, and Top Academic
Physical Agility
Juan Colegio, 3rd Male 18 – 25 
Ziwei Qi, 2nd Female 26 – 35