FHSU giving thanks for the vision of Leora B. Stroup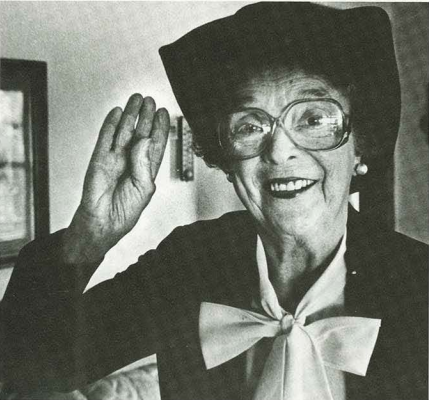 11/21/2022
By: FHSU Foundation
HAYS, Kan. – With Thanksgiving upon us, we can't help but reflect on those who have made Fort Hays State University what it is today. We are thankful for those who saw a need, had a vision, and worked tirelessly to enhance the education of our students. Leora B. Stroup built the nursing program at FHSU seventy years ago, and the program continues to grow in providing students with a world-class nursing education.
When Stroup was hired at Fort Hays State University by President Morton Cunningham and Dean E.R. McCartney to establish a training program for nurses, she approached the undertaking much like she did her life - with a commitment to offering her best.
Stroup was a major in the Army Nurse Corps with the Air Evacuation United during World War II and a graduate of Case Reserve University and Columbia University. She held pilot licensure and became the world's first nursing instructor in air evacuation. As someone who had trained nurses in the Army, Stroup recognized the critical need to educate nursing professionals.
Stroup built the nursing program at FHSU from bare bones with one faculty member, herself, 16 students, three courses, and two on-campus classrooms. In contrast, when she retired in 1971, the program had more than ten faculty members and over 100 students.
During her final year at FHSU, the nursing program became a fully accredited baccalaureate program and celebrated its first 27 Bachelor of Science degree recipients at commencement. Up until that point, students had received nursing education degrees. When Stroup wrapped up her 19-year career at Fort Hays State in 1971, she was honored in receiving the Outstanding Faculty Woman honor.
In dedication to her contributions to Fort Hays State University, Stroup was once again honored in 1981 as she became the namesake of FHSU's current home of nursing, Stroup Hall. From the nursing program's humble beginnings on the top floor of Albertson Hall, Stroup's devotion to Fort Hays State built the foundation for decades of nursing students.
While Stroup is no longer with us, her legacy continues through the lives she saved, those she touched through teaching, those who passed their skills along, and the lives of current nursing students at FHSU.
Almost 40 years after her passing, the nursing department at Fort Hays State University offers more programs and hands-on technology than Stroup may have ever dreamed of, including study at the undergraduate, graduate, and doctorate levels.
As technology continually advances and treatments adapt to changing times, so must the education for students entering the field. Today, Stroup Hall offers a simulation center with simulated hospital settings, including exam rooms, computerized manikins, computerized charting, and a surgical scrub area.
Taylor Ziegler, who completed her bachelor's and doctorate degrees in nursing at Fort Hays State, says the well-rounded program prepared her for a fulfilling career as a nursing professional.
Ziegler, a 2013 and 2022 FHSU graduate, works with children impacted by mental illness. Inspired by the possibilities of the program, combined with the success of its graduates, Ziegler chose to pursue nursing to make a difference for those living with mental illness. Since graduating with her bachelors in 2013, Ziegler has worked in mental health nursing. She says her doctorate, which she received in May of 2022, will further her ability to serve the community.
Ziegler believes the nursing program at Fort Hays State, which has a 95% pass rate for its bachelor program and 100% for its doctorate program, offers the support needed for success in the field, which includes those considering work in rural areas.
She hopes students considering the nursing program at Fort Hays State University understand how impactful their presence could be in their communities.
In the spirit of giving thanks this holiday season, consider making a gift in support of nursing students at Fort Hays State University and in honor of Leora B. Stroup. Your contributions provide scholarship opportunities for future nursing professionals whose work directly affects our communities and carries forth the legacy of those who've come before us, like Stroup. To make a gift, please visit foundation.fhsu.edu/donate or call 785-628-5620.
For more information about the nursing program at Fort Hays State, visit
fhsu.edu/nursing
.