First students complete new Business Essentials Partner Program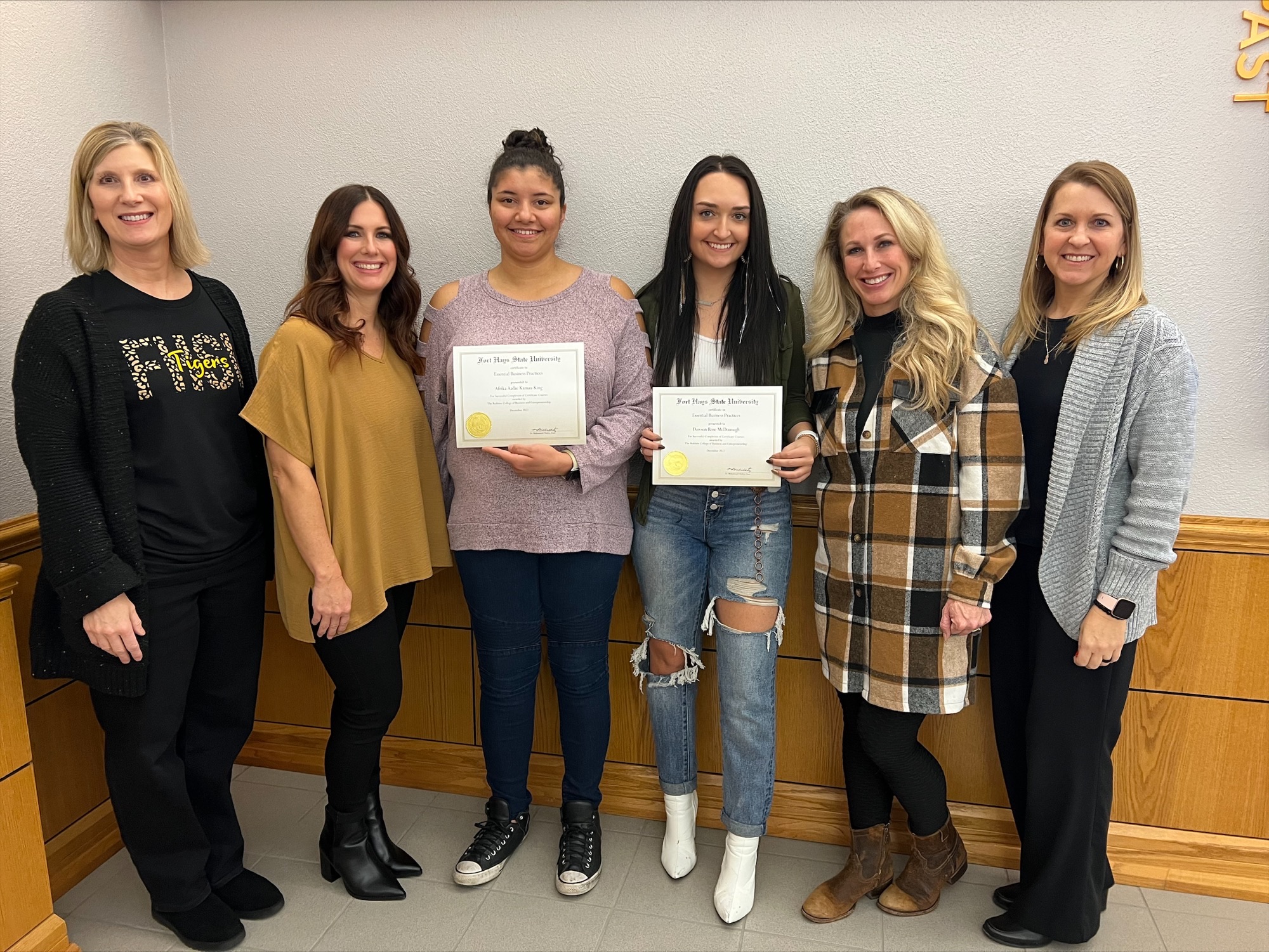 1/9/23
By FHSU University Communications
HAYS, Kan. – Just one year ago, Fort Hays State University launched a partnership with Hays Academy of Hair Design to provide Hays Academy students the opportunity to take four business courses while working toward a Business Essentials Certificate.
This past fall semester, two students, Dawson McDonough and Afrika Kaman-King, were the first to complete the program.
This partnership, allows students to enroll in at least one FHSU class and pay appropriate student fees to enjoy a variety of services offered to all Fort Hays State students, including participation in all student activities and organizations, access to health and fitness services and sporting events, on-campus student housing options, and more.  
Four classes developed by Fort Hays State faculty make up the Business Essentials certificate. The classes are Management Practices, Personal Finance, Basics of Accounting and Taxes, and Social Media Marketing.
Each of those classes run from 4:30 to 6:30 p.m. every Monday for eight weeks, so they don't conflict with the students' hours at Hays Academy.
Dr. Stacey Smith, chair of the Department of Applied Business Studies, worked with faculty to develop the courses for the certificate.
"These students already do some business coursework at the academy," Smith said. "This partnership helps them enhance and build upon their business knowledge."
For Dawson McDonough, this program fit perfectly into her future plans.
"I already had intentions of attending Fort Hays to get my business degree after graduating HAHD when I learned about this program," McDonough said. "I saw this program as an opportunity to better myself for my clients and my business and grow my knowledge of what it takes to own and/or run a business."
Originally from Loveland, Colorado, McDonough has lived in Hays for almost three years. She plans to finish her associate's degree in business through FHSU while working full time at Inspire Salon in Plainville.
Because the Hays Academy has four different start dates for classes, including February, May, August, and October, and each cohort attends class for nine months, completing 1,500 clock hours, finding housing can be a real challenge.
Dr. Dennis King, associate vice president of enrollment management at FHSU, noted housing as one of the barriers this partnership will help students overcome.
"Academy students starting on, for example, the October start date, can have a place to live immediately instead of trying to find a house or apartment in the middle of the university semester," King said. "We had two students in campus housing this fall and are going to have three in the spring."
FHSU is offering housing contracts to Hays Academy students on a month-to-month basis. That service could benefit any Hays Academy student, even those taking the academy's three-month nail technology program.
"This program is a win-win for everyone," said Hays Academy's Len Melvin – an FHSU alum. "This helps the community by attracting students to the area, in which many will remain even after completing these programs. It helps both us and FHSU recruit."
"I am extremely grateful to everyone in the Hays Academy family and at Fort Hays who took extra time out of their lives to spend their evenings teaching these classes," McDonough said. "If anyone is considering taking these classes, I would highly recommend them. Not only did I gain an abundance of information, I built relationships with the instructors and other students. I'm very happy that I got to go through both HAHD and FHSU with Afrika."
For more information about the Business Essentials Certificate program contact Len Melvin of the Hays Academy of Hair Design at len@haysacademy.com, or Dr. Stacey Smith at slsmith21@fhsu.edu.