Rocky Mountain research trip nets 360° videos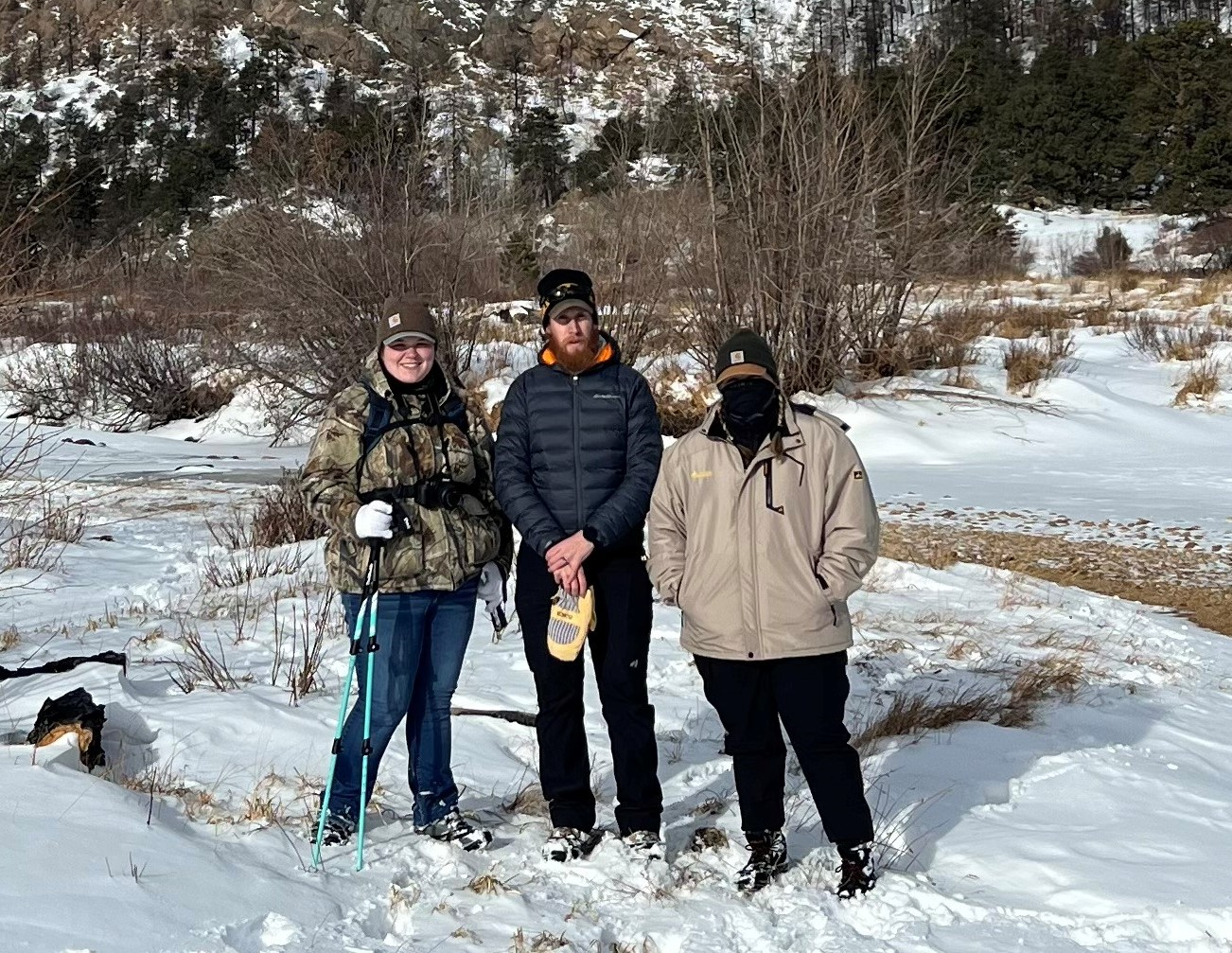 1/26/23 local
By University Communications
Hays, Kan. - Two FHSU online teacher education majors will share 360° videos with science teachers throughout Kansas. The videos were created by Brooklyn Whitcomb, Iola, and Mary Kate Hale, Olathe, during a recent research trip to Colorado led by Dr. Matthew Clay, assistant professor of teacher education. It is hoped that the videos will provide needed lesson plans based on surveys received from elementary school science teachers.
During the two days at Rocky Mountain National Park, Whitcomb and Hale, both seniors who completed Clay's science methods class in the fall of 2022, recorded between 75 to 100 videos.
Hale said her goal is to create videos that can be used as virtual field trips for special education classes.
"The videos will be for kids who probably won't be able to experience something like that in their life," she said. "I plan to use Google Cardboard or some sort of projector system to create an immersive experience for the kids."
Whitcomb agreed that the videos could be adapted to many uses.
"We can show the kids habitats in a way that makes sense and that they get to experience."
According to Whitcomb and Hale, the videos can be used in other disciplines, not exclusively for science courses.
"I hope the videos encourage more people to go out and film these beautiful landscapes that we have," Hale said. "It's breathtaking to be there. There's nothing like being there, but this is probably the closest thing you could get to it."
Interacting face-to-face with a professor brought a new dimension to the online education experience for both students.
"Being able to do this research opportunity and getting a chance to travel and learn with Dr. Clay has been fantastic," Hale said. "Friendships and relationships are difficult to create online with professors, so it was awesome that Dr. Clay gave us this opportunity."
For Whitcomb, it was a unique experience.
"It was my first time on a research trip," she said. "My first time in Colorado. My first time away from my kids. It was a whole bunch of firsts."
She was grateful for the expertise that Clay brought to the field trip.
"Dr. Clay was knowledgeable about what to expect, which really helped," she said. "He had the experience, and we had fresh eyes on what to see. So, it was a good collaboration between the two things: knowing what to expect and finding new details."
The students used an Insta360, 6K camera with two fisheye lenses. Clay said he believed it was the first time that some areas in Rocky Mountain National Park had been captured at 360° in 6K.
"They (Hale and Whitcomb) were very thorough," Clay said. "They recorded 20 to 30 videos around one particular lake. That's the first time I'm aware of that spot being documented that thoroughly. So, to me, that's exciting."
The students and Clay are working remotely to process the video files. After editing, the videos will be uploaded to YouTube. Based on the needs of teachers surveyed by Hale and Whitcomb before the research trip, the videos will be used to create lesson plans. 360° videos allow viewers to look in all directions and search for evidence of different phenomena.
"It's a lot like sticking a third grader out in a spot in the wilderness and saying, 'OK, what do you see? Why do you think that is? What evidence do you see?'" Clay said.
He emphasized that Hale and Whitcomb were adaptable during the field trip and met all challenges with positive attitudes.
"There's something to me that gets missed with online students. We have extremely talented students online with the skills and the potential for projects like this. I think Brooklyn and Mary Kate are great examples of that," Clay said.
To view a demonstration 360° video, go to https://www.youtube.com/watch?v=7ns6mggYv4A . To see the video at its highest resolution, click the settings icon, select "quality," and then "highest quality."