Spring break activities at KWEC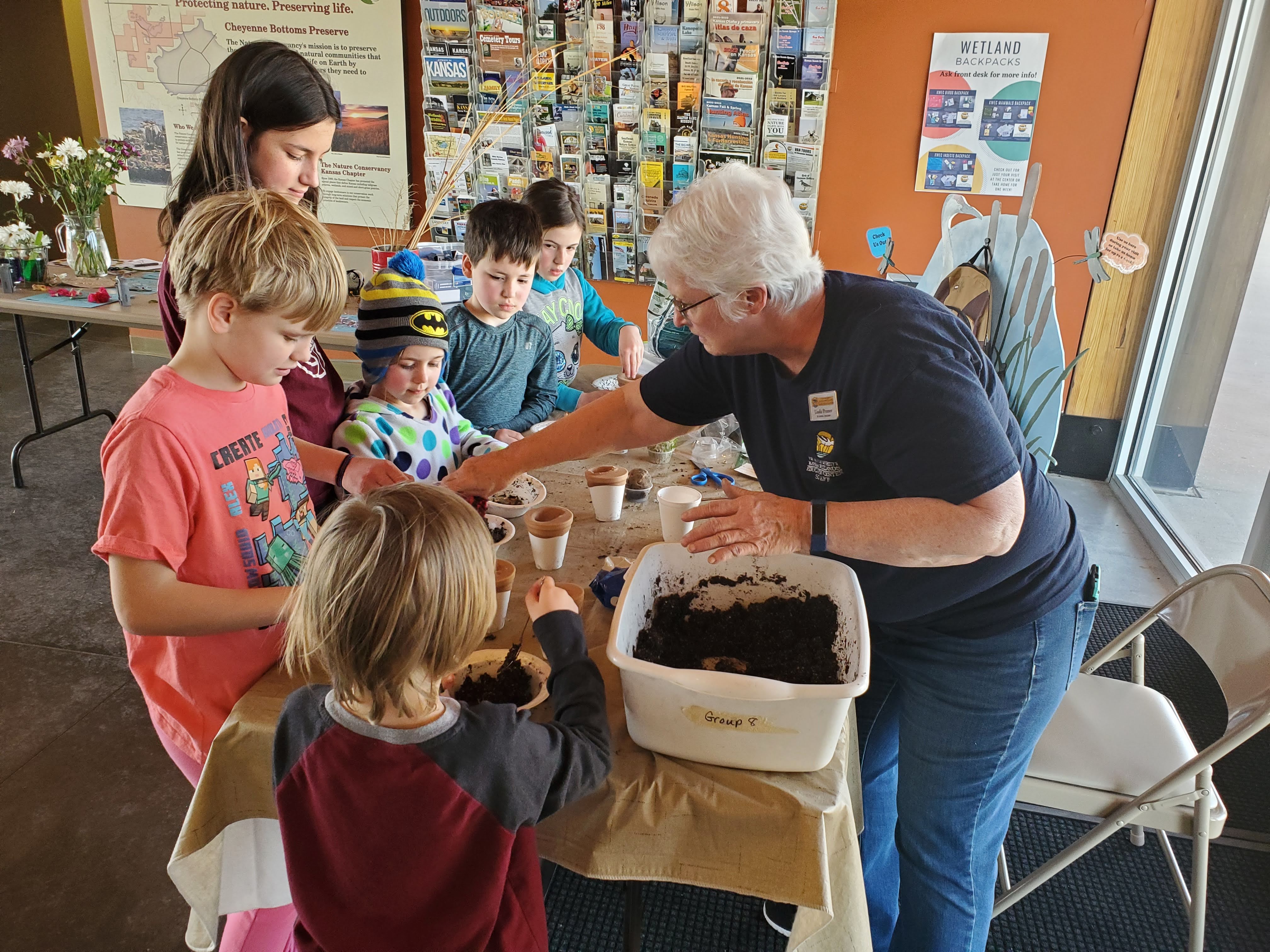 2/28/23
By FHSU University Communications
HAYS, Kan. – Fort Hays State University's Kansas Wetlands Education Center (KWEC) will host a variety of free daily hands-on activities each afternoon of Spring Break March 13-17, providing a chance for people to get out and explore the diversity of the wetlands.
Activities will take place from 1-4 p.m. each day. The event is informal, come-and-go, and no registration is required. After enjoying the hands-on activities, visitors can check out the center's interactive exhibit hall, classroom with live animals, 16-minute video about Cheyenne Bottoms, and walk the nature trail. They can also grab a map and take a self-guided tour of the wetlands.
Following is a synopsis of each day's activities.
Monday, March 13 – All About Frogs
Frogs are very important - if you see one in your garden, that means you have an adequate water supply, shelter, and a good source of food. Learn about this amphibian, what it means to be cold-blooded, how they affect the environment and make a frog craft to take home.
Tuesday, March 14 – Bird Bingo
Birds are the only living animals that have feathers. While bird species share common characteristics, there are many differences in their coloration, beaks, feet, eggs, and more. Learn what makes a bird special and play a game of bird BINGO for prizes.
Wednesday, March 15 – Where Birds Lay
Spring has started. That means more and more animals are coming out, including birds. Have you ever wondered how birds make the nests they lay their eggs in? Come and have a fun day learning how birds make their nest while trying to make a nest of your own.
Thursday, March 16 – PokéBirds
In the Pokémon universe, a young person is tasked with collecting all 150 Pokémon in hopes of completing their Pokédex. Birders embrace a similar challenge to spot and identify as many different bird species as possible. Join us to learn more about the Kansas birds that may have served as the real-life inspiration for some of your favorite Pokémon and the different tools and strategies you can use to record the birds you find on your adventures.
Friday, March 17 – Nature Journaling
Time to get creative. Nature journaling is one of the original ways naturalists recorded new discoveries. Learn how to record your observations of the natural world through drawing, writing, and more, and make a journal you can keep.
Can't join us in person or want a teaser of the activity? At 10 a.m. each day, tune in to https://www.facebook.com/wetlandscenter for a chance to meet the staff member presenting that day and a story that fits the theme of the afternoon activity. 
Also, on March 17, we will have a Turtle Tots Program at 10:15 a.m. KWEC's Turtle Tots, a nature-based program developed for preschool-age children (ages 3 to 5), presents "Eye Spy Animal Eyes." Children will use hands-on objects to investigate how many animals see the world differently than they do. They'll explore animal eyes through games, activities, a story, craft, and help from KWEC's animal ambassadors. Preregister for Turtle Tots by March 13 by calling 620-566-1456 or 1-877-243-9268.
KWEC is located at Cheyenne Bottoms, 10 miles northeast of Great Bend, on K-156 Highway. For more information, call 877-243-9268 or visit wetlandscenter.fhsu.edu.