2023 National Science Foundation Robert Noyce Scholars recognized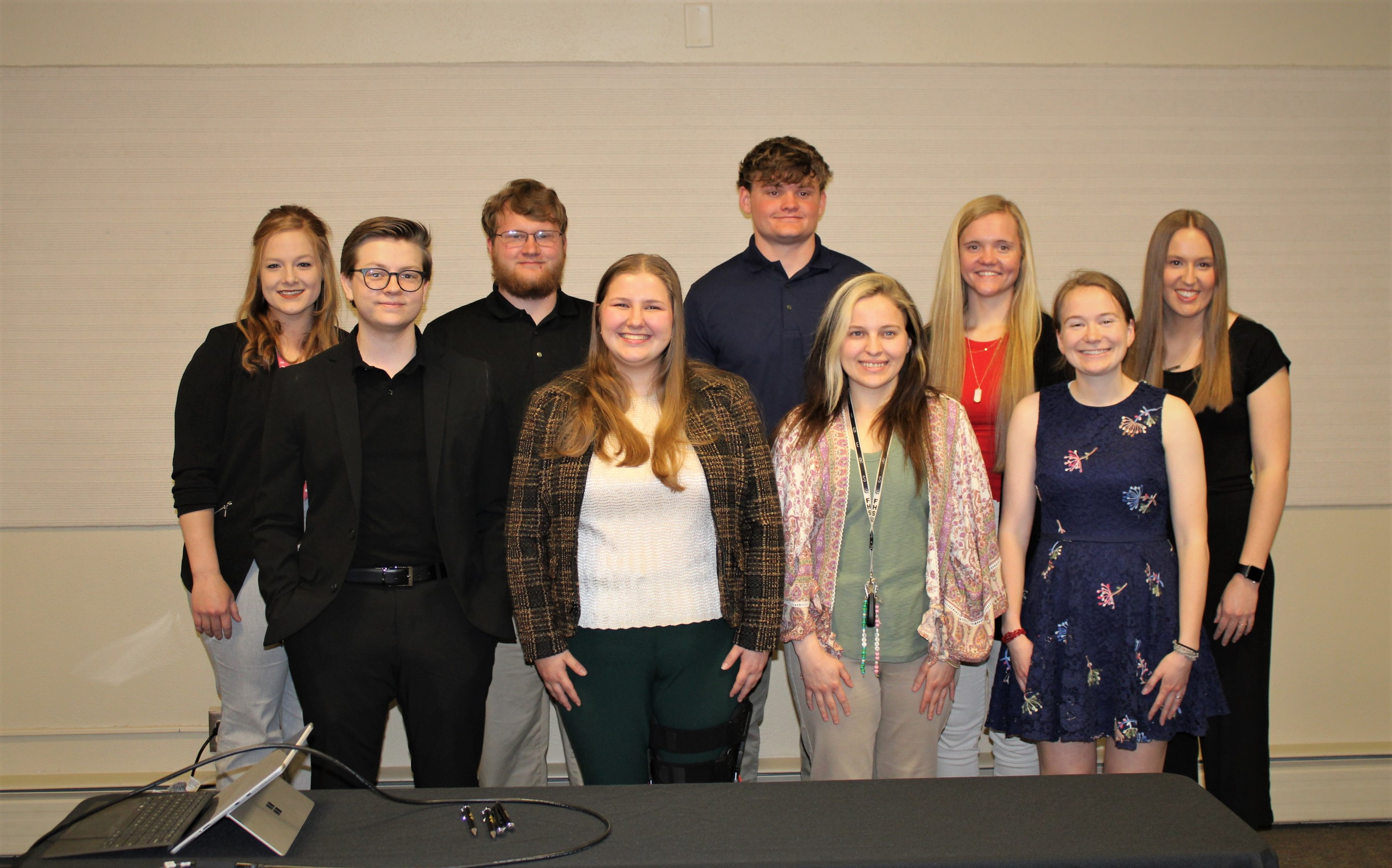 4/28/23
By University Communications
HAYS, Kan – In a packed conference room on the campus of Fort Hays State University, 12 College of Education students were recognized for their commitment to teaching science, technology, engineering, or mathematics (STEM) in a rural setting. The students are all participants in a National Science Foundation-sponsored program named in honor of Robert Norton Noyce, a technology innovator known as the "Mayor of Silicon Valley" for his contributions to the development of the monolithic integrated circuits or microchips that power modern personal computers.
Students who enroll in the program receive $14,591 annually in financial support from the National Science Foundation. Noyce Scholars also build a professional network by participating in campus activities and attending conferences and workshops off-campus throughout their undergraduate years. The scholarship was designed to help future STEM teachers succeed in small, rural schools.
Brother and sister Emma and Tyler Reif are new Noyce Scholars from Hoisington and transfer students from Barton Community College. Emma credits Barton instructor and STEM champion Charlotte Cates with inspiring her to pursue teaching and the field of mathematics. Originally, she considered teaching at the high school level but now is focused on teaching in a rural middle school where she thinks she can have the most impact. She plans to complete her student teaching capstone experience this fall.
Brother Tyler Reif was inspired by Barton Community College Chemistry professor Amanda Alliband to change his initial focus from history to Chemistry.
"Dr. Alliband and Dr. Arvin Cruz at FHSU are great champions of STEM. They helped me solidify my interest in moving over to chemistry," Reif said. "I've always loved history, but last October, I decided chemistry was where I needed to be."
Also in attendance at the event were new participants in the most recent Noyce Scholars program-a one year post-baccalaureate program designed to transition those who have earned their bachelor's degree in a STEM field into a career as secondary STEM teachers in rural schools. This new program, announced during a press conference last fall at Fort Hays State University, provides a stipend of approximately $22,000 to help ease the financial burden of the transition and allow these Noyce Scholars the flexibility to focus on their studies if they wish.
FHSU senior and new Post-Baccalaureate Noyce Scholar, Hannah Burks, grew up in the small rural town of Beloit. Her interest in teaching and living in a small town began at a very young age.
"My dad was a very busy as a teacher, administrator, and coach, but he always found time to walk me to school every day. I'll never forget this experience, and it kind of showed me how great life can be in a small town," Hannah said. In June, Hannah plans to marry a fellow FHSU alumnus currently teaching in rural Ellsworth County. She is thankful for the stipend that she and her future husband will put toward the wedding and getting started on their lives together.
The List of 2023 FHSU Noyce Scholars
Sarah Abernathy, Oberlin
Hannah Burks, Jewell
Haylee Hafenstein, Wamego
Alexis Heckel, Garden City
Mollie Houtz, Elkhart
Tyler Reif, Hoisington
Lili Shubert, WaKeeney
Kobi Shubert, WaKeeney
Victor Salazar, Dodge City
Erika Litson, Centennial, CO
Elizabeth Peterson, Lyons
Gabrielle Hammer, Wallace