Annual tech fair coming to FHSU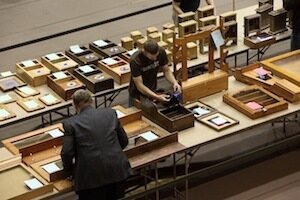 4/20/23
By University Communications
HAYS, Kan. - The 64th Annual Western Kansas Technology Education Fair is set for Friday, April 28, at Fort Hays State University's Gross Memorial Coliseum.
FHSU's Department of Applied Technology has invited Kansas middle and high school students to participate in the fair. Students enrolled in a Technology Education class will bring their projects to be displayed and judged at FHSU.
On Thursday, April 27, participants will travel to the FHSU campus, where their projects will be checked in by FHSU Technology and Engineering Education Association (TEECA) students.  On Friday, middle and high school students, faculty, and the general public are welcome to view all furniture, CAD drawings, metal works, and various other projects completed by the students. 
Doors open to the public on Friday, April 28, at 8 a.m., and projects can be viewed until 3:30 p.m. Each entry is judged, and winners will be awarded a ribbon or medal. Live competitions are available for students as well.
An awards presentation will be held at the end of the day (typically around 3:30 p.m.). The public is welcome to attend and share in the success of these middle and high school industrial technology programs.