FHSU 2023 SACAD winners announced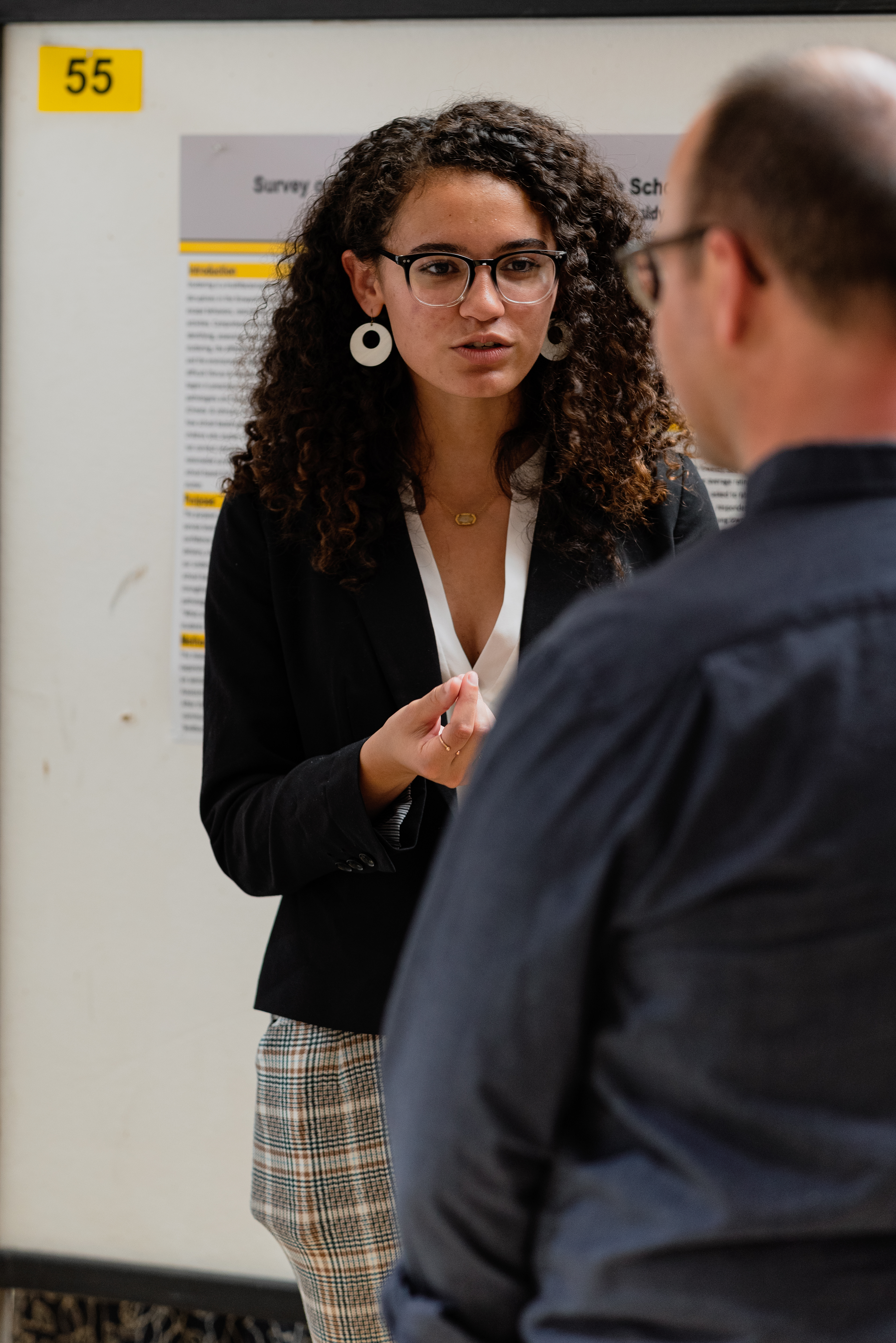 5/5/23
By University Communications
HAYS, Kan - The 18th annual John Heinrichs Scholarly and Creative Activities Day (SACAD) was held on April 19. The event was created in 2005 to allow university faculty, staff, and students to share their scholarly and creative work. From that initial in-person event, SACAD has grown to include in-person or online poster and oral presentations as well as a variety of creative works displays.
The SACAD committee, comprised of faculty, staff, and students, evaluated the scholarly and creative works and awarded prizes to the top-three submissions in the following categories:
- Empirical posters comprised of research, statistical analysis, or a program evaluation information
- Non-empirical posters that present information that is not based on research data
- Creative works, including ceramics, sculpture, drawing, printmaking, photography, and graphic design
- A senior recognition award
SACAD is sponsored by the Fort Hays State University Scholarship Environment Committee, with support from the Office of the Provost, the Office of Scholarship and Sponsored Projects, university academic departments, and the deans from FHSU's four colleges. Learn more about SACAD at: https://www.fhsu.edu/art-and-design/news-and-events/annual-sacad-art-exhibition
2023 SACAD recognized work:
Graduate empirical poster:
1.Alec Zaborniak (Hays) "Distribution and Tooth Morphoguilds of Mosasaurids (Squamata) of the Campanian Western Interior Seaway with Implications for Controls on Mosasaur"
2.Katelyn Strack and Sarah Elzay (Indianapolis, Ind.) "Native Bee Utilization of Sorghum and Community Richness in Western Kansas Agricultural"
3.Alexis Ibarra (Hays) "Launching a New Generation of Nicotine Users: The Dangers of Vaping in Adolescents"
Graduate non-empirical poster:
1.Lindsey Schofield (Suffolk, Va.) "Implementation of Computerized Curricular Assistive Tools (CCAT) And Its Effect on Student Preparedness for the New NCLEX-RN Test Plan"
2.Kaylyn Blevins and Sandra Grubb (Fort Riley) "The Effects of Standardized Remediation on Nursing Pharmacology Evaluations"
3.Kaitlin Johnson (Council Grove) "Knowledge and Self-Efficacy Levels of Students Who Aim to Enter a Perinatal Specialty as New Graduate Nurses"
3.Katy Barbieri (Abilene) "The Effect of ISBAR Tool on Patient Safety"
Undergraduate empirical poster: 
1.Kadrian Ayarza (Hays) "RNA Isolation of Aphids"
1.Westin Mash (Jamestown) "Does Weapon Type Affect a BattleBot's Performance?"
2.Hannah Cross and Jaelynn Sutter (Hays) "Colors of Cannabis in the U.S; An Analysis of Race and Marijuana"
3.Willow Ludwig and Lauren Stallbaumer (Littleton, Colo.) "Attitudes Toward Stuttering of University Instructors: A Nation-wide Survey"
Undergraduate non-empirical poster:
1.Allissa Bird and Megan Crist (Larned) "The Lasting Effects of Childhood Trauma"
2.Jaclyn Begnoche and Audrey Manry (Clay Center) "Golden Hour Effects on Newborn Health"
3.Iran Mesta (Ness City)
Undergraduate Ceramics:
1.Ken Hacker (St. John) "Three Amigos" 
2.Elizabeth Sutherland (Mulvane) "Support" 
3.Chloe Knipp (Hays) "Strawberry Ice Cream" 
Sculpture:
1.Celeste Hernandez (Manhattan) "Asshroom" 
2.Jesus Sotelo (Wichita) "Bubbles and Seaweed" 
3.Krista Ivey (Victoria) "Horsehead" 
Drawing:
1.Rachel Unruh (Wichita) "Self-Portrait" 
2.Kat Doty (Saint Bonifacius) "Tony" 
3.Lexis Beesley (Dighton) "Rest" 
Painting:
1.Emily Schoeppner (Wichita) "My Mind's Home" 
2.Charlie Schmanke, "Frog in the Woods"
3.Kat Doty (Saint Bonifacius, Minn.) "Sicada" 
Printmaking:
1.Mariah Dechant (Hays) "Change" 
2.Cami Moore (Hays) "Look What You Made Me Do" 
3.Isabel Dixon (Colby) "Kindred Spark" 
Photography:
1.Jenny Cox (Edmond, Okla.) "Hivemind" 
2.Loren McQueeny (Shawnee) "NYC" 
3.Alex Juarez (Hays) "Winter Anxiety" 
Design:
1.Hannah Kinderknecht (WaKeeney) "Arts and Crafts Bath" 
2.Hannah Kinderknecht, "Batrhroom"
3.Hannah Kinderknecht, "Waiting Room"
Graduate Art:
1.Olivia Stinson (Omaha, Neb.) "Silent Teacher" 
2.Olivia Stinson, "Old Keys Won't Open New Doors"
3.Olivia Stinson, "The Boat I Row"
Recognition Awards:
Kat Doty (Saint Bonifacius, Minn.) "Gender Disphoria" 
Briana Vandike (Bird City) "Blue Crackle Bowl"
PJ Stauffer (Glen Elder)  "Expectations" 
Mason Cloud (Wichita) "Knowledge is Power"
Tyler Dallis (Monett, Mo.) "Fragments of My Life" 
Kailin Nielsen (Minden, Neb.) "Debauchery" 
People's Choice Awards: 
1.Poster: Yesenia Maldonado and Megan Waggoner (Hays)
"Academic Persistence Among Traditional and Non-Traditional Social Work Students at Fort Hays State University: A Bivariate Analysis"
2.Creative Works: Kailin Nielsen (Minden, Neb.)
Faculty empirical poster:
1.Magdalene Moy, Sydney Hicks, and Danielle Reilley,
"Social Belonging Perceptions Across FHSU Students"
2.April Terry & Ziwei Qi, "Trauma-informed court"
3.Kenneth Neuhauser, "The Wreck of Army Air Force Flight 294"
3.Cheryl Duffy andClaire Nickerson, "Writing Across the Curriculum Faculty Survey"
Faculty non-empirical poster:
1.Ch ristine Hober, "Using Rural Hospital-Wide Voices for Calls to Action"
2.Kathryn Amrein, "Empowering Students Through Experiential Learning Experience"
3.Christina Lawver and Shauna Keil, "SOS: Survey of Skills in Prelicensure Nursing Programs"
About John Heinrichs
The FHSU Scholarly and Creative Activities Day is named in honor of the late Dr. John F. Heinrichs (1957-2014). A popular Geosciences professor, an internationally renowned Arctic researcher, and esteemed colleague, Dr. Heinrichs had a tremendous impact on Fort Hays State University. He was a key supporter of faculty and student research, and his efforts were largely responsible for launching Research and Creative Activities Week, now known as John Heinrichs Scholarly and Creative Activities Day, in his honor.