FHSU announces 3rd cohort of Schmidt Foundation Scholars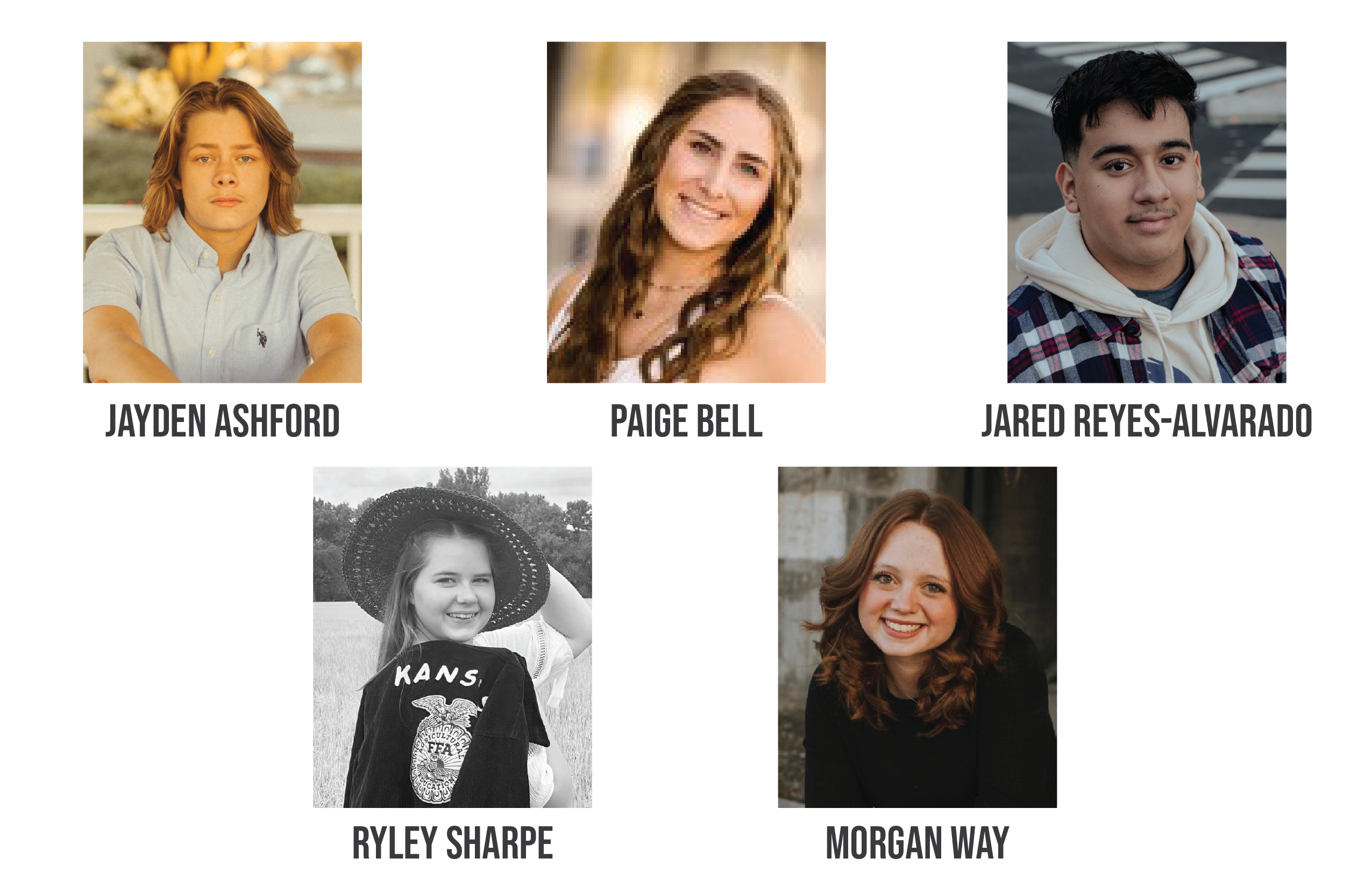 05/11/23
By: FHSU Foundation
HAYS, Kan. – For the third consecutive year, the Schmidt Foundation will provide full-ride scholarships to five exceptional Fort Hays State University students. Over the past several weeks, Fort Hays State representatives visited area high schools to surprise each student in person. These announcements included life-changing news that the Schmidt Foundation would cover a full-ride scholarship for them to attend FHSU beginning in the fall 2023 semester.
The selection committee looks for academically gifted students who demonstrate the leadership skills necessary to contribute significantly to Fort Hays State University, the Hays community, and the state of Kansas.
First-generation students from Kansas planning to major in healthcare, education, business, entrepreneurship, arts, or communications programs, receive scholarship preference. Though preferred, it is not required that a student major in one of these areas to be considered for the scholarship.
Schmidt Foundation scholars receive financial support to cover 30 hours of tuition and fees for fall and spring courses, books, and room and board. Once accepted, recipients can renew their scholarship for up to three additional years by maintaining their academic standing and meeting the scholarship requirements.
The first scholarship recipient to be surprised was Jared Reyes-Alvarado, a senior in Olathe at Spring Hill High School, who will study accounting at FHSU. As a first-generation student from an immigrant family, Reyes-Alvarado learned to face adversity from his hardworking parents, who bravely left their home country to provide their children with a better life. Reyes-Alvarado hopes his education at Fort Hays State will allow him to serve his community and help others who need it most.
Morgan Way, from Coffeyville, graduating from Field Kindley Memorial High School, was stunned by the news that the Schmidt Foundation would fully cover her plans to study animal science at FHSU. Way grew up competing in 4-H and serving as the president of FFA and SkillsUSA. As the first in her family to attend college, she can't wait to build upon her knowledge and begin a prosperous career working with animals.
Jayden Ashford, a Rawlins County High School senior in Atwood, was excited to tell his mom that he would attend Fort Hays State. Ashford will be the first in his family to obtain a college degree and credits his determination to his hardworking single mother. With her unyielding commitment, tireless efforts, and unwavering love for her two sons, she provided for her family financially, despite being unable to complete high school. Ashford believes attending FHSU will help him work toward a successful career as a marketing professional.
Oakley High School senior Ryley Sharpe's acceptance as a Schmidt Foundation scholar was a relief after years of financial hardship. When her father passed away in 2019, her mother worked two jobs to make ends meet. Her 4-H and FFA involvement, along with the influence of an inspiring high school instructor, led her to consider a degree in agricultural education. She hopes that, as an educator, she can help other students grow despite their circumstances. 
Paige Bell, a high school senior graduating from Quinter, aspires to follow in her parents' footsteps of helping others through her academic pursuits. Bell has worked multiple jobs to help her parents, who are full-time caretakers of her disabled older brother. Her parents' dedication to her brother's well-being inspired Bell to study health and human performance to assist others as an athletic trainer. She plans to conquer the challenges of being a first-generation college student with the same resolve as her hardworking parents.
If you or someone you know is willing to go the extra mile for a full-ride Schmidt Foundation scholarship, more information can be found by visiting https://fhsu.edu/schmidtfoundation.
The application for freshmen starting in the fall of 2024 will be open from midnight on September 4, 2023, to midnight on February 15, 2024. For questions regarding the Schmidt Foundation Scholars application process, please contact Jessica Albin with FHSU at 785-628-4401 or jkalbin@fhsu.edu.