FHSU's first Barry Goldwater scholar receives NSF fellowship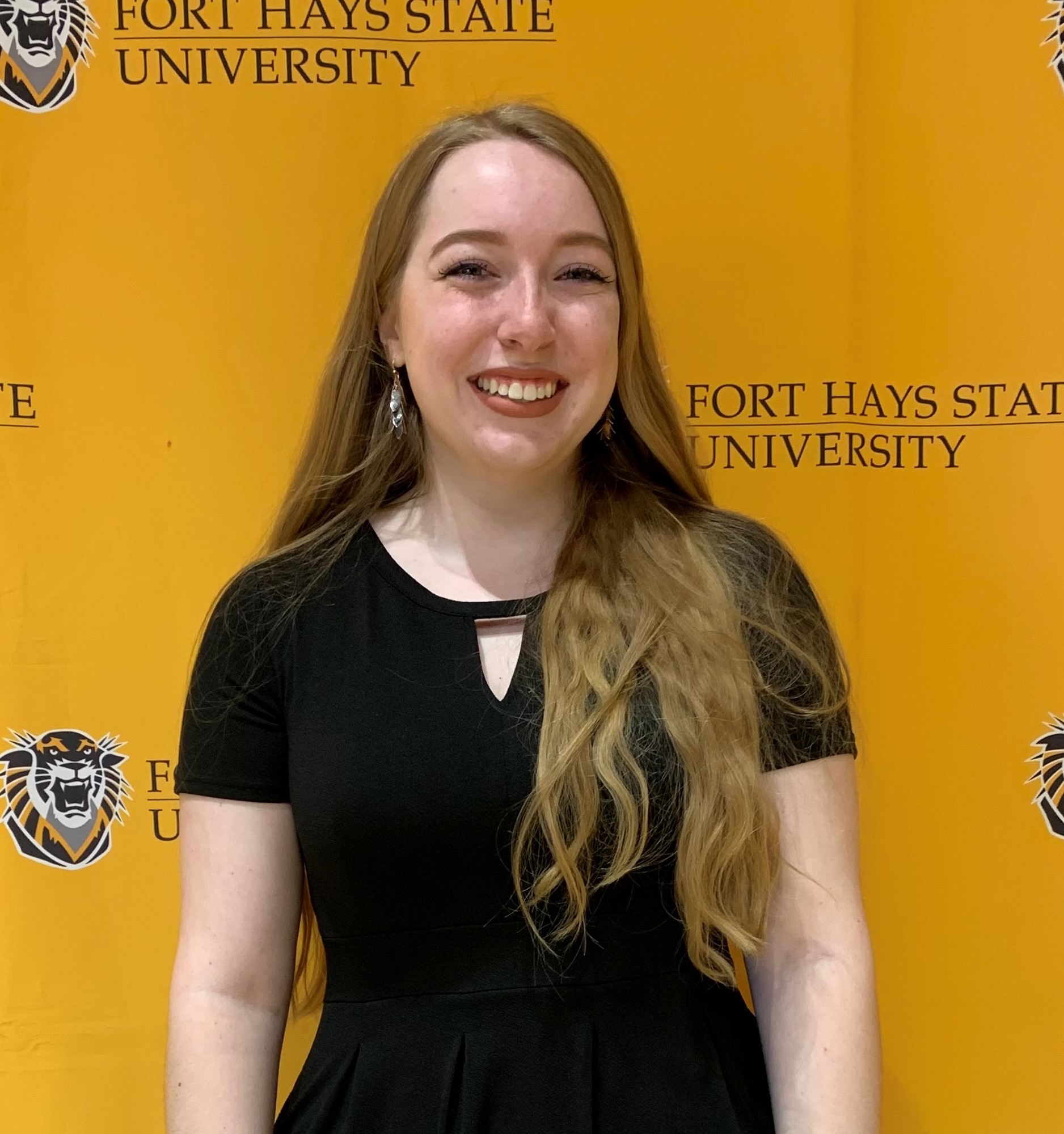 5/10/23
By Boyce Durr
HAYS, Kan. – This week, Brynn Wooten will finish an incredible four years at Fort Hays State University when she crosses the graduation stage on May 13 and receive degrees in biology and geosciences. In her time at FHSU, Wooten has had many outstanding accomplishments.
In addition to winning five national awards and two honorable mentions for her academic achievements and being FHSU's first Barry Goldwater scholar, Wooten was recently awarded a $147,000 graduate research fellowship from the National Science Foundation to support her graduate studies in paleontology.
"I applied for the NSF Fellowship in October mainly for the experience, not expecting that I would get it, but I thought it was a good opportunity to hone my scientific writing skills," Wooten said. "The main aspects of the application were a three-page personal statement and a one-page research proposal."
In her research proposal, Wooten discussed plans for a comparison study between several historical mass extensions. Her idea was to examine survival patterns from those events and apply those patterns to current animal extinctions today to see if she could create survival projections for modern mammals.
"I had a lot of fun researching and writing a proposal that was all my own," Wooten commented. She realizes this may not be what she ends up studying, at least not right away, as her initial graduate research will depend upon where she goes to graduate school.
Completing a double major in both biology and geosciences/geology with an emphasis in paleontology, as well as certificates in museum studies and zoology, Wooten has received numerous offers for continuing her education, including:
Vanderbilt  ◦ Admitted to Biological Sciences and to Earth & Environmental Sciences ◦ Awarded a five-year College of Arts & Sciences Graduate Fellowship
Ohio State  ◦ Admitted to the School of Earth Sciences ◦ Awarded a one-year University Fellowship + four-years GTA/GRA support 
University of Kansas  ◦ Admitted to the Department of Geology ◦ Awarded a one-year Graduate University Fellowship + three-year departmental Smith Fellowship
Idaho State  ◦ Admitted to the Department of Biological Sciences ◦ Awarded a GTA assistantship
"I applied to five schools and was accepted to four," Wooten said. After weighing all her offers, she has committed to Vanderbilt and will head to Nashville for the fall 2023 semester.
"It's an amazing program with a great reputation, and they made me a great offer," Wooten said.
Hard work has been one of the secrets of Wooten's success, but it is not the only one.
"I have had so many amazing professors help me along the way," Wooten said. "I am the biggest advocate of Fort Hays State." While she admits that many professors deserve her thanks because they were willing to give their time, share knowledge, and write letters of recommendation, Wooten acknowledges two people in particular that she believes were key to her success.
"Dr. Laura Wilson, the paleontologist here, and Dr. Kevin Amidon, the director of the honors college, have been astronomically helpful to me in my time here," Wooten explains. "These were the main two people that I felt like I could turn to no matter what."
"Brynn is the rare student that is willing to take a chance, fill out applications, apply for positions she thinks will help her grow, take on leadership roles and responsibilities in clubs and organizations, and really go the extra mile," said Dr. Laura Wilson, Professor of Geosciences and Chief Curator at the Sternberg Museum of Natural History. "In addition to her studies and clubs, Brynn has been doing outstanding work at the Sternberg as well."
Wooten admits that leaving Hays will be bittersweet.
"I stepped on campus and knew this was where I wanted to be. It is so gorgeous here. I routinely go on walks and just take in the beauty of campus. I walk around campus and look at the fossils in the walls of the buildings. Where else can you find fossils in the walls of the buildings?" Wooten asks.
"It's a fantastic school," Wooten said. "I genuinely believe that I have gotten a better education here than I would have at a state flagship school." When comparing her education to that of her brother, who happened to attend a large state school, Wooten believes the personal attention she received at FHSU was something she was unlikely to get at other, larger universities. She admits this has significantly impacted her and contributed greatly to her success.