Fort Hays State announces 2023 commencement award recipients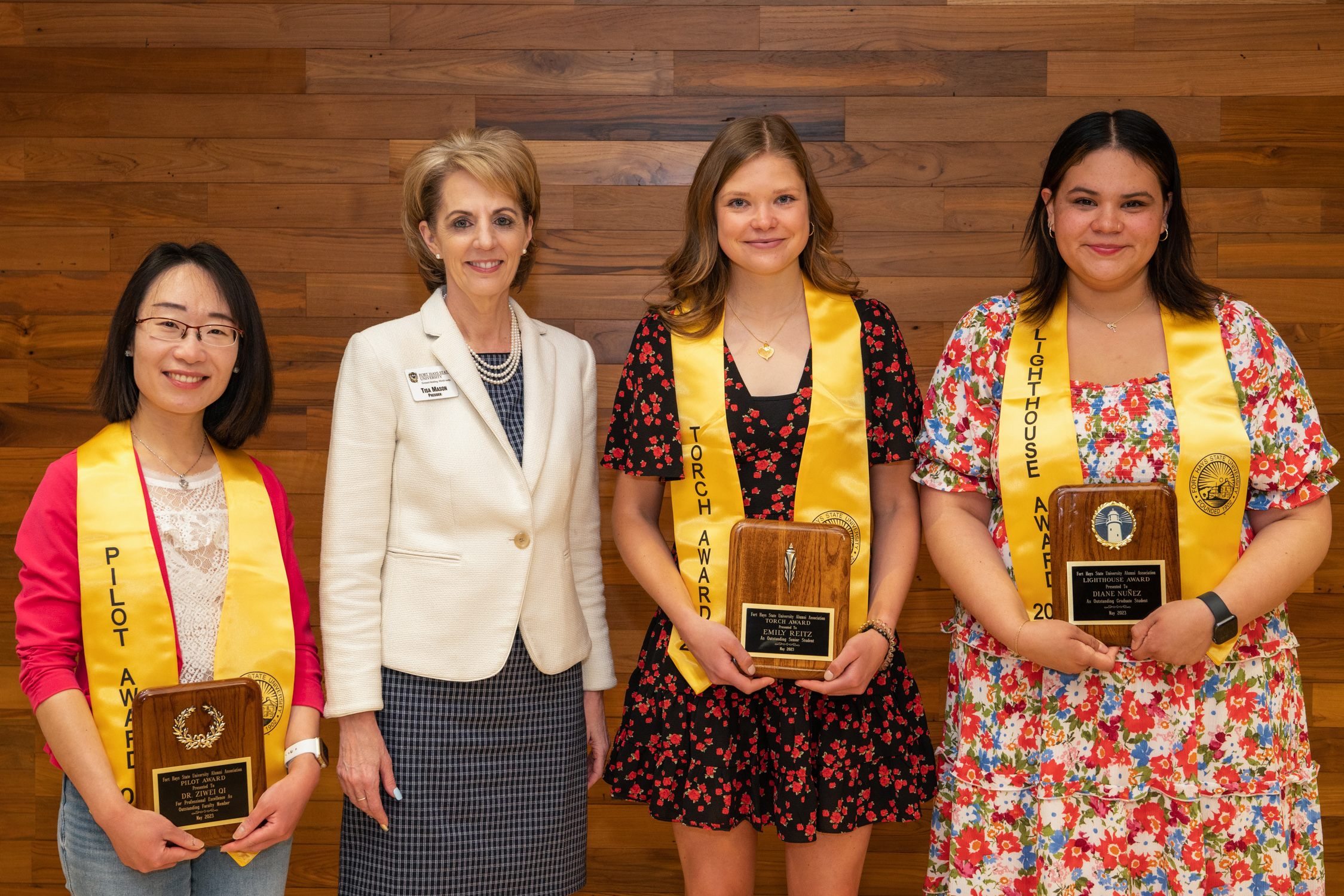 05/02/23
By: FHSU Alumni
HAYS, Kan. – Fort Hays State University proudly announced its 2023 commencement award recipients during a press conference in the Memorial Union Tuesday morning. The three highly coveted annual awards recognize outstanding efforts and achievements of FHSU students and faculty.
The Torch Award was presented to Emily Reitz as the outstanding graduating senior, and the Lighthouse Award was presented to Diane Nuñez as the outstanding graduate student.
Dr. Ziwei Qi, assistant professor in Criminal Justice Programs, was awarded the Pilot Award as the outstanding faculty member.
Torch Award
Emily Reitz, Longmont, Colo., received the Torch Award as the outstanding graduating senior of the class of 2023 at Fort Hays State University. A passionate learner and athlete, Reitz received the award for her years of commitment to life on and off the soccer field. Reitz came to Fort Hays State to study health and human performance, aspiring to become a physical therapist.
Reitz showed early academic promise as a recipient of the Presidential Award of Distinction, a four-year renewable academically based scholarship offered to freshmen at FHSU. As she grew through her program and as a starter on the soccer field, Reitz earned numerous accolades athletically and academically.
One of Reitz's nominators says, "Whether in the classroom, on the soccer field, or in the community, Ms. Reitz was a leader her fellow students could look up to."
Reitz actively participated in several on-campus student organizations, including the Pre-Physical Therapy Club as president, as a Phi Epsilon Kappa (PEK) honors fraternity member, and as a member of the FHSU Honors Society. Reitz graduated from Fort Hays State Summa Cum Laude in December 2022 with a 4.0 GPA. She plans to pursue her doctorate at Creighton University in Omaha this fall and looks forward to helping others in the field she will dedicate her life.
"I can confidently say that this school will forever have a place in my heart," commented Reitz. "How lucky am I to be a part of the Fort Hays State University family."
Lighthouse Award
Diane Nuñez, Topeka, was honored with the Lighthouse Award as the outstanding graduate student of the academic year. As the first to attend college and graduate school in her family, Nuñez recognizes the vital role of gaining an education. Many geosciences faculty and students appreciate Nuñez's positive and enthusiastic presence in the classroom as a student and graduate teaching assistant.
She has taught three courses with two sections each semester while maintaining a high GPA. Her research, willingness to participate, and leadership in the classroom as a graduate teaching assistant gained the attention and praise of faculty in her academic area.
One nominator wrote, "As a student, Diane is first to talk and the first to help classmates grasp difficult concepts. The time and commitment she puts into her work and the courses she teaches are only matched by other faculty."
In addition to her full schedule as a graduate teaching assistant, Nuñez presented numerous research posters at local and international conferences and served as president of the Sternberg Geosciences Club, among many other academic pursuits. Nuñez hopes to keep the momentum of her undergraduate and graduate studies going as she pursues her doctoral degree at one of three universities that have offered her a fully funded opportunity.
Through tears, Nuñez thanked Fort Hays State University for all the life-changing opportunities that she has received and all of the faculty members who have consistently believed in Nuñez and her work.
Pilot Award
Dr. Ziwei Qi, assistant professor in Criminal Justice Programs, was awarded the Pilot Award as the outstanding faculty member of the academic year.
Dr. Z, as her students know her, earned the Pilot Award after four years in Criminal Justice Programs at Fort Hays State. In this short time, Dr. Z has earned a reputation throughout campus as an innovative, encouraging, and approachable instructor.
Her nominator said Dr. Z instilled self-confidence and belief in attaining their professional goals. They also applauded her adaptability in presenting information to suit diverse learners.
Interim Dean of the College of Arts, Humanities and Social Sciences, Dr. Daniel Blankenship, echoed the nominating students' sentiments.
"Dr. Z uses innovative approaches masterfully to reach students with hands-on learning approaches while modifying her teaching techniques successfully to different student learning styles," Blankenship said.
Her work as a teacher-scholar includes instructing an array of undergraduate and graduate courses and collaborating with community members to provide students with valuable service-learning opportunities.
Her interdisciplinary research with communication studies associate professor Dr. Hsin-Yen Yang established the Center for Empowering Victims of Gender-Based Violence on the FHSU campus. A game-changer for rural Kansans, the center provides critical information and long-term support to survivors of gender-based violence.
Dr. Z is also a prolific author of several peer-reviewed journal pieces, a well-known presenter, and an inclusive and dedicated instructor.
"I am extremely honored to receive this award," said Dr. Z. "I aim to be better every day, and I'm grateful to be at a university where students continually strive for their best and faculty and staff members support others along the way."
Fort Hays State faculty and staff nominate Torch Award and Lighthouse Award candidates based on classroom excellence; leadership; participation in campus, community, or national organizations; and student, civic, or research activities. Nominees are May 2023 graduating seniors or students who graduated in December 2022. Awardees are selected by a committee of FHSU faculty and staff from a pool of nominated students.
Pilot Award candidates are nominated by graduating seniors based on classroom excellence, ongoing research, and service activities.
To learn more about the commencement awards presented, visit www.FHSUalumni.com/commencement-awards or contact the Fort Hays State University Alumni Office at 785-628-4430 or alumni@fhsu.edu.
To view a list of all 2023 commencement award nominees, visit https://fhsualumni.com/2023-torch-pilot-and-light-house-award-nominees.