Past Competitions
Recap of Kansas Startup  - November 2021
The Robbins College of Business and Entrepreneurship held its tenth Kansas Startup on November 12, 13, and 14 at the Robbins Center on the Fort Hays State University campus.  
After a dozen new venture idea pitches on Friday night, thirty-two participants formed seven teams and developed their ideas into launchable ventures over the weekend.  Participants received valuable insight and specialized assistance from five coaches: Rick Feltenberger, Scott Gross, Tom Lippert, Thomas Powell and Brandon Purdy.  The seven teams presented their final venture plans to a panel of judges that included Michael Martin (preliminary judge) and Rick Edgeman, Brandon Prough, and Doug Williams (final round).  
Kansas Startup is possible because of the support of our donors: Commerce Bank, Midwest Energy, Sunflower Electric Power Corporation, and the Robbins College of Business and Entrepreneurship.  
This year's winning teams: 
First Place 
Vitality Thrift  (clothing upcycling) 
Caitlin Leiker, Easton Bradbury, Kate Jennings, and Faith Little 

Second Place 
SkySprayer (fully automated agricultural sprayer drone) 
Tyler Preisser, Wyatt Cyr, Chance Furman, and John Gamez-Ramos 

Third Place 
Tiger Central (off-campus FHSU student/faculty housing) 
Raneem Ghunaim, Sabaha Hassen, and Bassirou Fall 
 
Founder's Prize  
Manifest Scrub Company  (medical scrubs) 
Emily Schulte, Brett Loving, Colton Potts and Kleyton Schreiber 
Recap of The Faulkner Challenge - March 2021
The Robbins College of Business and Entrepreneurship hosted its 5th Faulkner Challenge on March 26, 2020. This year's event was facilitated completely on Zoom. Meet the 8 finalist teams and see the results here: https://www.youtube.com/watch?v=goh_Bba7R1Q&t=13s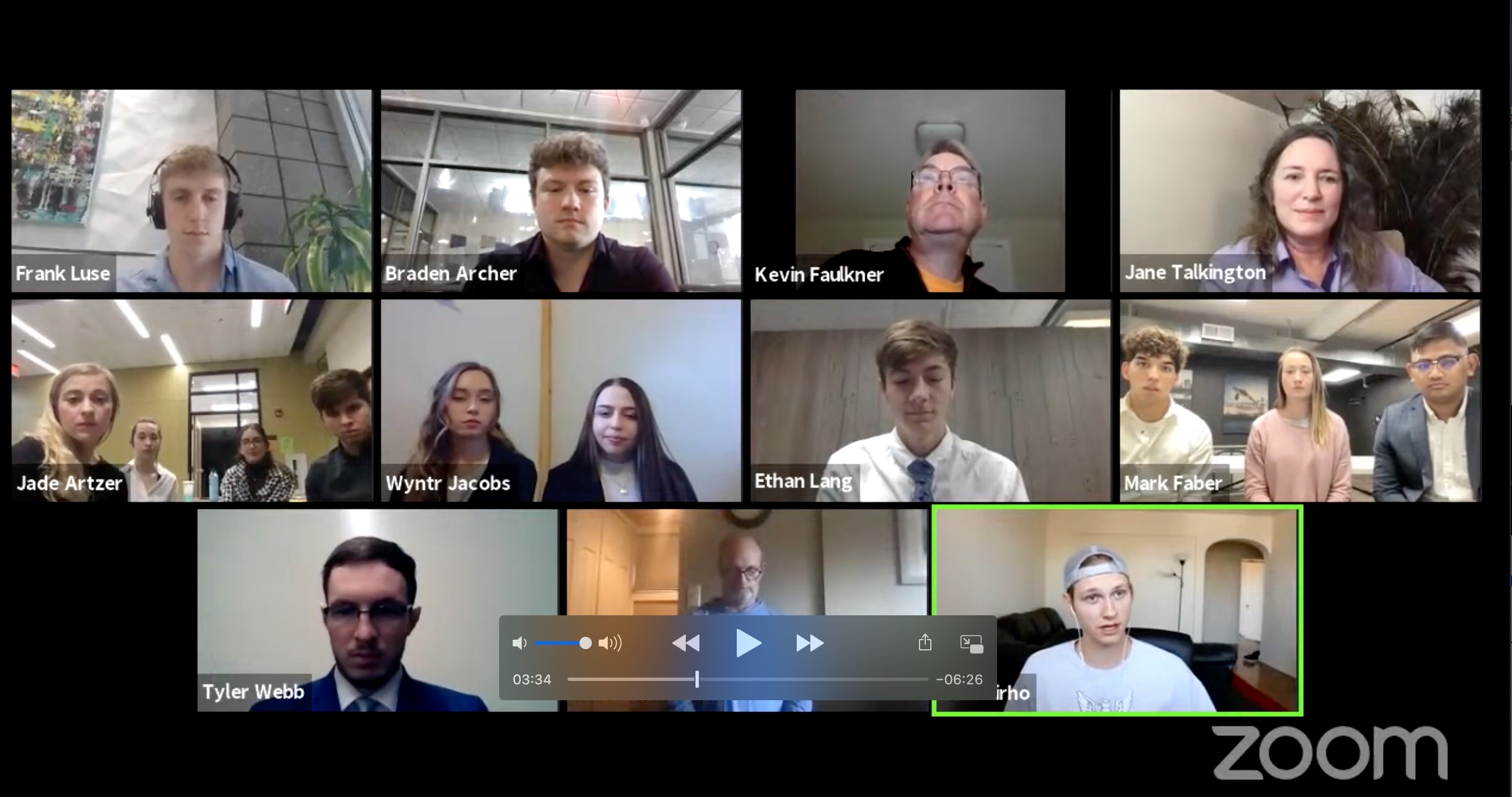 The winning presentations were:
First Place: Making Cents of Finance™ - Ethan Lang of FHSU
Second Place: The Spikedown Daily™ - Aditya Joshi of Wichita East High School
Third Place: Corrective Touch™ - Braden Archer of FHSU
Recap of Kansas Startup - November 2020
The Robbins College of Business and Entrepreneurship hosted its 9th Kansas Startup on November 7 and 14, 2020. This year's event followed COVID protocols and was split into two components.
 The first was a workshop held on Saturday, November 7th, and facilitated by Dr. Rick Edgeman, chair of the Department of Management. The format was a concentrated experiential, hands-on experience, and participants were guided through the process and methods of generating ideas, then refining these ideas into a viable opportunity. Then on Saturday, November 14th, five teams presented their opportunities to a panel of judges in person and via Zoom.
 The modified format had several advantages over the traditional all-weekend event:
The first session focused on important concepts and tools that helped teams identify ideas and refine them into viable opportunities
Teams had more time to develop their ideas
Teams were self-selected and demonstrated greater cohesion
Final presentations were better than prior years
Overall, teams' concepts focused on technology-based solutions and methods to help others
The winning presentations were: 
First Place: Me/He – an app that assists & connects people struggling with mental health issues - Mark Faber, Faith Little, Ryan Stanley, Anthony Ventura The story behind Me/He
Second Place: Tiger Sweets – specialty ice cream shop with unique, seasonal flavors - Jade Artzer, Grace Carter, Kimberly Stone, Ronald Storrer 
Third Place: ISO- Kinesiskit – training device/motion tracker for athletes and trainers  - Ethan Fleming, Rheijan Villegas 
Recap of Kansas Startup - 2018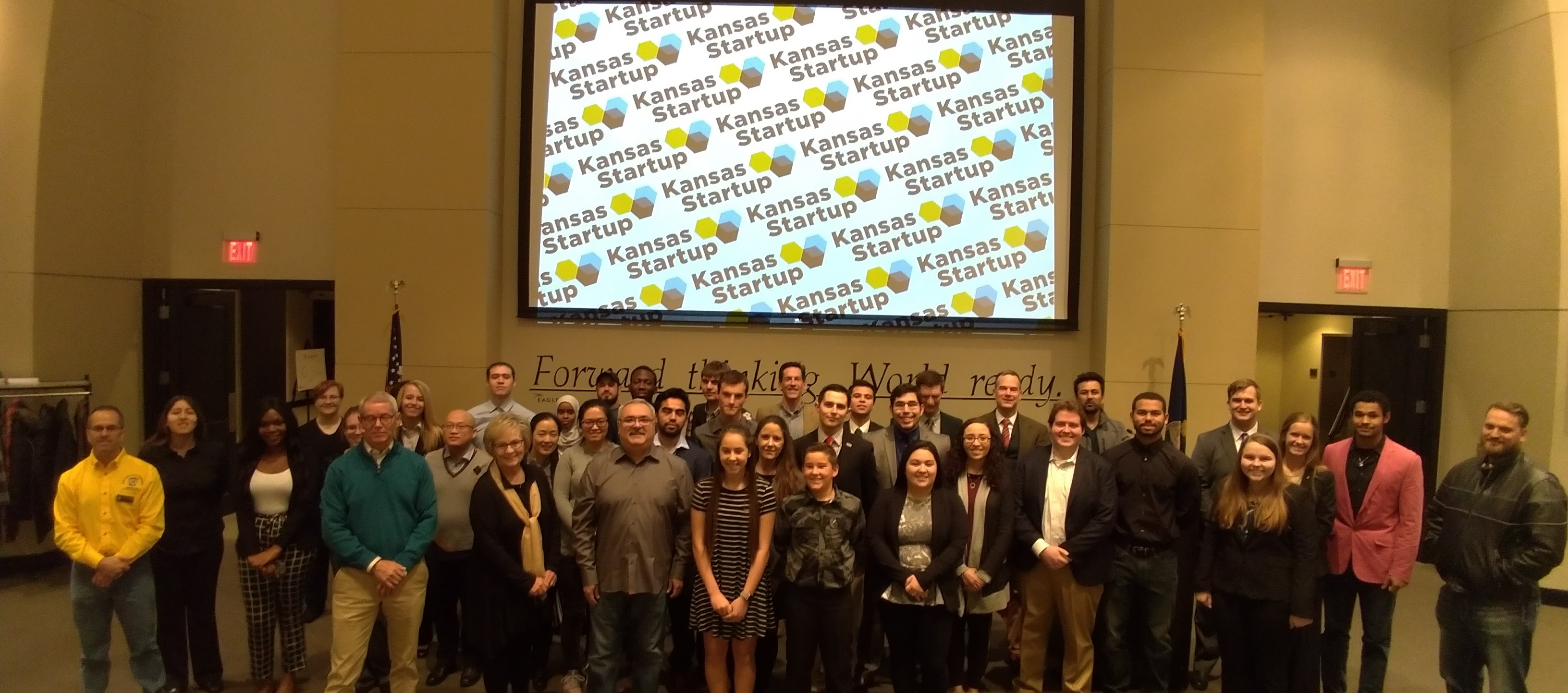 Kansas Startup brings people together for an intense and exciting weekend to share fresh ideas, form teams and launch new ventures. Students and anyone with a business idea can participate. Coaching is provided by FHSU faculty, successful entrepreneurs, and professionals. Significant prizes include accounting setup, incorporation services, assistance with filing trademarks, Management Development Workshop Sessions, and other assistance key to getting a business off the ground. 
At the 7th Kansas Startup the winning teams included: 
First Place – Spectrum Slate - Interactive Display Mousepad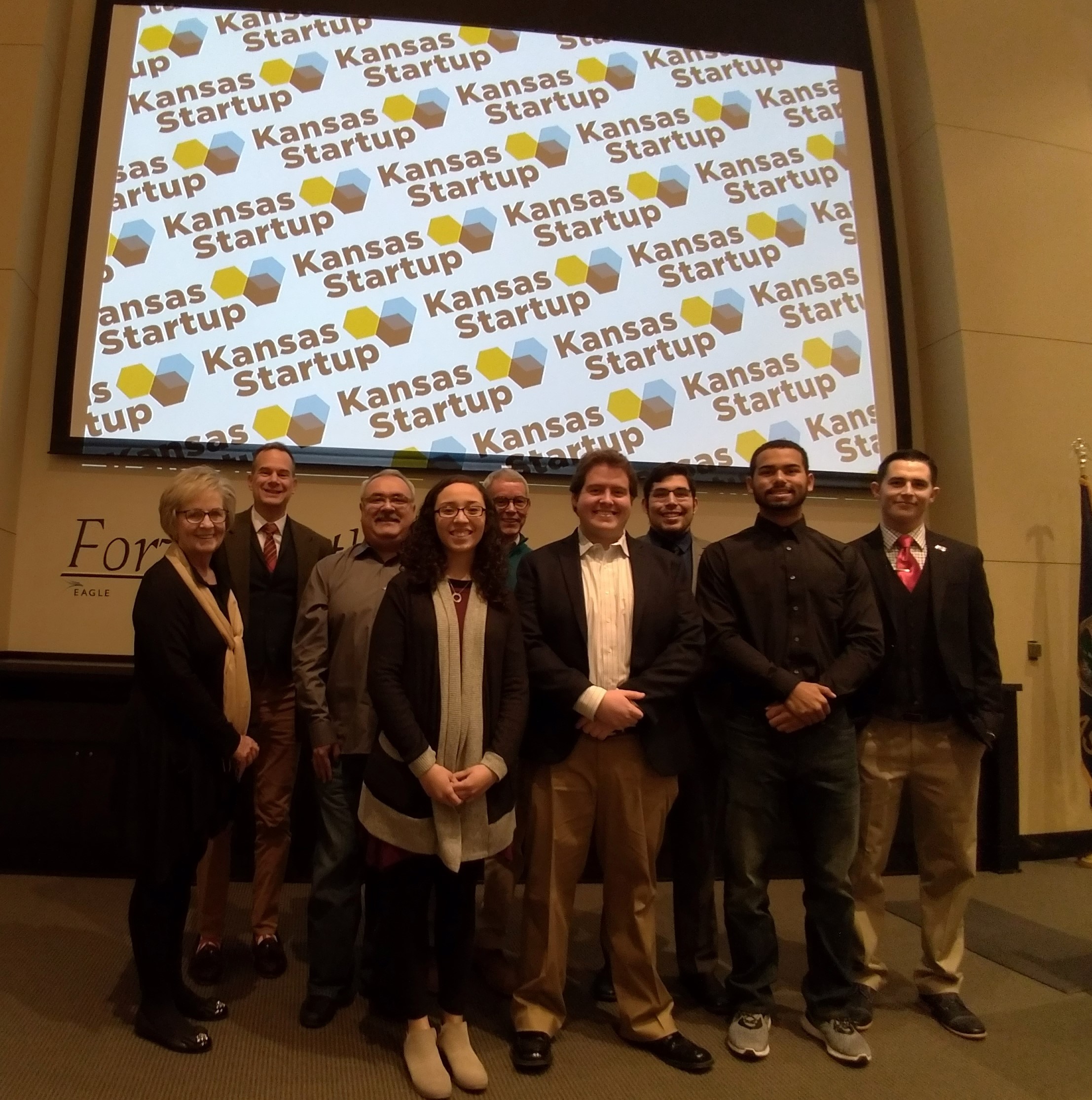 Cam Charbonneau, Ector Diaz, Taylan Mullins, Isabel Pena and Michael Strecker
Second Place – Foster Focus - An App That Connects and Collects Foster Childrens' Information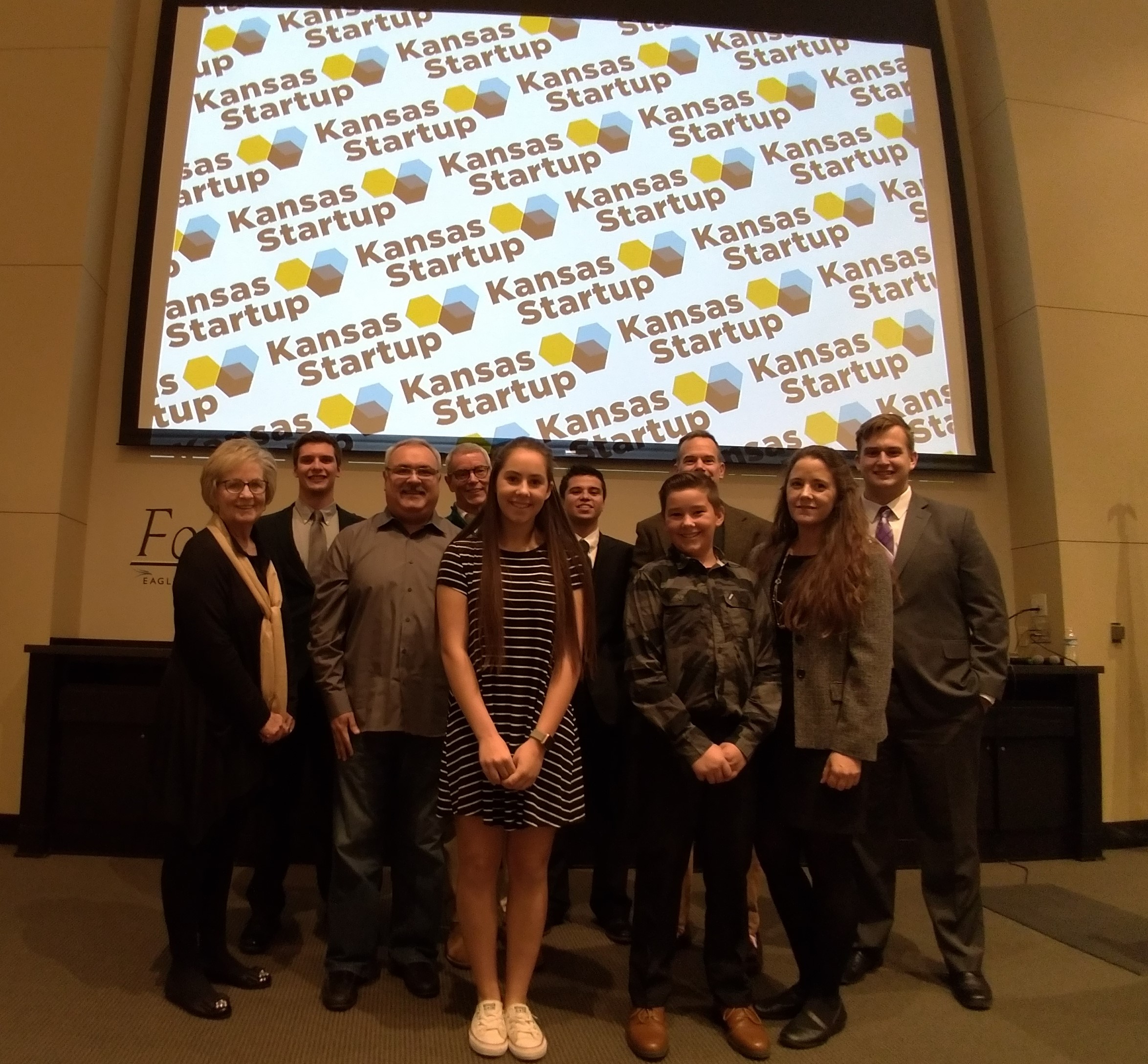 Chad Haun, Pablo Garcia, Frank Klassen and Kristen Fairbanks
Third Place (two teams tied)
Pulse VR – a Virtual Reality for Corporate Teambuilding
                                        
                                    Jeremy Meyer, Yangjun Li, Melissa Olguin, and Martin Velazquez
CreatED –  Student Focused College Course Content/Review App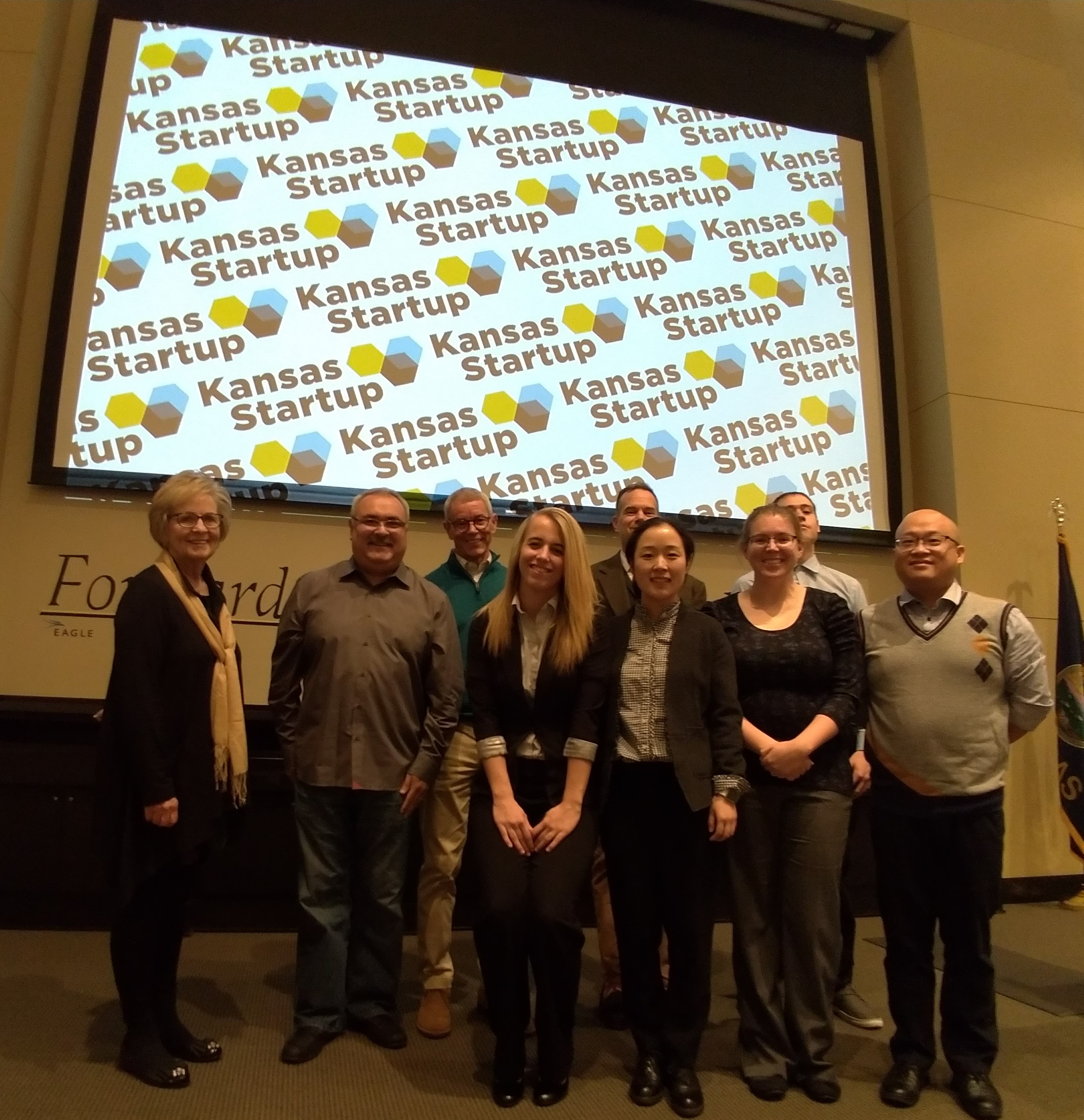 Madison Milstead, Meng (Ella) Ding, Kelsi Wood, Michael Urriola and Peng (Oliver) Zhang
Special thanks to the coaches who worked with all of the teams on Saturday and Sunday: Our colleagues at UCONN joined Nicholas Caporusso, Andrew Cutright, Alan Deines, Brad Goebel, Scott Gross, Mary Martin, Brandon Purdy, Henry Schwaller, Kunal Sevak, David Snow, and Jason Zellner.
…as well as our wonderful judges: Candace Mehaffey-Kultgen and Michael Martin (preliminary round) and Sandy Jacobs, Todd Sandoval and Doug Williams (final round)
Nicholas Caporusso and Henry Schwaller were the co-organizers.  They brought a wealth of experience and enthusiasm.  Scott Gross is a private sector graphic designer who gives us a weekend of his incredible work every year. And Sara Dreher and Rick Edgeman made everything work smoothly behind the scenes.