Economics Club Students Awarded Blue Ribbon
Economics Club students were awarded 1st Place in the Undergraduate Students Non-Empirical Research Poster Competition during the 2019 FHSU John Heinrichs Scholarly and Creative Activities Day on April 24, 2019.
David Oakley, Lyndon junior majoring in political science, presented the "FHSU Student Price Index" poster. Student co-investigators were Dan Fisher, Paola senior majoring in human resource management; Zetta Hamersley, Butler sophomore majoring in political science; Ciara Helstrom, Sedgwick sophomore majoring in management; Cory Hiebert, Halstead junior majoring in international business and economics; Hannah Magathan, Meriden senior majoring in finance; Brady Stephenson, Little River sophomore majoring in finance; and Cristal Ugarte, Kansas City graduate student majoring in business administration.  Faculty advisors were Dr. Yang Jiao, assistant professor of economics, and Dr. Sam Schreyer, associate professor of economics.
CONGRATULATIONS to all of these students for this recognition of their hard work!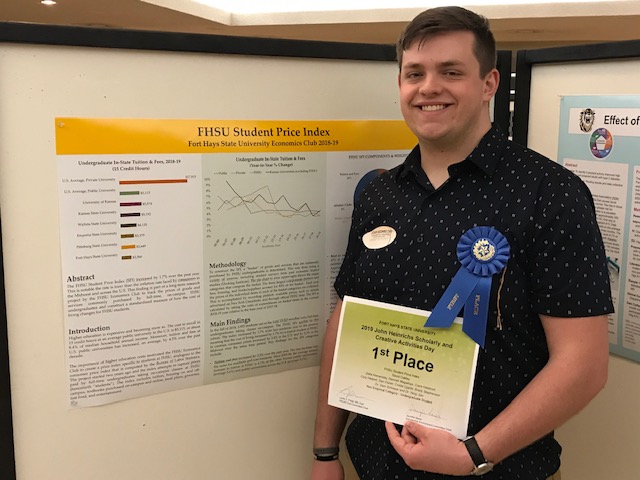 David Oakley presented "FHSU Student Price Index" poster.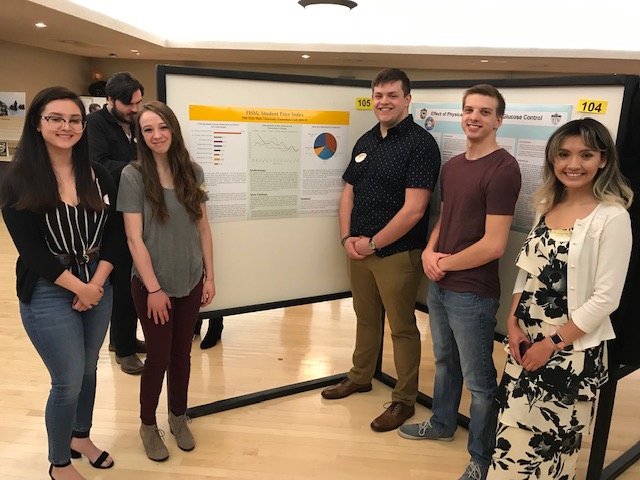 Zetta Hamersley, Ciara Helstrom, David Oakley, Dan Fisher, and Cristal Ugarte