Ralph "Bud" Baxter Award
Ralph "Bud" Baxter served Fort Hays State University as the Engineer Extraordinaire from 1969-2000. During that time, he wore many invaluable hats. He not only supported KFHS Radio and Television and the many electronic media student needs, he helped support campus media operations and the residence hall cable system. Bud supervised dozens of student workers over the length of his career. Many describe working with Bud as one of the most important learning experiences they had in their collegiate studies. This award recognizes student leadership and service benefiting the Department of Informatics and its sponsored student activities.
The 2012 - 2013 recipient of the Bud Baxter Award is Tyler Thompson. Tyler graduated Spring 2013 with a Bachelor of Science in Information Networking and Telecommunications with an emphasis in Computer Networking. This award is presented annually during the Capstone in Informatics final presentations.
Also nominated for the award were Frederick Arnspiger and Alexander Harder. Frederick also graduated Spring 2013with a Bachelor of Business Administration with an emphasis in Management Information Systems, along with a minor in Computer Networking and Telecommunications. Alexander Harder is currently a senior in the Computer Networking program.
The Department of Informatics wants to thank Tyler, Frederick, and Alexander for their leadership throughout their education at Fort Hays State University.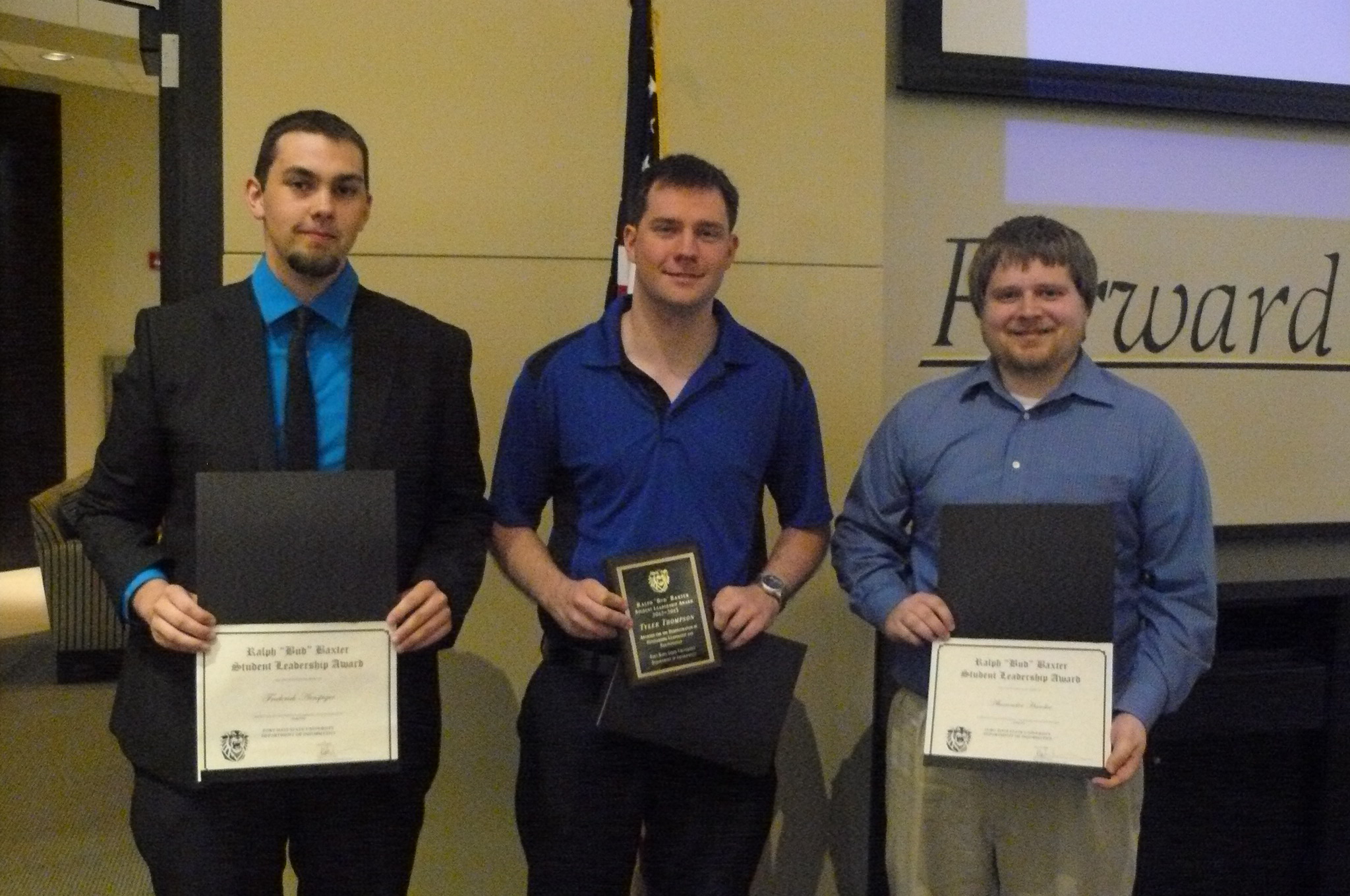 Left to Right: Frederick Arnspiger, Tyler Thompson, & Alexander Harder
Previous Bud Baxter Award winners:
2011 - 2012 Gwen Lang

2010 - 2011 Matthew Stramel

2009 - 2010 Schuyler Coates

2008 - 2009 Charles Lammers

2007 - 2008 Jason Zeller

2006 - 2007 Kameron Davis

2005 - 2006 Casey McAvoy

2004 - 2005 Casey King

2003 - 2004 Jeff Bitikofer