Band & Jazz
Whether it's performing concerts or providing halftime entertainment for the fans of the FHSU Tigers Football team, FHSU Bands is truly dedicated to its Tradition of Excellence.
Dr. Peter Lillpopp - Director of Bands, Low Brass
Welcome to the FHSU Department of Music and Theatre! FHSU Bands has several ensembles for you to be a part of including Marching Band, Wind Ensemble, and Symphonic Winds. We are a dedicated and supportive group open to all majors on campus. If you like to perform, we have a group for you to explore your creative talents. Don't wait to get involved! Become part of the Tiger Music Family today! 
Dr. Ryan Pearson - Jazz, Percussion, and Band
I am delighted you are interested in joining the Department of Music and Theatre at Fort Hays State University! Whether you are wanting to be a part of the FHSU Marching Band, Concert Bands, Jazz Bands, or becoming a Music Major, we would be thrilled to have your artistic voice join the Tiger Music family. I look forward to growing, exploring, and performing together!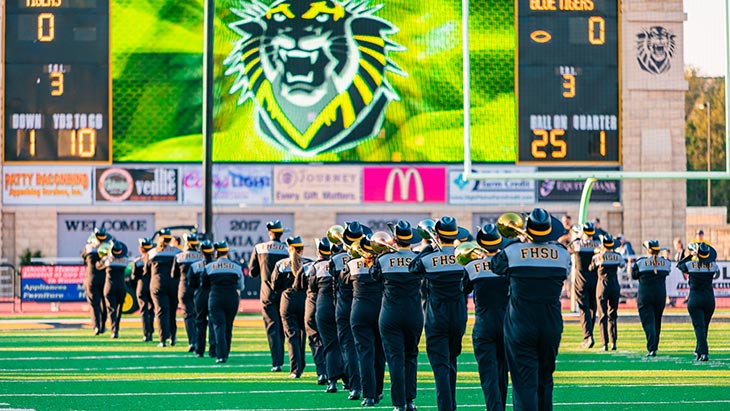 Online Membership Form
It's just not a football game at FHSU without the roaring thunder and spirit of the Tiger Marching Band! Made up of approximately 100 students from all academic disciplines, the band has a long tradition of excellence in service to the university. The Tiger Marching Band is one of the largest and most popular student groups on campus. Fans love our traditional pre-game show, our innovative halftime shows, and our spirit in the stands as we cheer the Tiger Football team onto victory!
All Marching Band members earn a stipend starting at $500. Additional stipends are available for student leaders.
Non-music major instrumentalists are also eligible for an extra $200 from the Miller Award.
All students, regardless of major, are also encouraged to audition for scholarships available through the Department of Music and Theatre.
Interested in joining the Marching Band? Contact Dr. Peter Lillpopp or fill out the Online Membership Form.
Registration Info
All Winds, Brass, Percussion, Colorguard, and Twirlers need to register for the Marching Band class:
MUS 601A (1 credit)
MUS 601B (2 credits)
MUS 601C (0 credit)
Be a Tiger for a Day!
Are you interested in checking out the FHSU Tiger Marching Band? If so, the Be a Tiger for a Day program is just for you! You can attend any FHSU home game, warm up with the band, march over to the stadium, play with the band during our tailgate show, play in the stands during the game, and watch the pregame and halftime shows from the sideline. Come experience what being in a college marching band is all about. Music can be sent to you ahead of time so that you can practice. We'd love for you to join us! To sign up email Dr. Peter Lillpopp, the Director of the Tiger Marching Band.
The Wind Ensemble is the University's premiere concert band, consisting of the campus' outstanding brass, woodwind and percussion players. The Ensemble's repertoire includes the latest contemporary literature composed for the modern wind band and features frequent solo appearances by outstanding faculty members. Membership is determined by audition and is open to majors and non-majors.
If you are interested in joining the Wind Ensemble, please contact Dr. Peter Lillpopp.
The Symphonic Winds is a non-auditioned concert band open to all FHSU students regardless of academic major. Literature is selected from the finest wind band material including standard as well as modern wind band repertoire. The Symphonic Winds is formed at the conclusion of the Marching Band season in November.
If you are interested in joining the Symphonic Winds, please contact Dr. Peter Lillpopp.
The jazz ensembles at the Fort Hays State University offer students performance opportunities in big bands and combos. With over 30 years of history, FHSU's jazz ensembles are recognized throughout the state, including numerous appearances at KMEA, the Wichita Jazz Festival, and the UNC Jazz Festival.
The exciting, high-energy FHSU Pep Band performs at all Men's and Women's home basketball games. The Pep Band has earned a reputation as one of the best in the MIAA Conference and helps make Gross Memorial Coliseum one of the toughest places for Tiger foes to win. Each spring the band hits to road supporting the Tigers' post-season efforts in the MIAA Conference and NCAA tournaments.
The Pep Band regular and substitute rosters are determined by audition in October. Students can try out on piccolo, clarinet, saxophone, trumpet, mellophone, trombone, baritone, sousaphone, electric bass, and drum set. Audition music typically comes from the Marching Band season. All Pep Band members receive a stipend for their service based on the number of games played.
For more information please contact Dr. Peter Lillpopp.
Whether it's on the field, in the stands, or on parade, the FHSU Colorguard brings an exciting visual element to each and every Tiger Marching Band performance!
Membership in the colorguard is open to both men and women. All first-year members start at a $500 stipend. Stipend amounts go up each year with larger increases for juniors and seniors and bonuses for student leaders. There are no auditions to be in the colorguard, however all members will be expected to master a basic set of flag skills before reporting to camp. In addition to standard flag work, the colorguard also spins rifles, sabres, and and mini flags.
Colorguard members should register in MUS 601A, B, or C for the Fall Semester.
If you are interested in joining this year's FHSU Color Guard, email Peter Lillpopp or fill out the Marching Band Member Form.
The Hays City Band is an annual summer band open to community members and students of all ages.
Rehearsals
Tues. May 3, 7–9pm, Hays Middle School
Mon. June 6, 7–9pm, Hays Middle School
Mon. June 13, 7–9pm, Hays Middle School
Mon. June 20, 7–9pm, Hays Middle School
Mon. June 27, 7–9pm, Hays Middle School
Performances
Tues. June 14, 7:30pm, Hays Pavilion
Tues. June 21, 7:30pm, Hays Pavilion
Tues. June 28, 7:30pm, Hays Pavilion
For more information contact: Matthew Rome mrome2@usd489.com.
Faculty members