FHSU to host annual John Heinrichs Scholarly and Creative Activity Days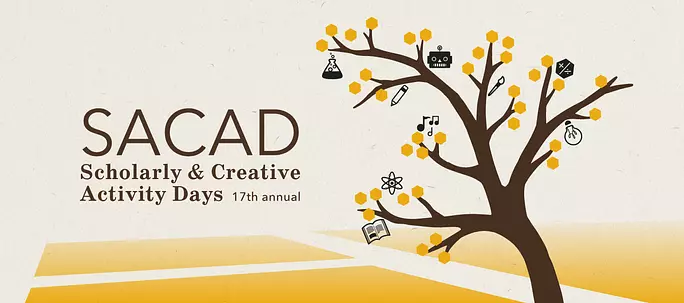 03/31/22 
By FHSU University Communications
HAYS, Kan. – Students, staff, and faculty will participate in the 17th annual John Heinrichs Scholarly and Creative Activity Days (SACAD), hosted by Fort Hays State University. This event celebrates the research, scholarly, and creative work conducted by varied disciplines within the university.
Special activities will include a creative works exhibition as well as oral and poster research presentations featuring work from the College of Arts, Humanities, and Social Sciences; the W.R. and Yvonne Robbins College of Business and Entrepreneurship; the College of Education, the College of Health and Behavioral Sciences; and the Peter Werth College of Science, Technology and Mathematics.
SACAD 2022 will take place in a hybrid format by featuring both online and in-person presentations. Online presentations will be available April 18-22. The online portion of the event will be available during that week at https://symposium.foragerone.com/fhsu-sacad2022. 
In-person presentations will take place on campus on Wednesday, April 20. Oral presentations will be hosted in the South Study Area of Forsyth Library from 8 a.m. to 1 p.m. The creative works exhibit will be held in the Center for Art & Design from noon to 3 p.m. Poster presentations will be hosted in the Center for Applied Technology from 8 a.m. to 3 p.m., with poster presenters available from 1 to 3 p.m.
An awards ceremony will take place at 3 p.m. in the Center for Applied Technology. Awards will be given for oral and poster presentations as well as for creative works and a "People's Choice Awards."
Drs. Arvin Cruz and Whitney Whitaker, co-chairs of the SACAD committee, said that SACAD provides students, staff, and faculty an opportunity to share their scholarly activities with the FHSU community using a variety of options for presentation formats. The hybrid format of this year's event will help showcase the significant work being conducted by faculty and staff and exemplify the opportunities all FHSU students have to conduct research, engage in scholarship opportunities, and present creative works with guidance from their faculty mentors.
They agree that scholarly and creative activity encourages critical thinking, innovation, collaboration, and leadership.
"FHSU supports developing new areas of excellence in all disciplines as part of its mission to advance knowledge and further the economic growth of the state," Whitaker said.
Named after the late Dr. John Heinrichs, who championed research at Fort Hays State, SACAD is sponsored by the FHSU Scholarship Environment Committee, with support from the Office of the Provost, the Office of Scholarship and Sponsored Projects, FHSU Foundation, deans, and academic departments.
The exhibits and presentations – both online and on-campus – are free and open to the public. For more information, please visit: https://www.fhsu.edu/research/events-and-opportunities/sacad/event-submission-details.