Doctor of Nursing (DNP)
Fort Hays State University Department of Nursing offers a plan of study for those students who have graduated from an accredited school with a Master's of Science in Nursing degree in an Advanced Practice role as a Nurse Practitioner, Nurse Anesthetist, Nurse Midwife, and Clinical Nurse Specialist. The MSN-DNP degree is an online program requiring one day on campus.

Students seeking to register in the MSN-DNP program will take a total of 30 credit hours. Graduate statistics is required and offered at FHSU if this requirement is needed. Students may be exempted from this requirement if a Graduate Statistics was previously taken as part of a MSN program. Project hours listed are the minimum for graduation in the MSN-DNP degree. Additional hours may be added dependent upon precepted hours at the master's level.
FHSU Department of Nursing MSN to DNP Plan of Study - 2 year plan:
MSN to DNP Plan of Study
Students progress through the MSN-DNP program in cohorts.  All cohorts begin in the summer.  There may be an option to take up to six hours prior to the official start in June, however.  Students choosing this option will not move their graduation date, but will simply have fewer classes in one or two semesters. The classes available to take early are NURS 808 Advanced Statistics and NURS 872 Informatics in Healthcare systems. See more information regarding the courses that can be taken early under Course Descriptions.  Please click the link below for additional information about the Plan of Study. The Plan of Study is the same for all students in a cohort and cannot be changed.
 Plan of Study for MSN to DNP students beginning in the Summer of 2022 or later: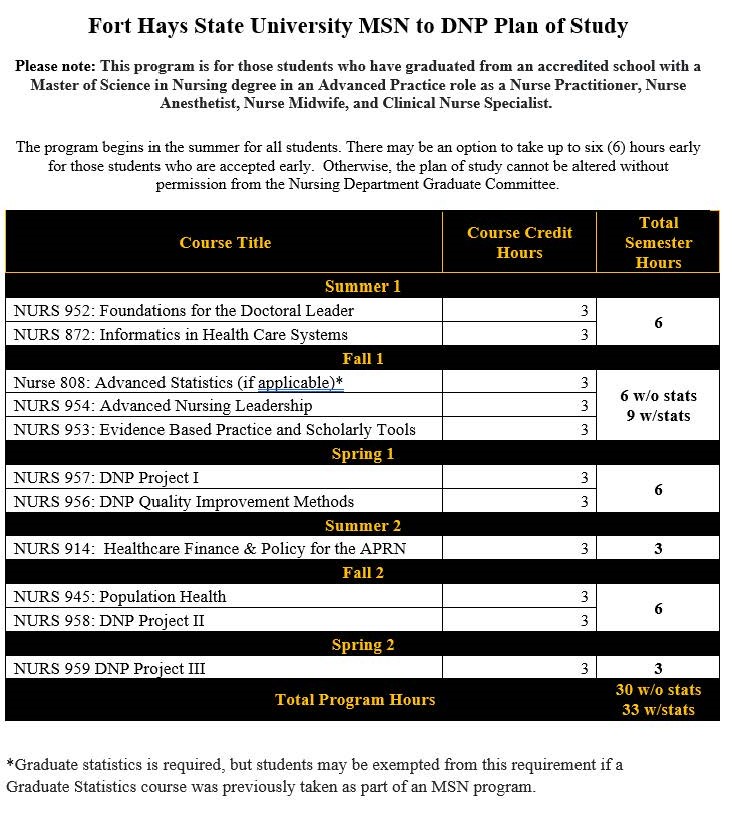 Plan of Study for MSN to DNP students beginning in the Summer of 2021 or before:
Summer start 2 year plan with stats
Summer start 2 year plan without stats  
Clinical experiences in the MSN-DNP Program
There are no preceptored clinicals in the MSN to DNP program.  You will complete a project, but it is not a 1:1 preceptored experience.  You work independently and with facility team members to implement a QI project—translating research to practice.  A minimum of 600 hours (200 hours over 3 semesters) will be required for project.
On-campus requirements for MSN-DNP students
MSN to DNP students are only required to come to campus one time; this is to complete a formal presentation regarding their DNP project.  The date also coincides with graduation.  There are times throughout the program that students may be asked to do virtual synchronous activities, but this are communicated at the beginning of each semester so students can plan accordingly.
Benefits of the Doctor of Nursing Practice Program
Doctor of Nursing Practice Academic Programs
Applying to the Doctor of Nursing Practice Program
Admission Criteria 
Tuition
CoursesDNP Project Information
DNP Program Outcomes
Contact Information
Accreditation
Handbook
The Doctor of Nursing Practice program at Fort Hays State University is accredited by the Commission on Collegiate Nursing Education, 655 K Street, NW, Suite 750, Washington, DC 20001, (202) 887-6791. 
The RN to BSN program, MSN programs, and DNP program are all online. These programs do not meet the requirements for International students who require on campus courses.
Fort Hays State University Department of Nursing does not accept applications for the nursing program from the following states: Tennessee, Utah, Alabama, Washington