Tiger Card
The Tiger Card serves as the official photo identification card for all Fort Hays State University students, staff, and faculty.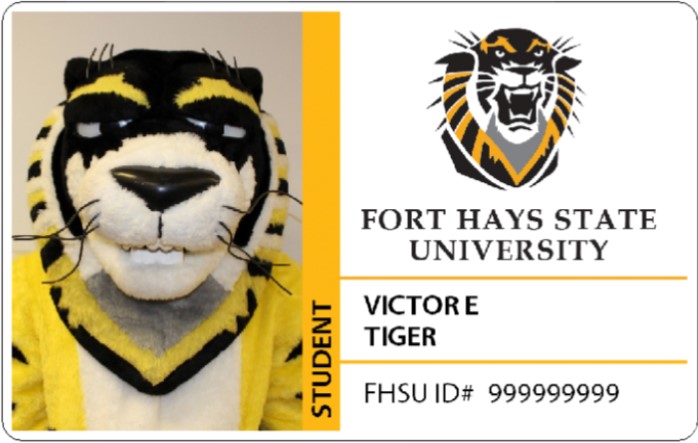 You will need your card when you:
To obtain a Tiger Card, visit the Tiger Card Center in the Memorial Union, room 208.
Monday-Friday: 8:00 a.m. - 4:30 p.m.
Please be prepared to present a valid photo ID including a current government issued driver's license, military ID, passport, other state-issued photo ID when obtaining your Tiger Card.
If a valid photo ID is not available, please contact our office at 785-628-5533 or by meeting the State of Kansas ID requirements. State of Kansas ID requirements can be found here.
The Tiger Card will be issued with an individual's full legal name including hyphenations and suffixes. No nicknames or abbreviations will be allowed.
In case of legal name changes, an individual must update their name with the University and provide a valid photo ID and/or proof of name change to obtain a new Tiger Card.
Important Information:
The Tiger Card is property of Fort Hays State University. It must be carried at all times and presented to university officials upon request. The Tiger Card is non-transferable.
The Tiger Card is valid for the duration of registration for undergrad and graduate students and employment for faculty and staff. Your Tiger Card does not expire and you do not need to replace it each semester or year.
There is a replacement fee of $15 plus tax for any card that is damaged or stolen (with proof of a police report), and a replacement fee of $20 plus tax for any card that is lost or stolen (with no proof of a police report).
If you need to cancel your card or if you lose your card contact the Card Center, 785-628-5533, or visit the Memorial Union, room 208.
Once a Tiger Card has been cancelled it can NOT be reactivated if found.
DO NOT lend your card to someone else. This will prevent fraud and unauthorized use of the features and services of the Tiger Card. Unauthorized use of the Tiger Card warrants confiscation and/or disciplinary action.
DO NOT punch holes, cut, scratch, expose the card to excessive sunlight or heat, or otherwise deface your Tiger Card. Such damage may render your card invalid and may also cause damage to the merchant stripe or RFID chip.
Storing the Tiger Card back to back with a credit card, magnet, or cell phone may cause the stripe to become demagnetized.
For information or questions:
Contact the Tiger Card Center