Dane G. Hansen Scholarship Hall
Students from ANY academic major with an interest in living in a community immersed with creativity and innovation are welcome to apply to the Dane G. Hansen Scholarship Hall - a unique residential option specifically for students taking Entrepreneurship courses. As a resident, you will be part of a dynamic and engaged learning community whose members have the opportunity to travel, compete in pitch competitions, win cash awards, and learn from successful entrepreneurs.  Residents develop real-world skills to use their entrepreneurial mindset in whichever venture or career they pursue in the future.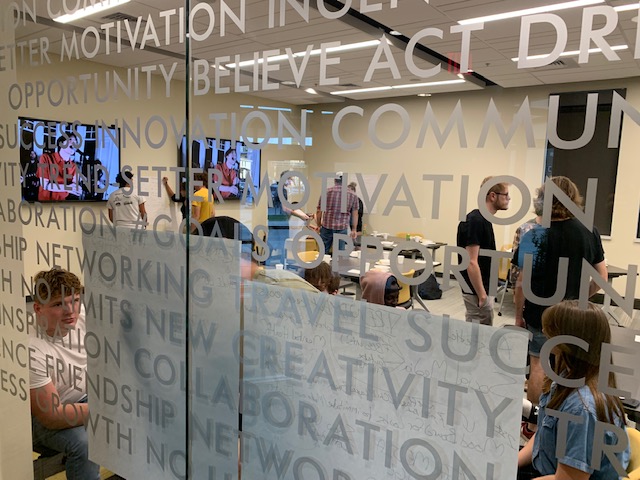 Photo: Ideation session for local entrepreneurs seeking fresh ideas from the creative minds of Hansen Hall residents.
This residence hall - opened in 2016 - is a premier living space for a select group of 32 undergraduate and graduate students who have a passion for taking action to change the world for the better. Thanks to major financial support from the Dane G. Hansen Foundation, residents enjoy a generous discount for comparable housing elsewhere on campus. The cost for students enrolled in Entrepreneurship courses who are accepted to Hansen Hall is $2,975 per academic year ($1,487.50 per semester). Meal plans are an additional expense and are required of students who graduated from high school within the previous 2 years.
Hansen Hall is a 3-story building with 33 private rooms (11 on each floor) and community lounges with large-screen wall-mounted televisions on each floor. In addition to living spaces, the first floor houses a multi-purpose eLab and three technology-enabled "innovation rooms" with whiteboard walls where students can work together to develop new ideas. There is a fully equipped kitchen and in-house free laundry facilities. Access to 3D printers and audio and video editing is provided in the Forsyth Library.
Our Motto: DREAM - BELIEVE - ACT | At Hansen Hall, you will LEARN BY DOING!
Students in the Dane G. Hansen Scholarship Hall are their own community. They have a mayor, a deputy mayor, and city councilors. Every resident contributes to the community in their own way. That can mean being the volunteer kitchen manager, tutoring others, making exotic desserts to share, teaching Portuguese, designing logos, repairing laptops, or just being a true friend who is always willing to listen to the next big idea. This is a great place to make lifelong friendships with diverse students from across the university. 
The focal point of this scholarship hall is the educational component completely devoted to entrepreneurial learning objectives. Students engage in curriculum based upon proven best practice approaches. Our state-of-the-art facilities and progressive coursework help students develop an invaluable career skill set.
Social Entrepreneurship Project 2021-2022
In 2021, alumni began donating gently used business books to create a library of entrepreneurship books housed inside Hansen Hall. Dr. Sarah Broman-Miller shared her social entrepreneurship dream with Hansen Hall. It entails the residents reading these books before passing them on to the prison literacy program. The students can insert anonymous handwritten notes of encouragement to coach and motivate those incarcerated.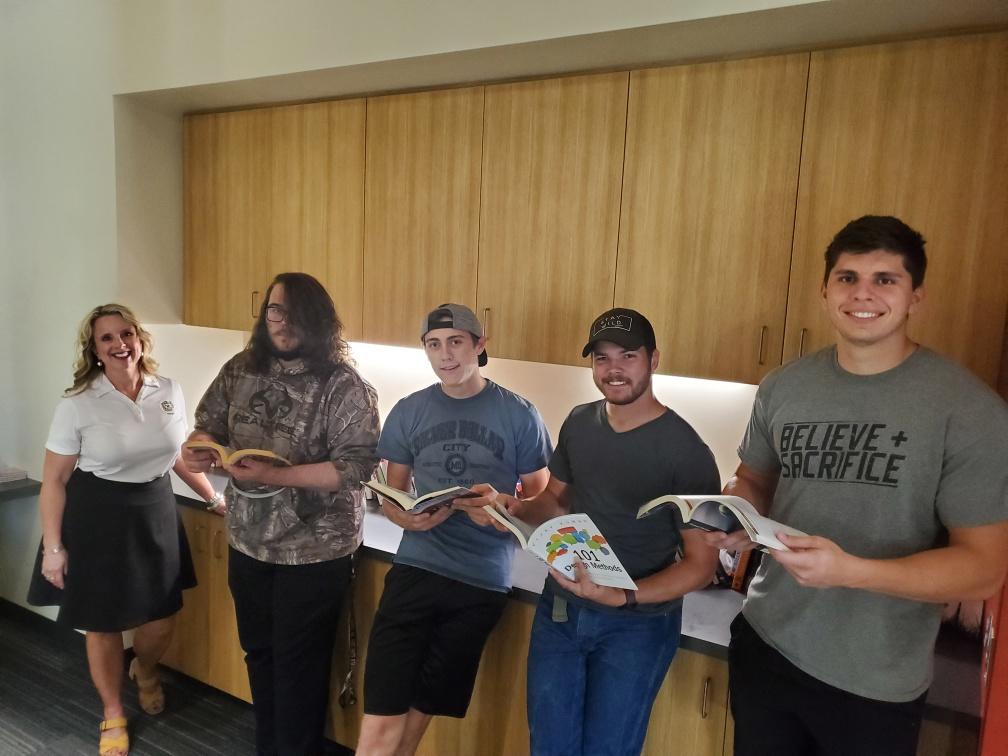 Photo: Dr. Sarah Broman-Miller has donated dozens of books for the library shelf inside Hansen Hall. 
Opportunity to Develop New Skills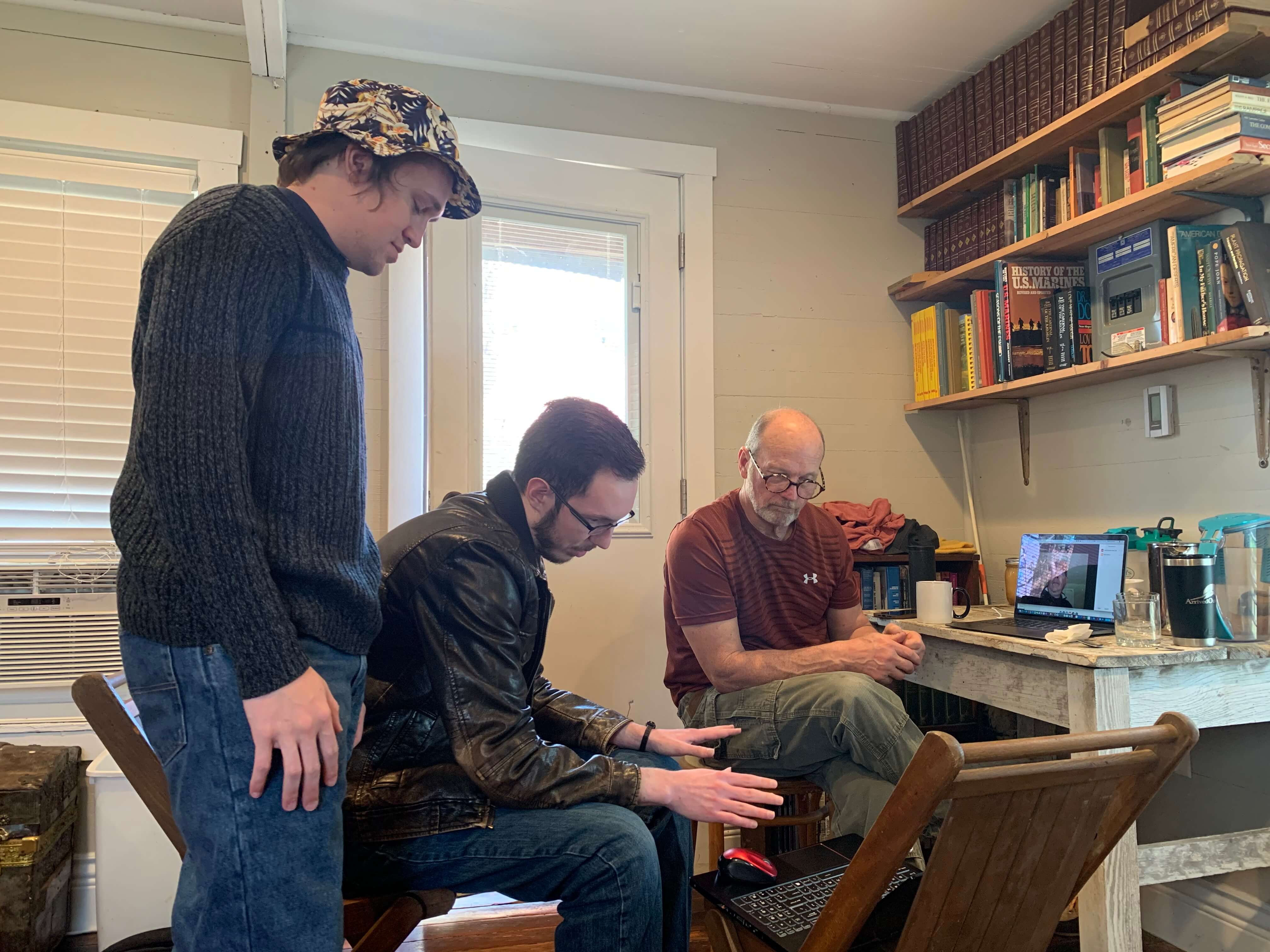 Photo: Two Hansen Hall residents in 2020 – Dain Grimes and Tyler Webb (both RCOBE Informatics students) – had the opportunity to pitch their real-world idea to angel investors who serve as consultants and mentors. 
Making fast friends at Hansen Hall comes naturally. Startups start spontaneously. Five new friends who met at Hansen Hall in August 2021 are honing their podcasting skills at BriefSpace co-working facility in downtown Hays.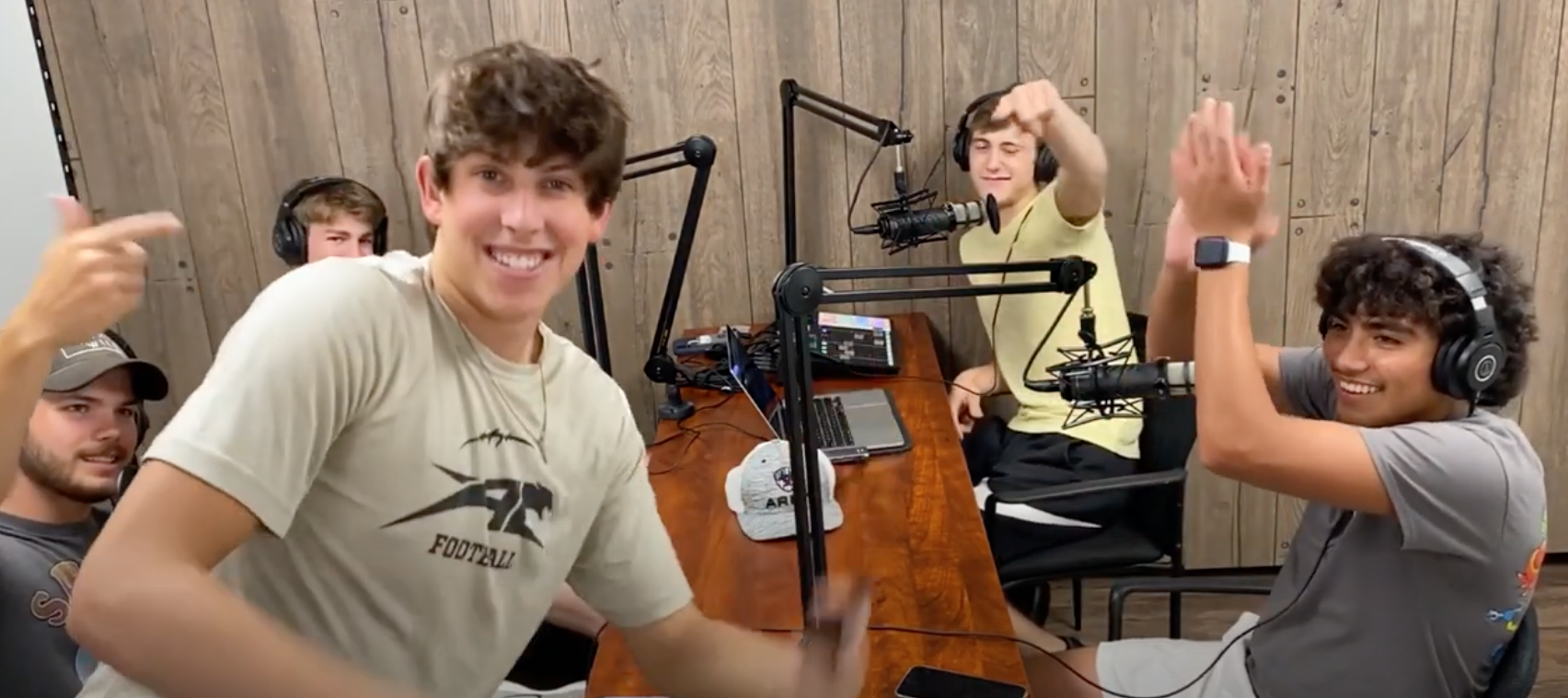 Photo: Check out the new podcast "TheGoodOlBoys" on Spotify or Google Podcasts. 
The 1-credit hour course required of all Dane G. Hansen Scholarship Hall recipients features experiential events such as consulting with local entrepreneurs in an often loud "Yes! AND!!!" ideation session. This particular IDEA JAM class meeting - catered with exotic food and homemade jam - focused on helping a local band strategize their promotions, social media, merch, and regional expansion.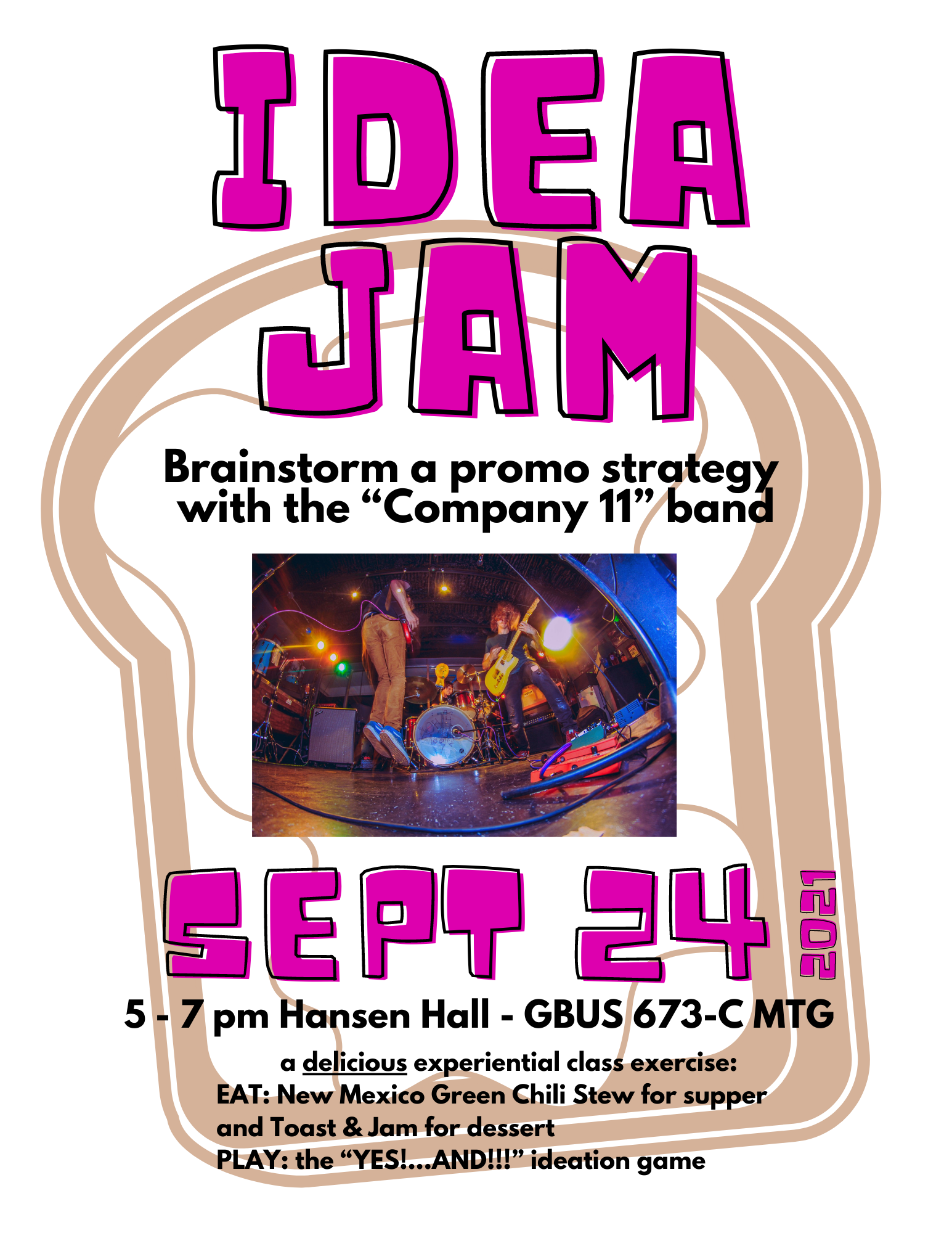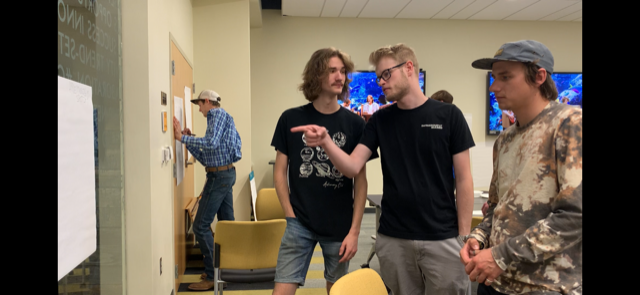 Photo: Band members of Company 11 point out one of the hundreds of ideas generated by the Hansen Hall residents at the one-hour ideation session. There's nothing quite like 30 creative brains focusing on your challenges! 
Residents Contribute 
Residents of Hansen Hall contribute to the community in all kinds of ways. Bass Fall is making a movie about life inside Hansen Hall. After Bass drafts the original script, the other residents will be able to co-creative the narrative with him and contribute slice-of-life footage to be incorporated into the short film. Helping students chase their entrepreneurial dreams is the goal of Hansen Hall.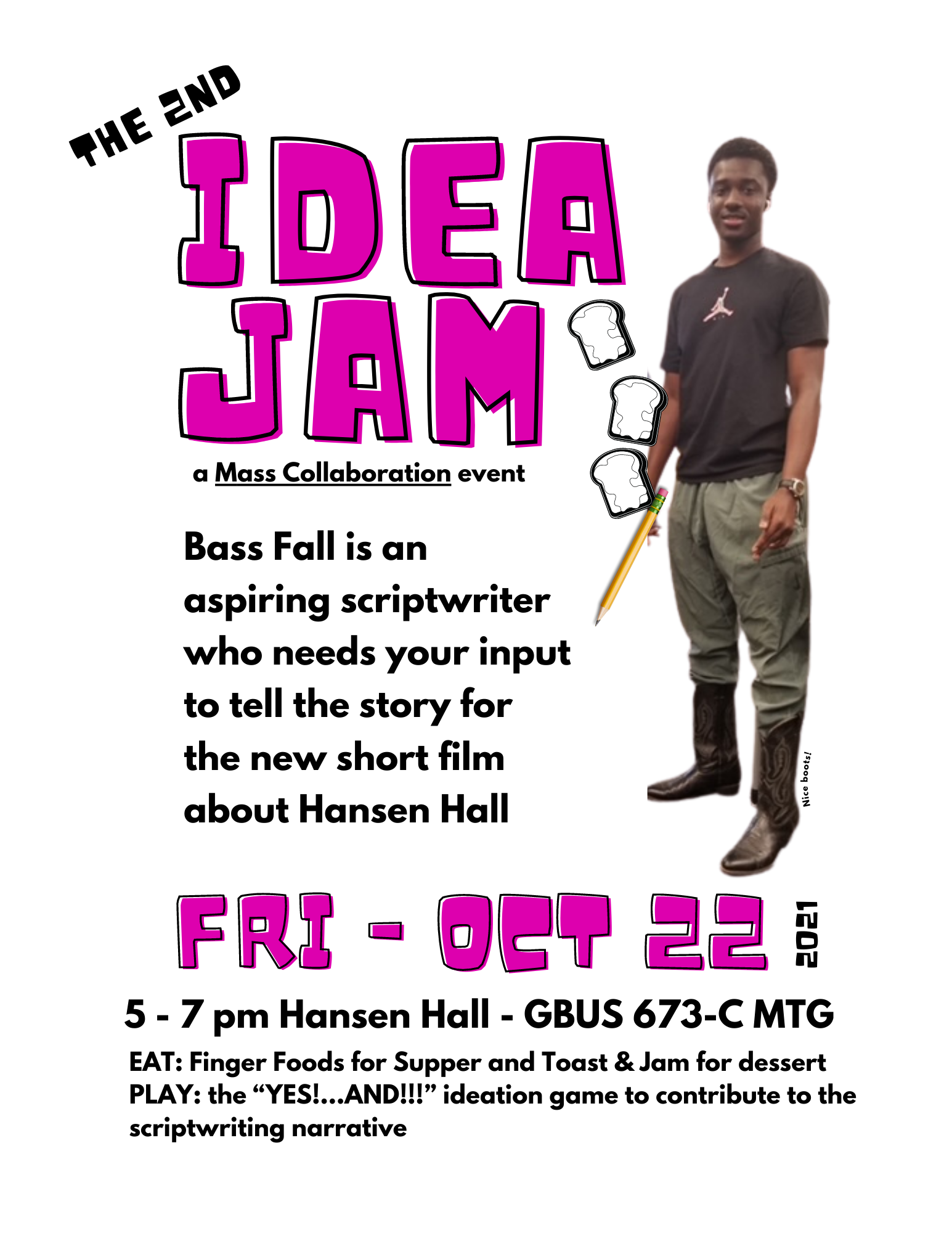 Residents engaged in a Visioning Workshop with Dr. Brett Zollinger on December 5, 2021. Starting in small groups, they met with alumni who joined by zoom and together they identified a list of abstract goals for the community. Through a wordsmithing process, the large group was able to combine the common threads and create an aspirational vision statement for Hansen Hall. The statement is a work in progress to be polished and revealed in January 2022.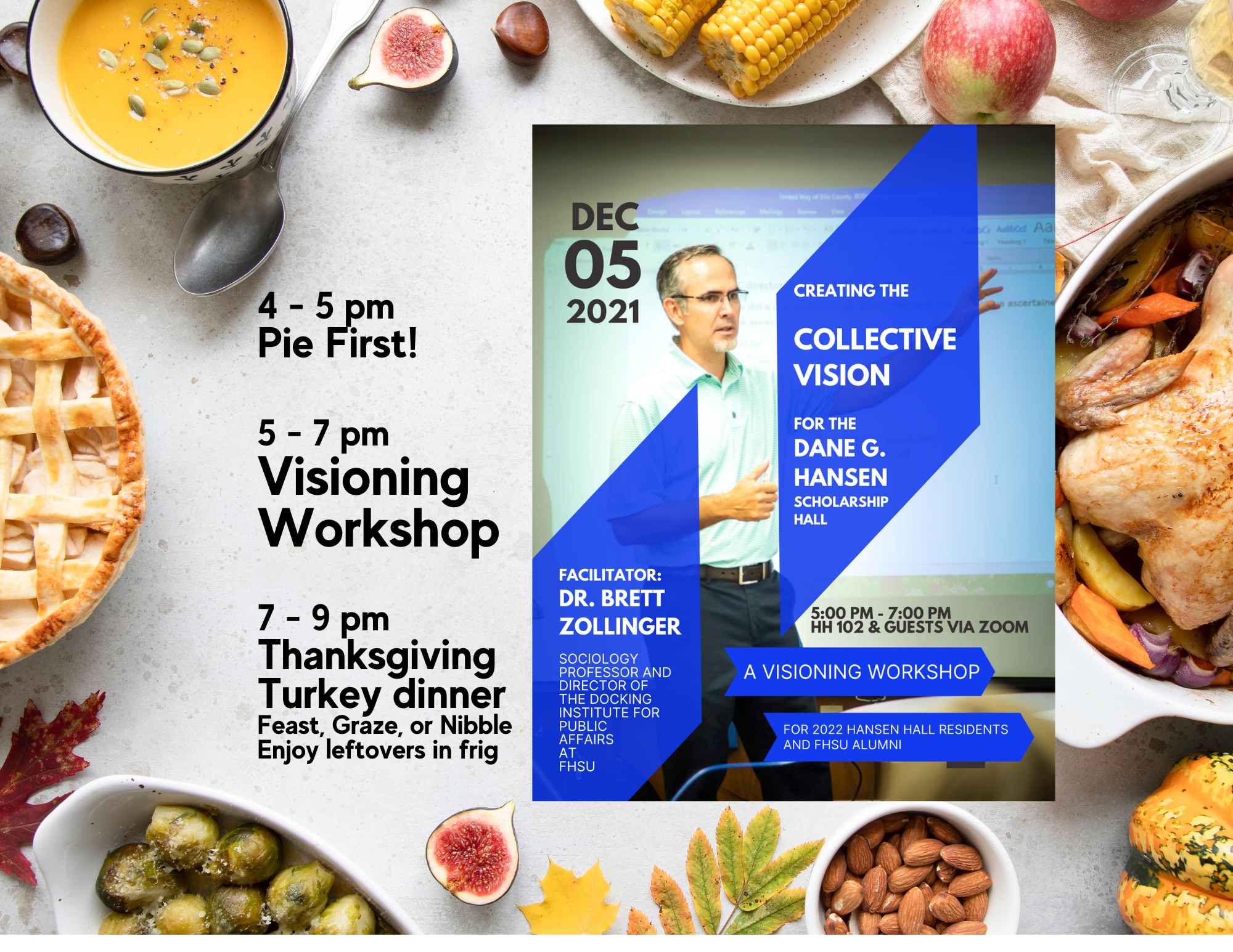 After the workshop, the residents celebrated with a homemade Thanksgiving dinner and watched the Kansas City Chiefs game. Hansen Hall is like a home away from home.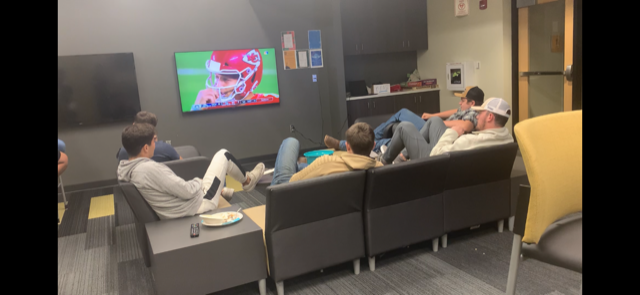 Below: Andre Santo Aires enjoys the home cooking provided by Dr. Jane Talkington, faculty liaison for Hansen Hall.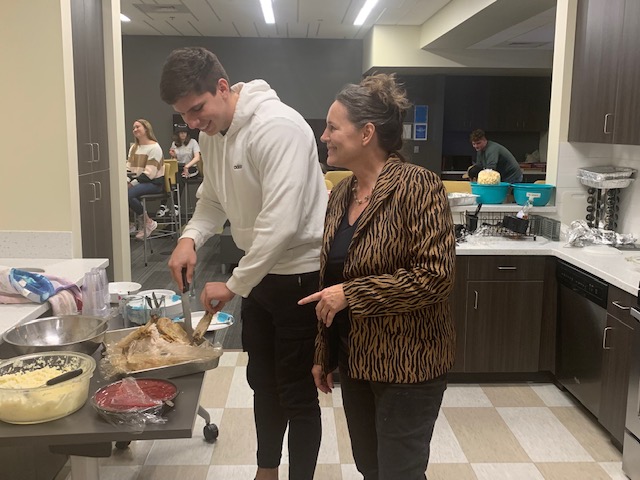 Monthly Faculty Dinners
Photo: Dr. Candace Mefaffey-Kultgen was the guest of honor at the October 2021 Faculty Dinner. She spoke about being intentional when creating a corporate culture and the importance of trust. The residents from Senegal provided a delicious traditional meal. Other faculty guests dinners were attended by Dr. Robert Lloyd and Professor Henry Schwaller. 
A Student Club for All Entrepreneurial Students Across Campus
In the fall of 2021, Ethan Lang (Finance major RCOBE) reopened the chapter for The Collegiate Entrepreneurs' Organization. This club is open to ALL students - regardless of major - who have a passion for entrepreneurial thinking. Free to join. C.E.O. members benefit from being closely associated with Hansen Hall.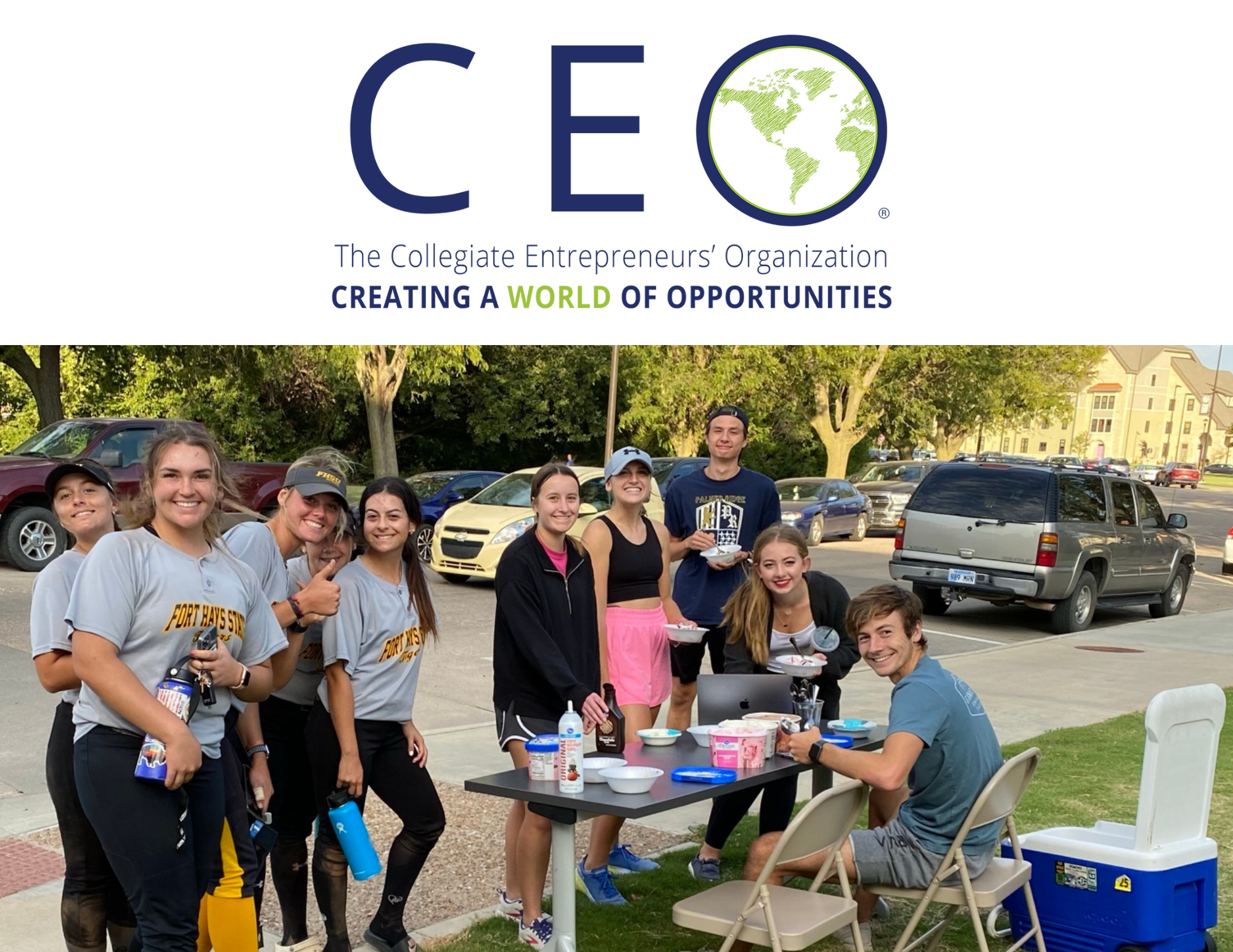 Photo: Ethan Lang dishing out banana splits at a membership drive for the C.E.O. student club focused on Entrepreneurship. 
Eligibility
The Dane G. Hansen Scholarship Hall recipients receive a private-room residence in the scholarship hall for one academic year. Freshmen through graduate students may apply. This scholarship is renewable annually with a demonstrated commitment to entrepreneurship and academic excellence. Applications are reviewed from February 1 through August 1, pending availability. 

To be eligible for consideration:
Applicant must be registered full-time at Fort Hays State University during residence in the scholarship hall.

Undergraduate students must be registered in a minimum of 12 credit hours per semester.
Graduate students must be registered in a minimum of 9 credit hours per semester.

Applicant must be in good academic standing.

Undergraduate students must have a cumulative GPA of 2.50.
Graduate students must have a cumulative GPA of 3.0.

Applicant must sign a Memorandum of Understanding that includes a commitment to complete two 3-credit hour courses during their first year of residency in Hansen Hall. ENTR 301 and ENTR 350 count toward the 9-credit hour Entrepreneurship certificate. Additionally, every resident is required to register in a 1-credit hour course each semester; the GBUS 673-C Entrepreneurial Experience for Hansen Hall course is exclusively offered to this community and includes guest speakers, community meetings, dinners, movies, practice sessions for entrepreneurship competitions, and consulting. These GBUS credit hours earned also count toward advance credential levels in the Entrepreneurship certificate. 
Applicant is expected to participate in the scholarship hall activities such as business tours, projects, events (Kansas Startup), competitions (Faulkner Challenge), speaker presentations and other outreach events scheduled. 
Applicant must be in good standing with the FHSU Residential system.
Click the link below to fill out your application online:
Open House events are held throughout the year and by appointment. Personalized individual tours are scheduled through the Admissions Office for prospective students and incoming freshmen or through the Center for Entrepreneurship for current FHSU students. A YouTube video can be seen by searching "Dane G. Hansen Scholarship Hall at Fort Hays State University." Contact the Center for Entrepreneurship for more information. We would love to show you our world!