Dane G. Hansen Scholarship Hall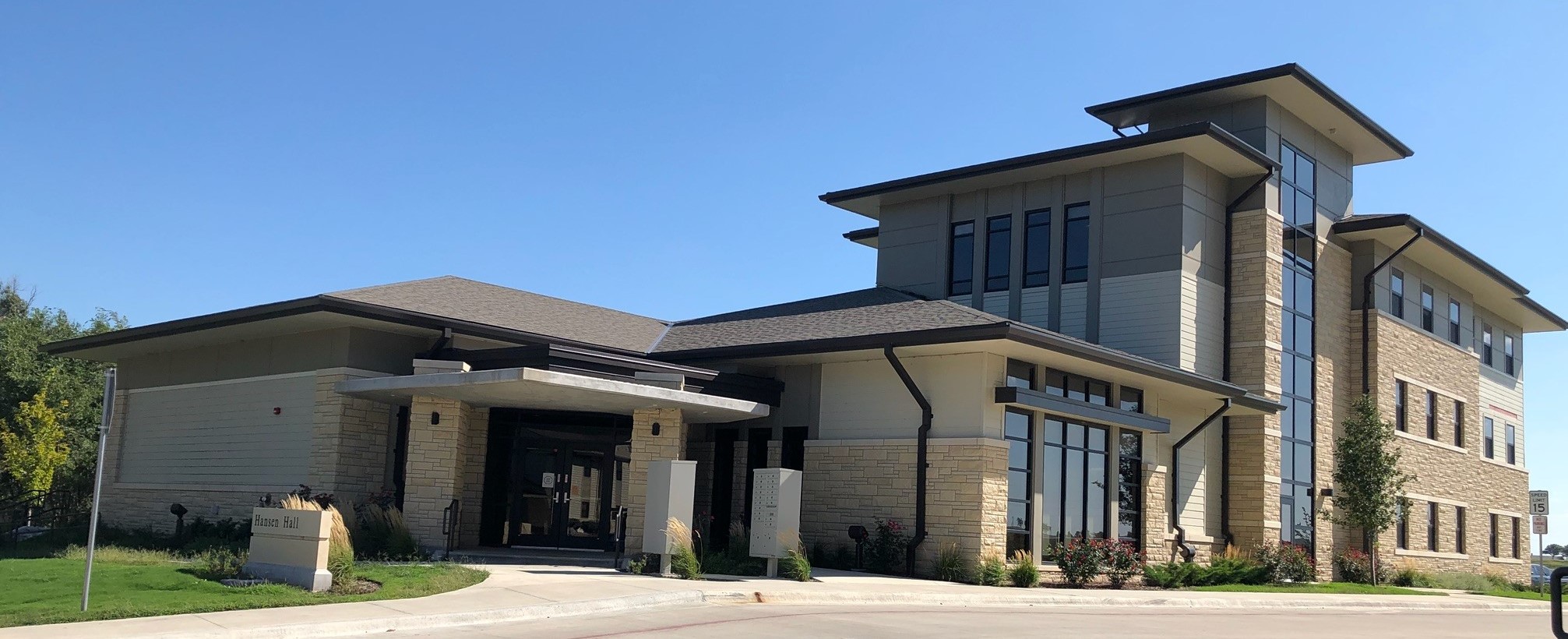 Students from ANY academic major with an interest in creativity and innovation are welcome to apply to the Dane G. Hansen Entrepreneurship Scholarship Hall. As a resident, you will be part of a dynamic and engaged learning community whose members have the opportunity to travel, compete, win awards, learn from successful entrepreneurs, and develop skills to advance your careers.
This residence hall - built in 2016 - is a premier living space for a select group of 33 undergraduate and graduate students who have a passion for taking action. Thanks to major financial support from the Dane G. Hansen Foundation, residents a generous discount of comparable housing elsewhere on campus. The cost for students taking Entrepreneurship courses who are accepted to Hansen Hall is $2,975 per academic year ($1,487.50 per semester).
Hansen Hall is a 3-story building with 33 private rooms (11 on each floor) and a community lounge with large-screen wall-mounted televisions on each floor. In addition to living spaces, the first floor houses a multi-purpose eLab, technology-enabled "innovation" rooms where students can work together to develop new ideas, a fully equipped commercial-grade kitchen, and in-house free laundry facilities. Access to 3D printers and audio and video editing is provided at the MakerSpace in the library.
Applications for admission are competitive and are reviewed the first of each month February through August. More information and the link to the application are below.
In addition to the state-of-the-art facilities and amenities, the focal point of this scholarship hall is the educational component completely devoted to entrepreneurial learning objectives. Students engage in curriculum based upon proven best practice approaches. Our state-of-the-art facilities and progressive coursework help students develop an invaluable career skill set.
Students in the scholarship hall are their own community/organization. This is a great place to make life-long friendships with other students from across the spectrum of university majors.
Our Motto: 

DREAM - BELIEVE - ACT
| At Hansen Hall, you will LEARN BY DOING, not just by reading from a book.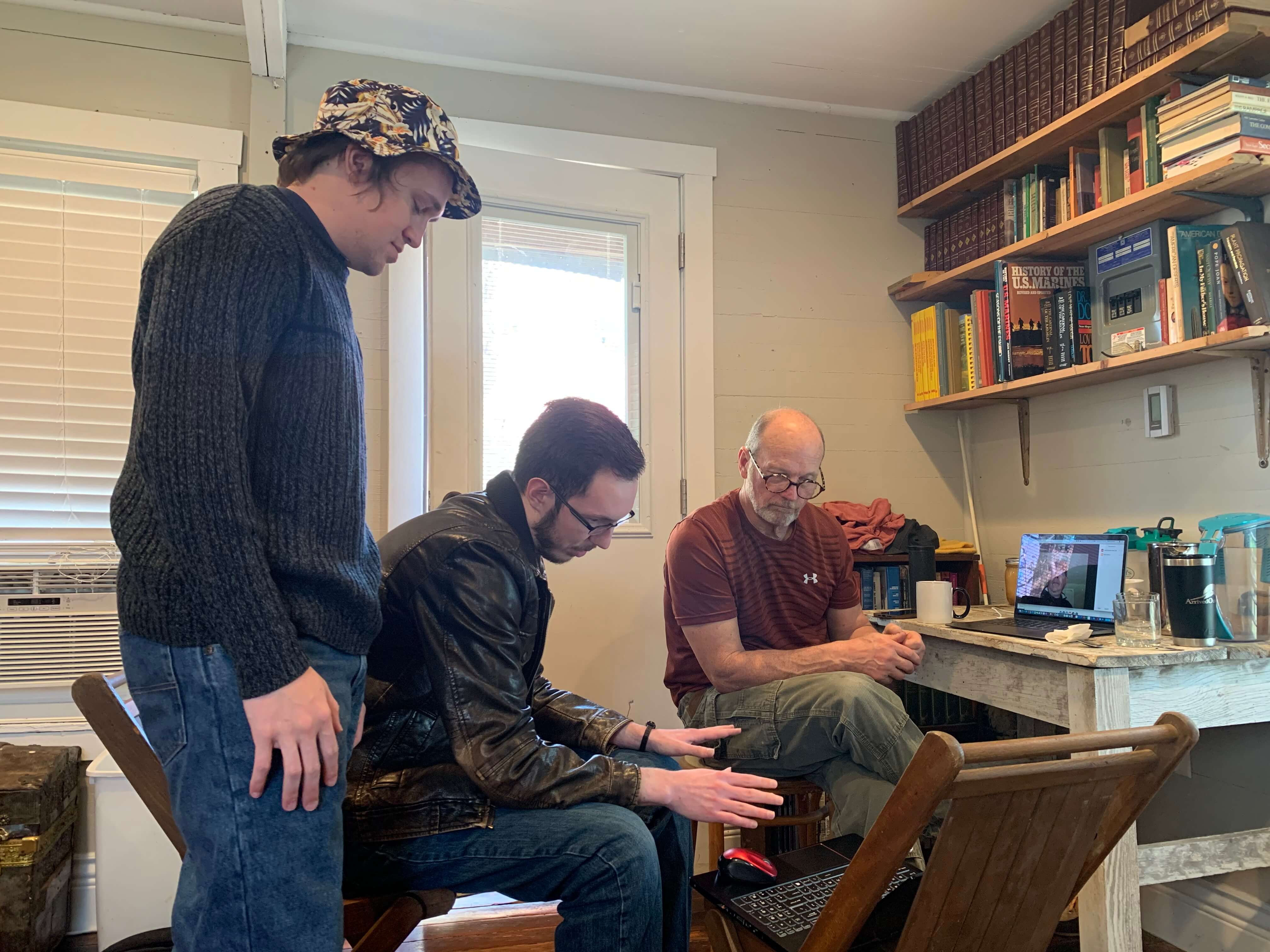 Photo: Two Hansen Hall residents – Dain Grimes and Tyler Webb (both RCOBE Informatics students) – had the opportunity to pitch their real-world idea formerly presented in The Faulkner Challenge to angel investors who serve as consultants and mentors. 
Eligibility
The Dane G. Hansen Scholarship Hall recipients receive a private-room residence in the scholarship hall for an academic year. Freshmen through graduate students may apply. This scholarship is renewable annually with a demonstrated commitment to entrepreneurship and academic excellence. Applications are accepted from February 1 through August 1, pending availability. 

To be eligible for consideration:
Applicant must be registered full time at Fort Hays State University during residence in the scholarship hall.

Undergraduate students must be registered in a minimum of 12 credit hours per semester.
Graduate students must be registered in a minimum of 9 credit hours per semester.

Applicant must be in good academic standing.

Undergraduate students must have a cumulative GPA of 2.50.
Graduate students must have a cumulative GPA of 3.0.

Applicant must sign a Memorandum of Understanding that includes a commitment to complete two 3-credit hour courses during their first year of residency in Hansen Hall. ENTR 301 and ENTR 350 count toward the 9-credit hour Entrepreneurship certificate. Additionally, every resident is required to register in a 1-credit hour course each semester; the GBUS 673 Entrepreneurial Experience for Hansen Hall course is exclusively offered to this community and includes guest speakers, community meetings, dinners, movies, practice sessions for entrepreneurship competitions, and consulting. These GBUS credit hours earned also count toward advance credential levels in the Entrepreneurship certificate. 
Applicant is expected to participate in the scholarship hall activities such as business tours, projects, events (Kansas Startup), competitions (Faulkner Challenge), speaker presentations and other outreach events scheduled. 
Applicant must be in good standing with the FHSU Residential system.
Dane G. Hansen Scholarship Hall Application
Recent surveys have reported 54-63% of millennials have already started their own business or have a desire to do so. This scholarship hall will provide a unique opportunity to work with your peers who share your passion for entrepreneurship. Are you interested in technology? The founders of Microsoft, Apple, Dell, Google, Yahoo, Blackberry and Facebook ALL met each other as students in school. Have an idea involving health fields, transportation, logistics, graphic design, tourism and hospitality?
Multiple firms in the United States have been developed from ideas founders generated and first worked on as students. Interested in solving problems that will benefit society? Many companies have started as ideas springing from the desire to do well as a business and do good for society at the same time, a value millennials share.
What idea will you develop? Who will you work and live alongside in this unique entrepreneurial community?
Open House Events are held throughout the spring. Personalized individual tours are scheduled through the Admissions Office for incoming freshmen or through the Center for Entrepreneurship for current FHSU students.