Ms. Kaley Klaus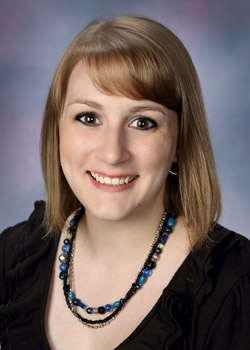 Contact Information:

  Office: Rarick Hall 235
  Office Phone: (785) 628-4303
  Email: krklaus@fhsu.edu
  Degrees: M.P.S. in Organizational Leadership, Fort Hays State University, 2015
  B.A. in Communication Studies-Public Relations, Fort Hays State University, 2012
Courses Taught:
LDRS 300: Introduction to Leadership Concepts
LDRS 302: Introduction to Leadership Behaviors
LDRS 310: Fieldwork in Leadership Studies
LDRS 450: Advanced Leadership Behaviors
UNIV 101: Freshman Seminar
Born and raised in Hays, KS, Kaley has been working in higher education since 2012. Before joining the department, Kaley worked as a product specialist and consultant at Campus Labs in Buffalo, NY, where she assisted over 100 institutions with their annual development of outcomes assessment plans, strategic plans, institutional effectiveness processes, and accreditation self-studies.

She joined the Department of Leadership Studies in 2014 as a graduate teaching assistant, and now serves as an instructor of Leadership Studies and the Master of Liberal Studies (MLS) Coordinator in the College of Arts, Humanities, and Social Sciences. Kaley also directs the Voss Advanced Leadership Undergraduate Experience, and has coordinateed a variety of co-curricular leadership development opportunities for students at FHSU. She is currently working toward a doctoral degree in higher education and leadership from Maryville University of St. Louis. 

Her areas of expertise include program development, assessment, and evaluation, and leadership theory; research interests include learning and program outcomes assessment, curriculuar and co-curricular leadership skills development, and destructive leadership in organizations.

In her free time, she enjoys reading, watching movies, and spending time with her friends and family, as well as her two chihuahuas, Lily and Rocky.