Meet the Scholars 2015 - 16
Above: 2015-16 VALUE Scholars at the National Collegiate Leadership Conference in Tuscon, AZ.
Lizette Avalos
Ashley Templeton
Tera Mills
Ali Sedbrook
Kaitlyn Dinges
Lindsay Smith
Emilie Atherton
Jade Singleton-Reich
Lizette Avalos is a senior double-majoring in Organizational Leadership and Communication Studies, and minoring in Business Administration. Coming to Fort Hays State University from Liberal, Kansas, Lizette plans to only continue her education upon her graduation in 2016. Looking toward the future, Lizette is confident she will stay in Kansas and work with children during her career. Wanting to take her leadership skills to another level, Lizette is excited to be a VALUE scholar as it will allow her to go into depth on her personal development and better prepare her for her future career. In her free time, Lizette performs a variety of service projects around the campus and community with her friends. She finds great fulfillment in being able to help others in need. In addition, she loves to travel and experience new cultures. Being the first woman in her entire family to attend college, she is enthusiastic about FHSU and the many opportunities it has provided her to learn, lead, travel, serve, and grow.
Ashley Templeton is a sophomore from Wilson, Kansas. She is an organizational leadership, and minoring in sociology with an emphasis in Photography. Her ultimate career goal is attend graduate school at FHSU for Higher Education Student Affairs, and work on a college campus upon her graduation. Ashley applied for the VALUE program because she wishes to further advance her leadership skills and gain a valuable experience that will her reach her career goals. For fun, Ashley likes to travel home to Wilson and spend time with her family, along with reading and practicing photography. A few years ago, Ashley even started her own photography business, and hopes to stay plenty busy as it gains more and more momentum. Ashley is also student senator in Student Government Association, an executive board member for Strips for Hope, and an executive member of the Sigma Sigma Sigma sorority.
Tera Mills is a senior at FHSU majoring in organizational leadership. Coming to FHSU from Eudora, Kansas, Tera hopes to one day have a career that leaves a true and lasting impact on a multitude of different individuals. Knowing that the VALUE program would give her a chance to further explore new leadership skills, she applied for the VALUE programs to strengthen the skills she has already developed. In her spare time, Tera likes to surround herself with other people like her family and friends. She loves meeting new people and finds herself investing most of her energy into the various relationships in her life. She also loves photography and videography, and has been spending a lot of time using her brand new DSLR camera to improve her skills.
Coming from Thorton, Colorado, Ali is a senior majoring in organizational leadership. She decided to apply for the VALUE program because she wants to make a difference in the world. Upon her graduation from FHSU, she hopes to work with an LGBTQ non-profit organization, being an ally to LGBTQ youth, raising awareness, and working toward total equality among all. Ali also has an interest in working with feminist groups. In her spare time, Ali loves reading. Although during the school year she is nose deep in textbooks, she spends her summers reading a plethora of novels. In addition, she spends time at the lake with her friends, and watches a ton of movies.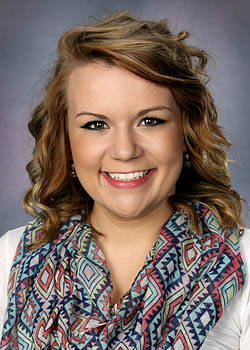 Kaitlyn Dinges came to FHSU from Dodge City, Kansas, although, she considers Midlothian, Virginia her hometown, as she lived there from 5th - 12th grade. A senior majoring in organizational leadership, Kaitlyn joined the VALUE program to build relationships, not only with her classmates, but with future mentors. Through working with the Women's Leadership Program, Kaitlyn has developed a passion on working for women's issues and ending gender inequality. In addition, she thrives when it comes to event planning, which will be a skill further developed through her internship with the Convention and Visitors Bureau in Bentonville, Arkansas. In her spare time, Kaitlyn spends time with her family and friends, crafting, traveling, watching movies, and going to concerts.
Lindsay Smith is a senior majoring in organizational leadership from Wichita, Kansas. Although she is unsure of her future career path at this moment, Lindsay hopes the VALUE program will help her discover the right path, all the while continuing to develop her leadership skills. In her free time, Lindsay enjoys the simple things in life like spending time with her friends and family; she also likes crafting and reading. Heading into her senior year at FHSU, Lindsay will not only be knee-deep in the VALUE program, but also wedding planning, as she became engaged in spring 2015.
Back to Top

Emilie Atherton
Emilie Atherton is an organizational leadership major from Wichita, KS. After receiving her bachelor's degree, she hopes to receive a master's degree in Student Affairs, and work in Residential or Greek Life at a large university. Emilie joined the VALUE program to be a part of something that would challenge her to grow not only as a person, but as a leader. Knowing this would be a unique opportunity, Emilie hopes that being in the first VALUE cohort will allow her to help shape what the program will look like for students in the years to come. Very outgoing, Emilie loves to travel and spend quality time with her family and friends. Her favorite food is popcorn, which pairs perfectly with her love of IMAX movies. Emilie is spending her summer 2015 in New York interning at Columbia University. In the future, she would love to return to Columbia and work full-time in the university's housing department.
Back to Top

Jade Singleton-Reich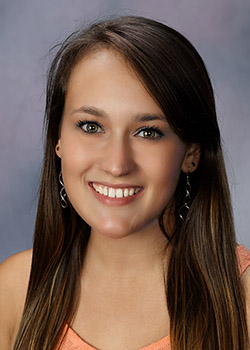 Coming to Fort Hays State University from Denver, CO, Jade is a senior majoring in organizational leadership. She joined the VALUE program to aid in her search for a career path, and believes the opportunities the VALUE program provides will allow her to expand her network, and the skills necessary for her future success. She hopes to begin a career with a job that allows her to give back to all those in need, and make a lasting change. In her free time, she loves to read, and will give any book a chance. She also enjoys cooking and baking, crafts, games, and spending time with her friends and family.