Science and Mathematics Education Institute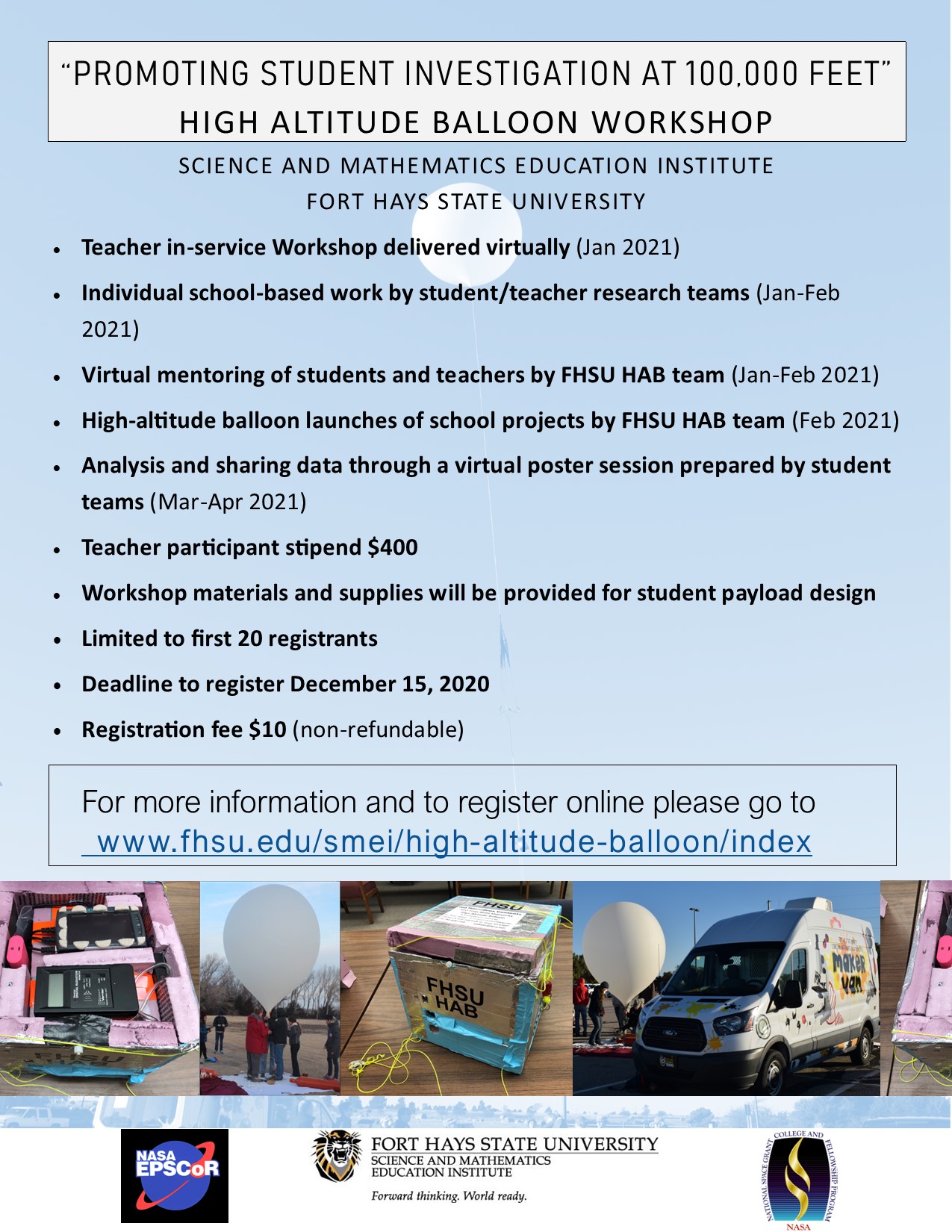 HAB Workshop timeline:
(Teacher Virtual)  January 12, 2021 4:30-5:30 pm  Why High Altitude Ballooning in School?   This will include past and current HAB projects, and introduction to a FHSU HAB website, FHSU HAB Community Google Drive, and HAB articles relevant to classroom implementation.

(Teacher Virtual)  January 13, 2021 4:30-5:30 pm  NASA Resources. This will include an introduction to NASA scientific ballooning (tentative plan is to contact a NASA scientific balloon team member to present or create a video to support this event) and the science of near-space.  This session will provide examples of two NASA resources: JPL's "Build a Satellite" activity, and NASA BEST (Beginning Engineering, Science and Technology) activity guides as part of the start for payload experiment planning with the teachers and eventually their students.

(Teacher Virtual)    January 18, 2021 4:30-5:30 pm  Designing an Investigation. This will involve and in-depth review of how FHSU conducts its launches and will provide break-out groups for teacher teams for the schools to plan a payload for a teacher flight (Launch 1).

(Teacher Virtual)    January 21, 2021  Pre/Post Launch Activities.  The goal for this session is to discuss flight preparation, weather forecasting, telemetry, flight predictions, NOTAM, tracking, recovery, and post analysis of data from probes, aprs.fi, habhubtrackr, and Google Earth representation.

(Teacher Virtual)    January 23, 2021 (tentative)  Teacher Flight: Launch 1. Teachers will have remote access, but are welcome to join in a socially distanced manner, for a launch, chase, and recovery. The event will be livestreamed for teacher use in their classroom and archived for future reference.

(Teacher Virtual)    January 26, 2021 4:30-5:30 pm (based on flight)  Post Flight Data Session. We will meet to debrief on the data collected and discussion on possible student research, and an appropriate format for student sharing of research following a school payload flight.
(Teacher & Student Virtual)   Student consultations, school payload flight, virtual fair – by appointment, projects prepared and mailed in
(Teacher & Student Virtual)   Tentative Flight days for student projects: Feb 12/19/26, 2021 – at least two of these dates possibly all three depending on preparation of the classroom and payload
(Teacher & Student Virtual)   Posting of student findings to web – mid March 2021 with display through mid-April 2021
FAQ's about HAB Workshop:
Do I need to attend every teacher session?
YES.
When will I receive my participant stipend check?
At the end of the project.
Are my students required to build and send back a payload?
YES. 
Can our class attend a launch and chase in person?
You are welcome to bring a class and maintain your social distancing and COVID-19 protocols according to school policy.  While we would love to have all of your students deeply involved in a launch, we want to keep everyone safe.  If you do plan to attend, you can prepare your payload prior to our connecting it to the flight stack. Your position in the stack will be shared prior to the flight.                                                                                                                                                                                    
Is there a specific grade level that this is intended to target? 
Targeting middle school level, but we are open to high school and elementary and have found that it works well for all grade levels. The main difference is the level of the investigation.

 

 
Video from October 24, 2020 HAB Launch
https://www.youtube.com/watch?v=HBcPNX69PQk
Video from October 8, 2020 HAB Launch
Video from September 13, 2020 HAB Launch
https://www.youtube.com/channel/UCpJi3VziG2XsYtmrmu9LJhQ
Video from Junior High Launch
Junior High Video 1
Junior High Video 2
Junior High Video 3
February 28, 2014 Balloon Launch (Not Available Right Now)

A Sky High Adventure - - March 3, 2014
Dr. Jack Maseberg's HAB Presentation
HAB Link - - Earl Watkins
HAB Flight - - Jenny Thayer-Wood
Photo's by Richard Robinson
HAB videos from the weekend flight September 2020. 

https://www.youtube.com/channel/UCpJi3VziG2XsYtmrmu9LJhQ/