Science and Mathematics Education Institute Maker Van
What do you do in the Maker Van?
You make things!  Things that you are curious about.  Things that spring from your imagination… that inspire you and things that you admire.  The informal, playful atmosphere allows learning to unfold.  Making, rather than consuming is the focus.  It is craft, engineering, technology and wonder-driven.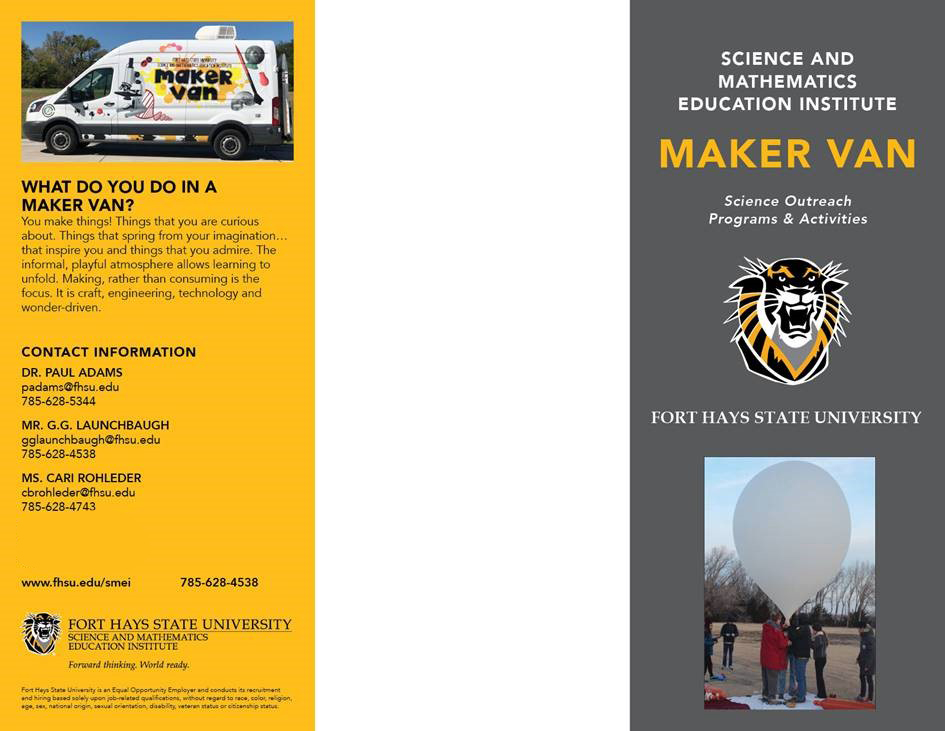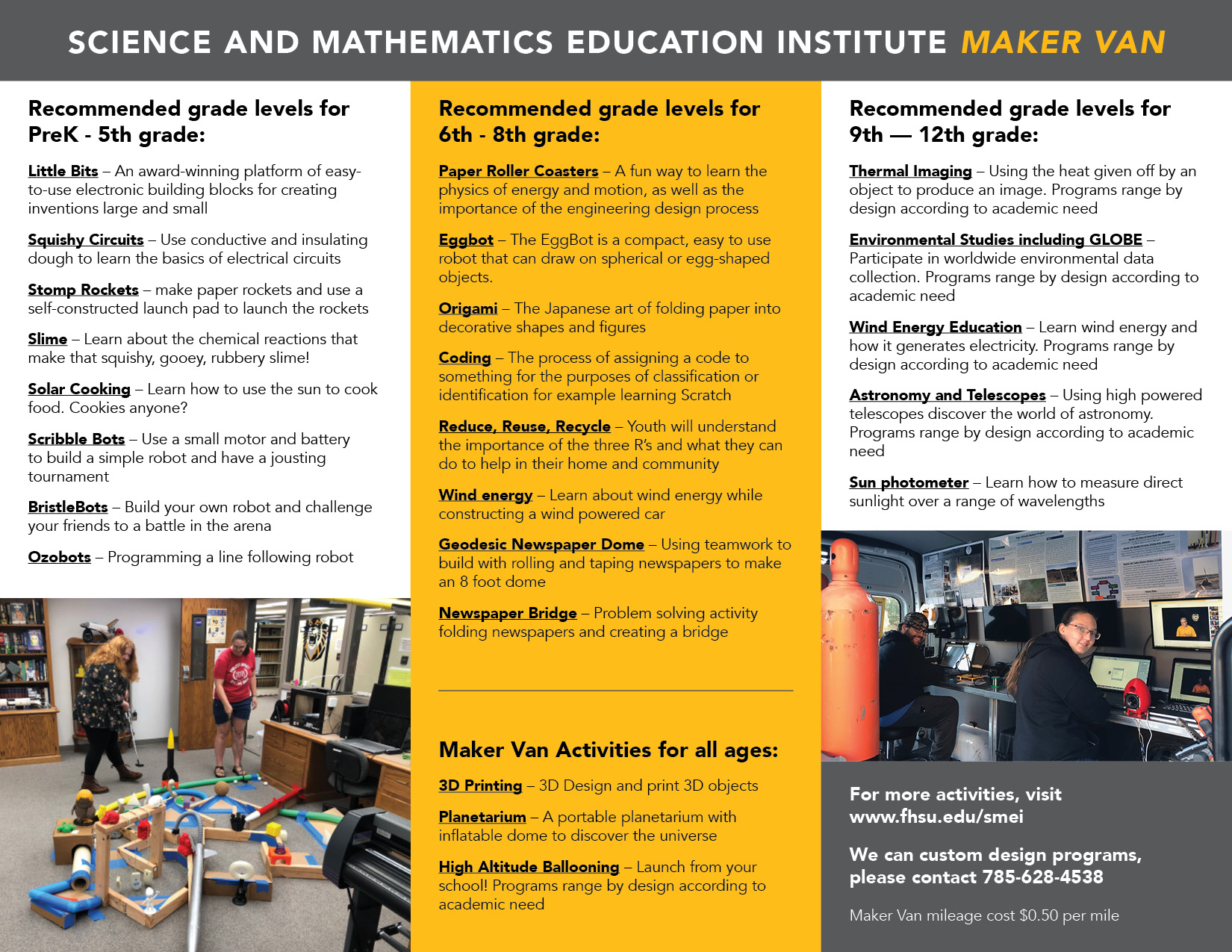 Activities for Maker Van
Recommended grade levels for PreK — 5 th grade
Stomp Rockets- make paper rockets and use a self-constructed launch pad to launch the rockets
Squishy Circuits - Use conductive and insulating dough to learn the basics of electrical circuits
Solar Cooking - Learn how to use the sun to cook food.  Cookies anyone?
Slime – Learn about the chemical reactions that make that squishy, gooey, rubbery slime!
Scribble Bots - Use a small motor and battery to build a simple robot and have a jousting tournament
BristleBots - Build your own robot and challenge your friends to a battle in the arena
Little Bits - an award-winning platform of easy-to-use electronic building blocks for creating inventions large and small
Recommended grade levels for 6 th — 8 th grade
Wind energy - learn about wind energy while constructing a wind powered car
Reduce, Reuse, Recycle - Youth will understand the importance of the three R's and what they can do to help in their home and community
Coding -the process of assigning a code to something for the purposes of classification or identification for example learning Scratch
Origami-the Japanese art of folding paper into decorative shapes and figures
Eggbot- The EggBot is a compact, easy to use robot that can draw on spherical or egg-shaped objects. Designed to draw on all kinds of things that are normally "impossible" to print on
Paper Roller Coasters - a fun way to learn the physics of energy and motion, as well as the importance of the engineering design process 


Recommended grade levels for 9 th — 12 th grade
Environmental Studies including GLOBE-Participate in worldwide environmental data collection. Programs range by design according to academic need
Wind Energy Education - Learn wind energy and how it generates electricity.  Programs range by design according to academic need
Thermal Imaging– Using the heat given off by an object to produce an image.  Programs range by design according to academic need
Astronomy and Telescopes-  Using high powered telescopes discover the world of astronomy.  Programs range by design according to academic need
Sun photometer - learn how to measure direct sunlight over a range of wavelengths


Maker Van Activities for All grades
3D Printing - 3D Design and print 3D objects
Planetarium– A portable planetarium with inflatable dome to discover the universe
High Altitude Ballooning -  Launch from your school! Programs range by design according to academic need
We can custom design programs  please contact 785-628-4538   
Maker Van mileage cost $0.50 per mile
Contact SMEI Staff
Dr. Paul Adams, Dean, College of Education,  padams@fhsu.edu
Mr. Earl Legleiter, Director,  eflegleiter@fhsu.edu  785-628-4561
Ms. Ann Noble, Financial Administrator,  amnoble@fhsu.edu  785-628-5449   
Mr. G.G. Launchbaugh, Science Outreach Director,  gglaunchbaugh@fhsu.edu 785-628-4538
Ms. Cari Rohleder, Director of Public Engagement,  cbrohleder@fhsu.edu  785-628-4743
www.fhsu.edu/smei    (785) 628-4538