PreK-12 and Secondary Transition to Teaching
The Restricted Teaching License Alternative Pathway is one of numerous routes to the classroom. Professionals outside the field of education who have a bachelor's, master's degree, or equivalent coursework in a content area they want to teach and are seeking a career change can begin serving as the teacher of record in Kansas right away.
Information about PreK-6 Elementary Education T2T
Am I Eligible?
To qualify for the program:
Transcript verifying completion of an undergraduate or graduate degree in the content area or with equivalent coursework in the area for which the restricted license is sought
Pass the Praxis test for the subject area you qualify for
Have a 2.75 GPA on your most recent 60 credit hours (KSDE requirement)
Once qualified, you must be accepted to the Graduate School and obtain a KSDE Restricted Teaching License. The Graduate School's GPA requirement is 2.50 based on 60 hours of undergraduate coursework, if degree seeking. If non-degree seeking, the GPA is based on the master's transcript only OR the last 60 undergraduate hours
Obtain offer of employment as the teacher of record for the subject area you qualify for. If hired full-time, must teach at least 50% of your courses in the subject area you qualify for.
Must be hired at least half-time. If employed only half-time, 100% of the courses taught must be in the qualified subject area.
Employment as a para or substitute teacher will not qualify you for acceptance into the program. You must be hired under contract as the teacher of record for the subject area you qualify for.
The program consists of education pedagogy coursework only; additional content coursework is not required.
Heritage language speakers with a bachelor's degree or higher can qualify for the restricted license to teach their native languages.
What if I Do Not Meet the Above Eligibility Requirements?
If you do not have a degree in a specific content area, then review the required coursework below to help you determine what additional coursework must be taken prior to qualifying for the program.
These majors do not qualify without additional coursework being taken:  Criminal Justice, General or Interdisciplinary Studies, Information Networking, Engineering, Nursing, Justice Studies, Sociology, Social Work, Bible Ministry, Political Science, Computer Science.
If you believe you are close to qualifying in a specific subject area based on your review of your transcript and the required courses listed below, then you may submit an unofficial transcript for an eligibility review.  Click on the READY? GET STARTED HERE! Box on the left.
If you live outside of Kansas or do not have current plans to obtain a job as a middle school or high school teacher, then the MSE-Secondary Education program may be the best option. You cannot be employed as a teacher of record while in this program. To qualify, you would need to hold a bachelor's degree or higher in a teaching subject area or the equivalent and it does not require you to obtain a contracted teaching position. Current available licensure areas are Business, Biology, Chemistry, Physics, Earth and Space Science, Middle Level Science, History, and foreign languages.  This is a graduate program offered 100% online and requires 27 credit hours for licensure and 36 credit hours for the MSE degree. For more information, https://www.fhsu.edu/teachereducation/academic-programs/mse-secondary-education
Qualifying Content Areas
FHSU works with the licensure areas below in the Transition to Teaching program.  If you do not have a major in the subject area, you will need to first take the courses listed in order to qualify to teach that subject area.  To see what types of courses can be taught within a particular licensure area, go to the KSDE Current Licensed Personnel Guide. 
Secondary

 Middle Level

 PreK - 12

French
German
Latin
Music
Chinese

*Library Media Specialist

*School Counselor
* To qualify for a restricted school specialist license for Library Media Specialist or School Counselor, applicant must:
hold a graduate degree in the area of counseling or library media,
have at least 3 years of full-time professional counseling or librarian experience (after completion of the graduate degree),
have a minimum 3.25 cumulative GPA in graduate coursework,
be hired as a Library Media Specialist or School Counselor with a school district
---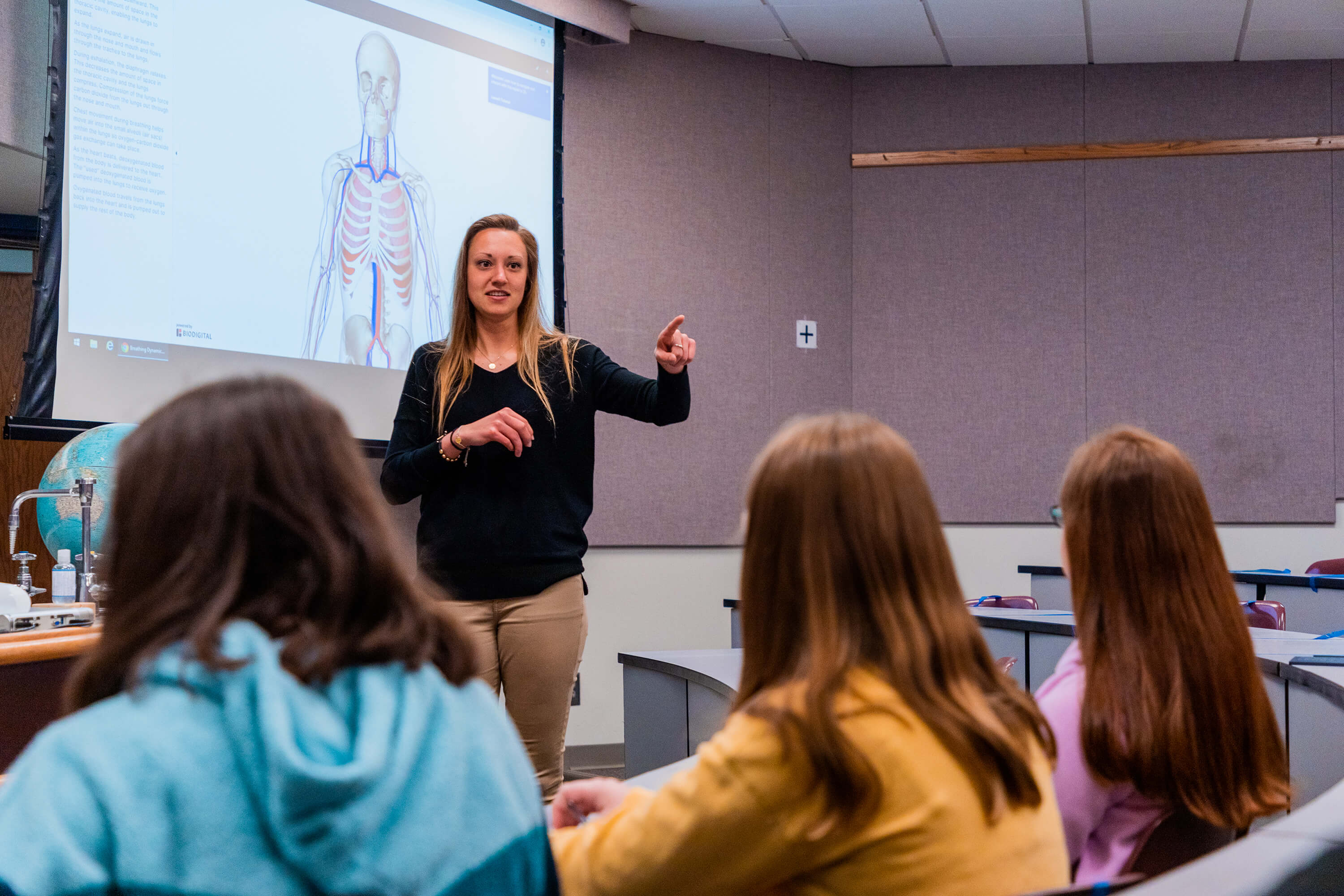 Plan of Study - Non-Degree and MSE Degree
The Transition to Teaching program through Fort Hays State University includes two options.
First is the non-degree program. This program encompasses 24 credit hours over the course of 2 years and results in licensure.
The second option works in conjunction with the 2-year, 24 credit hour program and includes a graduate degree. This is the same licensure program above but includes 12 additional credit hours of graduate coursework that leads to a Master of Science in Education degree. The four additional courses can be taken concurrently with the 24 credit hour program or after it's completion. Additionally, all MSE students must take a written comprehensive exam at the end of their coursework before the Master's degree is awarded.
A listing of the T2T courses and master's courses along with course descriptions:  https://docs.google.com/document/d/1RJ4fI-ZrtP3lmngB9ks84-NclRQv8qpsvGrbMW5-Vgs/edit?usp=sharing
If you have any questions or would like additional information about the program, you may contact Mr. Kyler Barlow at 785-628-5498, Kjbarlow3@fhsu.edu