Annual Student Honors Exhibition
View our previous exhibitions here:
ONLINE REGISTRATION will Open Monday, February 28th, 8:00 a.m. 
ONLINE REGISTRATION will Close Sunday, March 13th, 11:59 p.m.
STUDENTS will be notified by Sunday, March 20th.
ARTWORK must be brought into the Gallery by Friday, March 25th, 4:00 p.m. 
    (Artwork will not be accepted after 4:00 p.m!)
Reception, Friday, April 1st, 6:00-8:00 PM. Scholarship winners will be announced at 7:30 PM.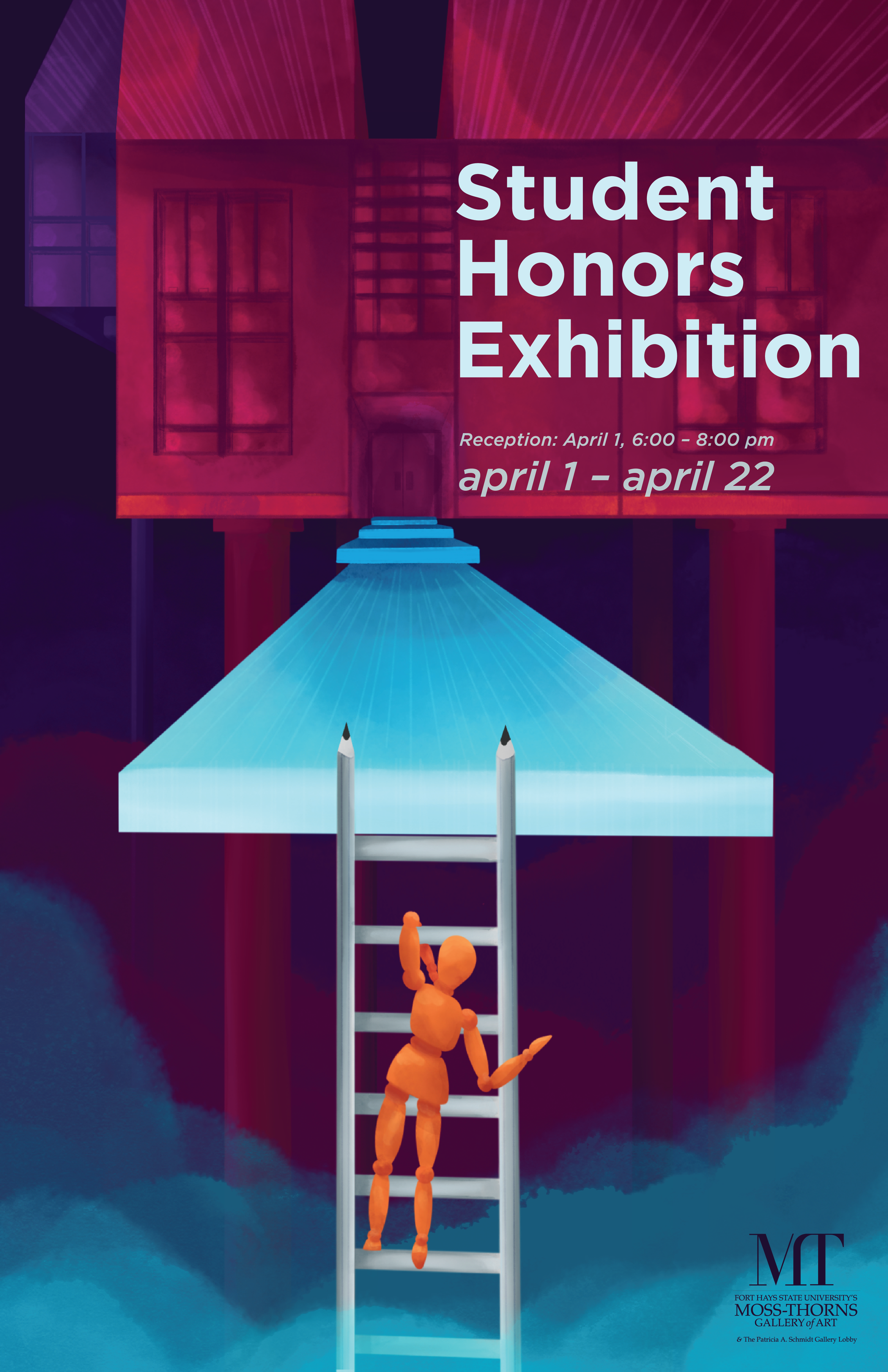 Online registration for the Student Honors Exhibition opens soon!
Please Register Online Here.
HOW TO APPLY:
Artists must create a free account before submitting work. Once you have made an artist profile go to APPLY TO CALL and make sure to use code 0228 in the INVITATIONAL ONLY section to the left of the page when searching for our call!
Eligibility & Scholarship Information:
All undergrad Art and Design students are eligible to enter recent work from the 2021-2022 academic year.
Each student may enter up to four pieces of work, in any medium/media. (Motion graphic submissions must provide a laptop or iPad for gallery showing).
Scholarships: Eligible students are Freshmen, Sophomores, Juniors and Seniors (who have at least one semester of classes remaining). Graduating seniors are not eligible for scholarships but are able to receive an Honorable Mention Award. If eligible for a scholarship, please check the box on the registration form.
Scholarships will be awarded at 7:30 p.m on opening night. Winners do not have to be present at the opening reception; however, all winners will need to 'accept' the scholarship in myFHSU app in Workday after it has been added to your account by the Scholarship Office.


(20) $200 Student Honors Scholarships
(3) $1,000 Fields Scholarships
Important Notes to Students:
Only gallery-quality work will be accepted. Works must be framed under glass or plexiglass (paintings may have wrapped painted edges).  Matted works without glass/plexiglass will not be accepted.
Artwork that is to be traditionally hung needs to have a proper hanging device installed on the back of the work. The gallery will not provide proper hanging equipment and will not accept works without a proper hanging device.
Students are responsible for getting their own work properly matted and framed. Hobby Lobby has pre-made frames as well as many frame choices available for custom framing. Check online to look for their periodic 50% off frames sale.
Artwork may be alternatively installed in the gallery, which could include pinning, nailing, and magnets. Please work with your major advisor for proper professional installation procedures if you feel your work will need an alternative or non-traditional presentation.
Any work requiring special display or hanging (such as hanging sculpture or installation pieces) must be approved by the Chair or Gallery Director per the Moss-Thorns Gallery guidelines.
Exhibition Juried by Elizabeth Seaton
Curator, Marianna Kistler Beach Museum of Art, Kansas State University
Curator Elizabeth Seaton has been with the Marianna Kistler Beach Museum of Art at Kansas State University since 2003. Previously Seaton worked in the museum education department of the Art Institute of Chicago (2000-2003) and as a curator at Northwestern University's Mary and Leigh Block Museum of Art (1994-1996).
Seaton received her MA/PhD in art history from Northwestern University in 2000. Her research interests include American printmaking, US government patronage of the arts, and American art between the two world wars.
Seaton has organized numerous exhibitions, including the Beach Museum of Art's 2005-2008 traveling exhibition, "Paths to the Press: Printmaking and American Women Artists, 1910-1960" and 2015-2017 traveling exhibition "Art for Every Home: Associated American Artists." She is a co-author of the catalogues for these exhibitions and author of WPA Federal Art Project Printmaking in California (San Francisco: Book Club of California, 2005).
Seaton was raised in Winfield, Kansas, and has lived with her husband and daughter in the Flint Hills of Wabaunsee County, Kansas, for eighteen years.