Annual Student Honors Exhibition
UPDATE! This year we had a physical exhibition!
  Click here to view this year's (2021) exhibition!
  OR
  Click here for last year's (2020) virtual exhibition!
ONLINE REGISTRATION will Open Monday, March 1st, 8:00 a.m. 
ONLINE REGISTRATION will Close Sunday, March 7th, 11:59 p.m.
STUDENTS will be notified by Saturday, March 13th
ARTWORK must be brought into the Gallery by Friday, March 19th, 4:00 p.m. 
    (Artwork will not be accepted after 4:00 p.m!)
NO RECEPTION 
    (Scholarship winners will be notified via email. Full virtual show and list of scholarship winners will be posted to our website and social media pages.)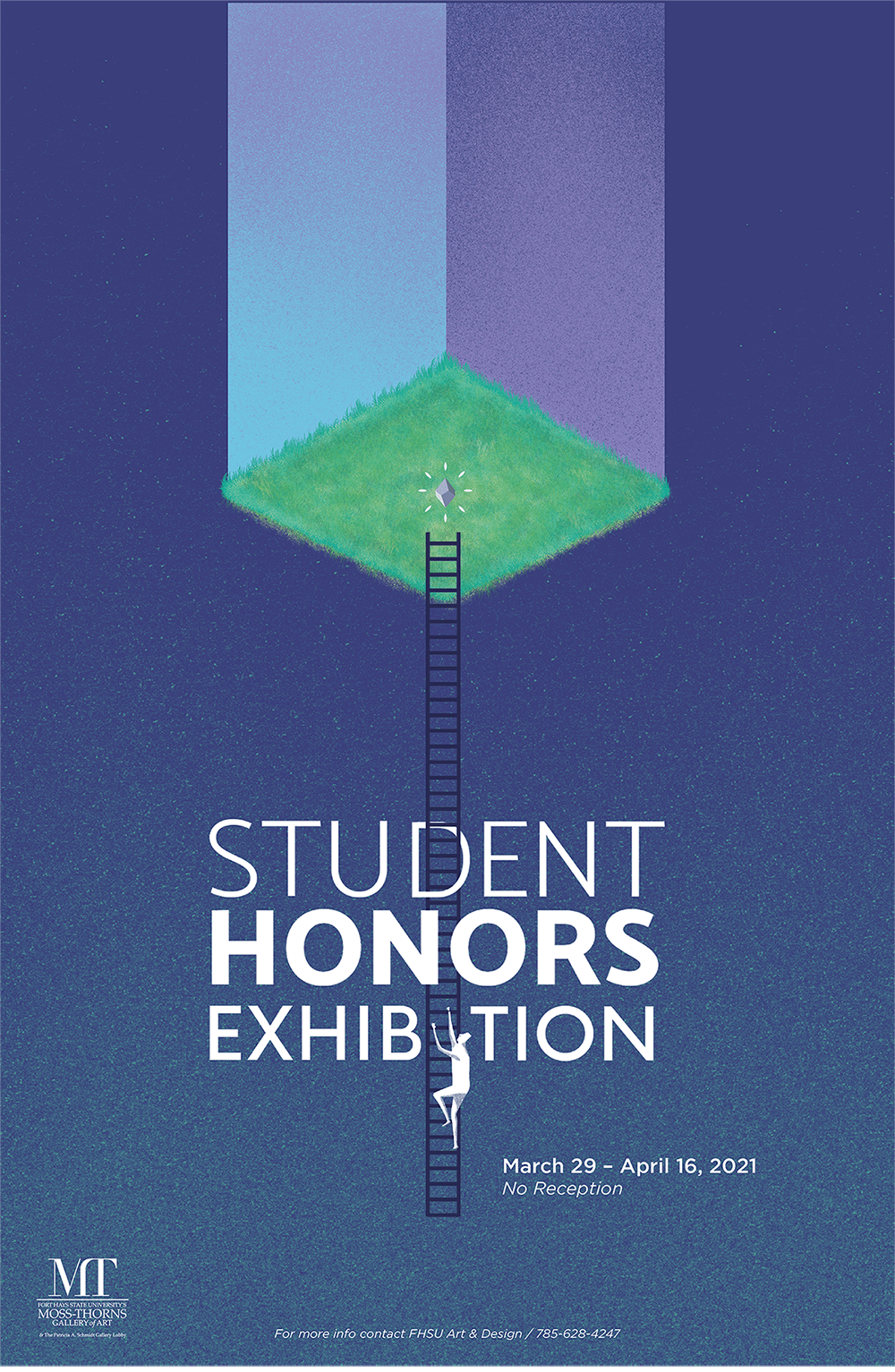 Online registration for the Student Honors Exhibition is open!
Please Register Online Here.
Note: Artists must create a free account before submitting work. Use code 0307 to access our call for entry.
Important Notes to Students:
All undergrad Art and Design students are eligible to enter recent work from the 2020-2021 academic year.
Each student may enter up to four pieces of work, in any medium/media. (Motion graphic submissions must provide a laptop or iPad for gallery showing).
Only gallery-quality work will be accepted. Works must be framed under glass or plexiglass (paintings may have wrapped painted edges).  Matted works without glass/plexiglass will not be accepted.
Students are responsible for getting their own work properly matted and framed. Hobby Lobby has pre-made frames as well as many frame choices available for custom framing. Use the Hobby Lobby app on your smartphone to get 40% off one item anytime, or check online to look for their periodic 50% off frames sale.
Artwork may be alternatively installed in the gallery, which could include pinning, nailing, and magnets. Please work with your major advisor for proper professional installation procedures if you feel your work will need an alternative or non-traditional presentation.
Any work requiring special display or hanging (such as hanging sculpture or installation pieces) must be approved by the Chair or Gallery Director per the Moss-Thorns Gallery guidelines.
Scholarships:  Eligible students are Freshmen, Sophomores, Juniors and Seniors (who have at least one semester of classes remaining). Graduating seniors are not eligible for scholarships but are able to receive an Honorable Mention Award. If eligible for a scholarship, please check the box on the registration form.
Scholarships will be awarded at 7:30 p.m on opening night. Winners do not have to be present at the opening reception; however, all winners will need to 'accept' the scholarship in TigerTracks (under Online Services on the Financial Aid Tab) after it has been added to your account by the Scholarship Office.


(20) $200 Student Honors Scholarships
(3) $1,000 Fields Scholarships
Exhibition Jurored by John Hachmeister
John Hachmeister is an artist, art education and activist.
His art work has been exhibited in the United States, Costa Rica, United Kingdom and The Peoples Republic of China.  He recently had ceramic sculptures added to the permanent collections of the Sanbao International Ceramic Art Museum, Jingdezhen, China and the Guandong Shiwan Ceramics Museum, Foshan, China. He has had 73 One/Two Person Exhibitions and over 100 Groups Exhibitions.
 He has taught art at the Kansas City Art Institute, Johnson County Community College, and (for 25 years) the University of Kansas.
 His art activism includes serving as;

Director of Program for the Arts Incubator of Kansas City, Kansas City, Mo.
Founding Board of Directors of the Lawrence Creates Makerspace, Lawrence, Ks.
Arts Program Development, Kansas School for the Blind, Kansas City, Ks.
Director/Curator, the Garden of Eden, Lucas, Ks. (for 30 years)