Center for Entrepreneurship
Fall 2021 News
Entrepreneurship student testing venture concept and contributing to the community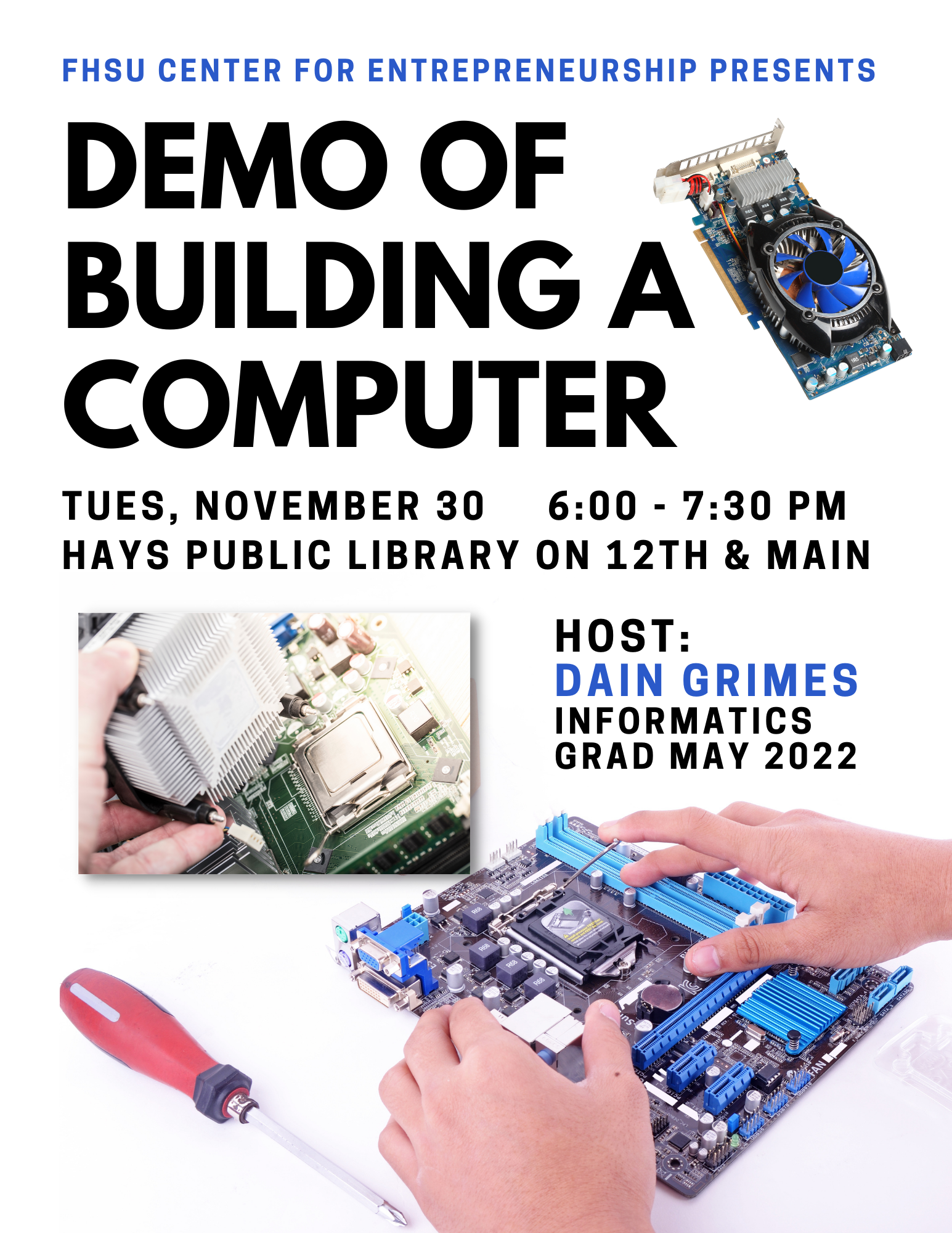 Teaching TikTok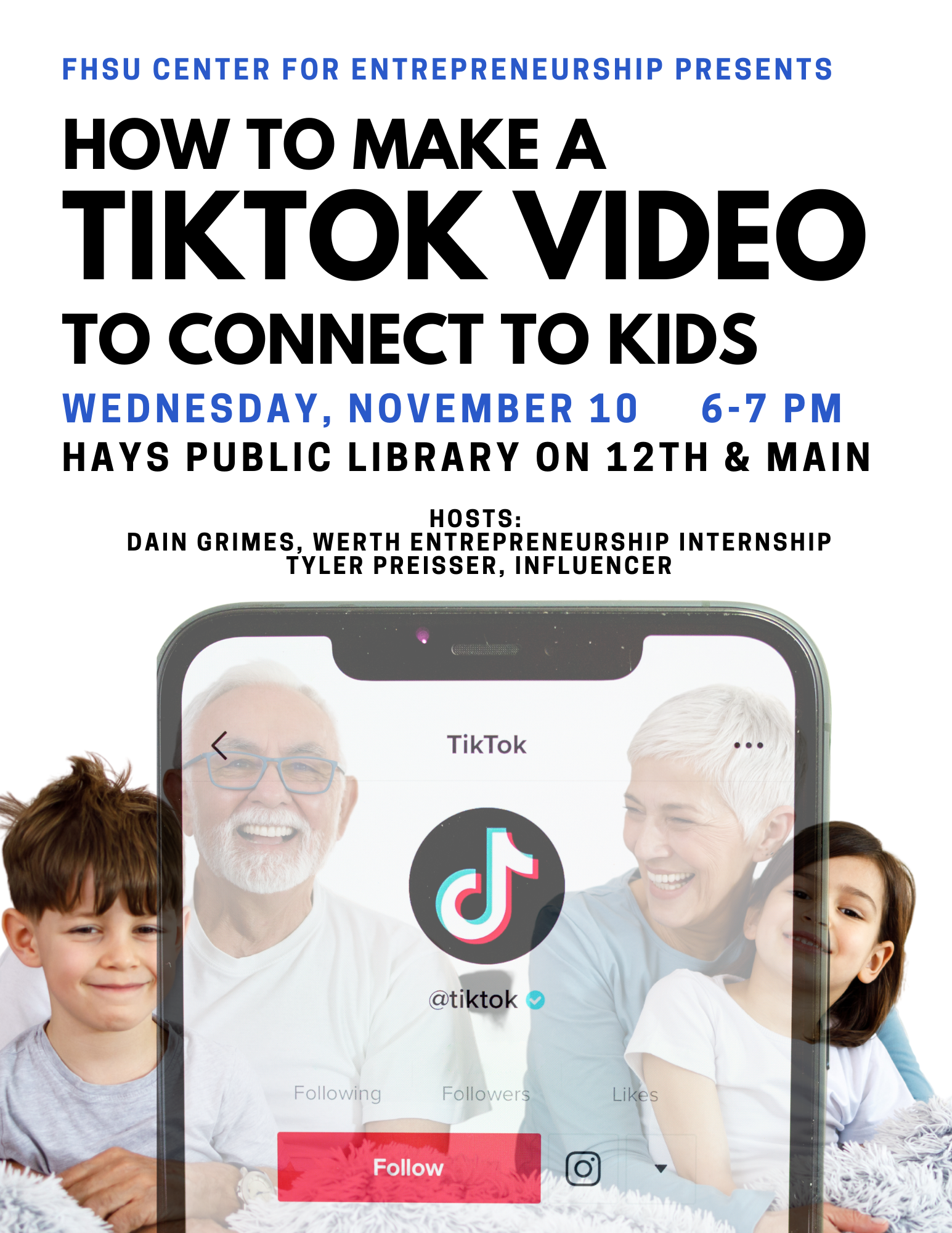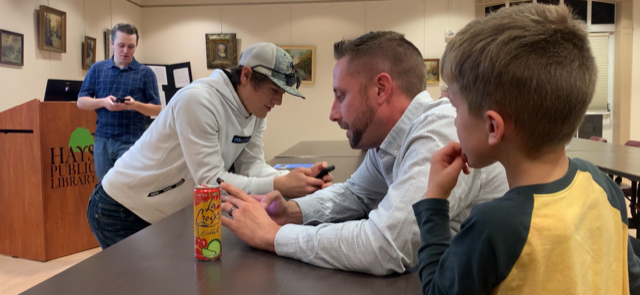 Hansen Hall resident Tyler Preisser and Informatics senior Dain Grimes led a free how-to workshop at the Hays Public Library. Tyler (in hat) teaches Dr. Greg Atkins and his son how to navigate TikTok.
New! Student-Engaged Research Underway
Major research on the residents of the Dane G. Hansen Scholarship Hall is in progress. A survey will be administered in November 2021 before 10 experiences in the spring curriculum and then afterward in May 2022. This "action research" project is intended to capture the impact from living as a "community of innovators." This research project is the first of its kind in the nation.
Dr. Talkington and Dr. Amidon were awarded an FHSU Undergraduate Research Experience grant to hire 2 student-researchers as assistants. Additionally, 7 students from the Kansas Academy of Mathematics and Science (KAMS) are deeply involved with the research preparation and execution as well as the production of an academic paper. The KAMS students are earning 3-credit hours from this rich experience. This research is groundbreaking in the area of developing entrepreneurial values in communities of students. The findings are predicted to be applicable to all kinds of communities of innovators – including research parks and innovation districts.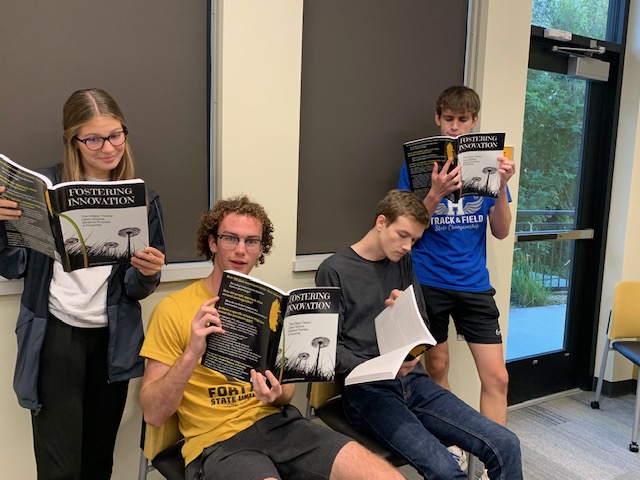 Photo: KAMS students beginning a literature review on communities of innovators. 
For more information on the many activities at the Dane G. Hansen Scholarship Hall and the online application to apply, visit this page: Dane G. Hansen Scholarship Hall
NEW! Werth Entrepreneurship Micro-Internships
Pilots for a new type of internship are underway. These paid micro-internships are entrepreneurial startup projects that empower individual students to launch their ideas. Micro-internships last 4-8 weeks during the academic year. As example, we have an entrepreneurship student who is working at the podcast studio inside BriefSpace (a co-working space in downtown Hays) and he has launched a podcast where he interviews startup founders who have monetized their gaming, podcasting, and streaming expertise (GPS). After each podcast, he teaches the live studio audience how to have fun with tech and how to play popular video games so they can connect with the youth in their lives.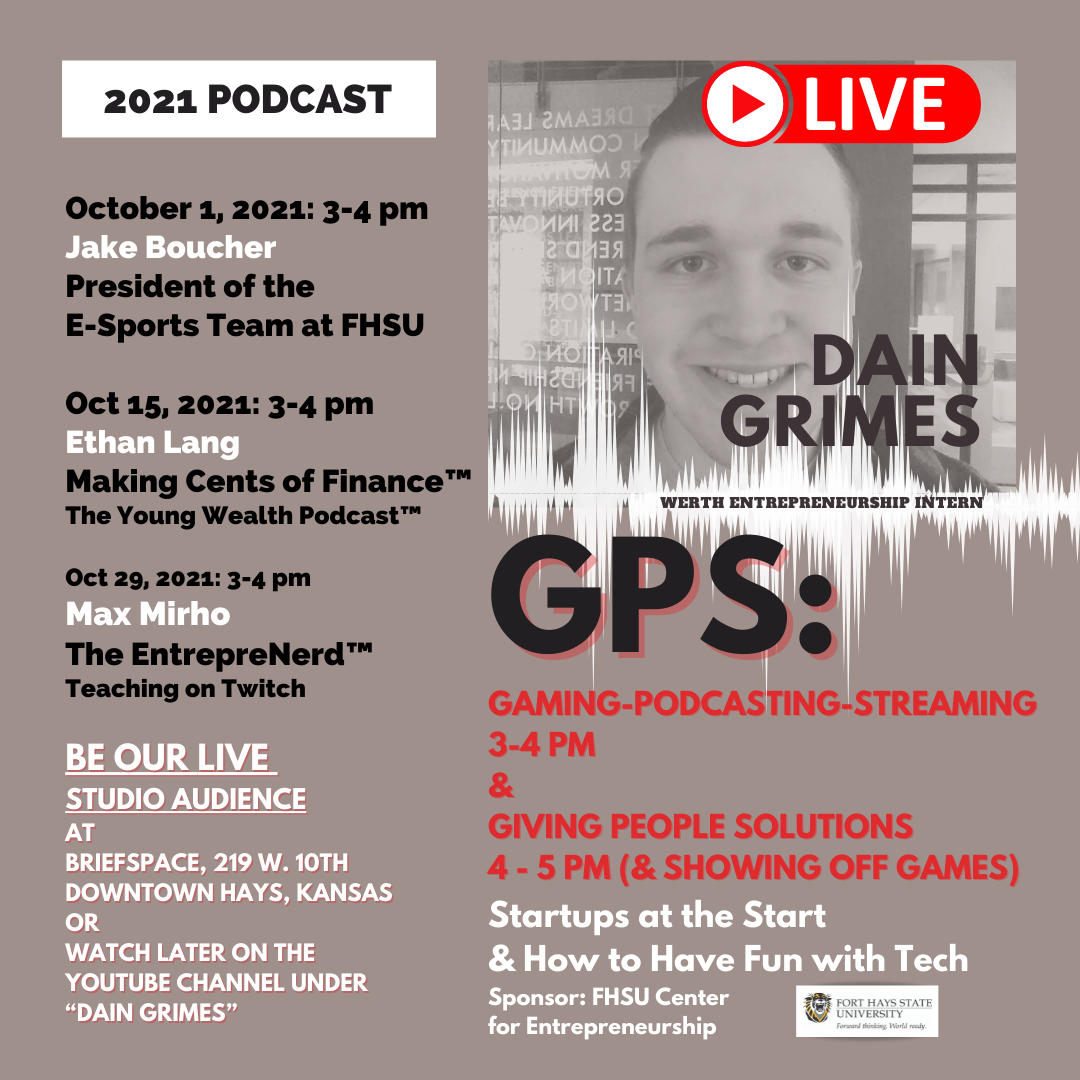 Three other internships are in the planning stages. Proposals are reviewed for consideration on an ongoing basis. Contact the CfE for more information. 
New Short Courses Supporting Entrepreneurship Competitions
Two new short courses (1-credit hour each) were developed by Dr. Rick Edgeman and Professor Henry Schwaller of the Management Department in support of the Kansas Startup weekend in November and The Faulkner Challenge in March. These address the need for preparing students to compete 'early and often' prior to completing their coursework in Entrepreneurship.
Dr. Edgeman's course - GBUS 673-B "Human-Centered Design" - spans two Saturdays October 9 and October 16. It can also be taken for FREE as a non-credit course. This is open to the community as well. This course is intended to prepare students for competing in the Kansas Startup Weekend in November. This material is also ideal for business owners wanting to rethink how to grow and prosper in the future.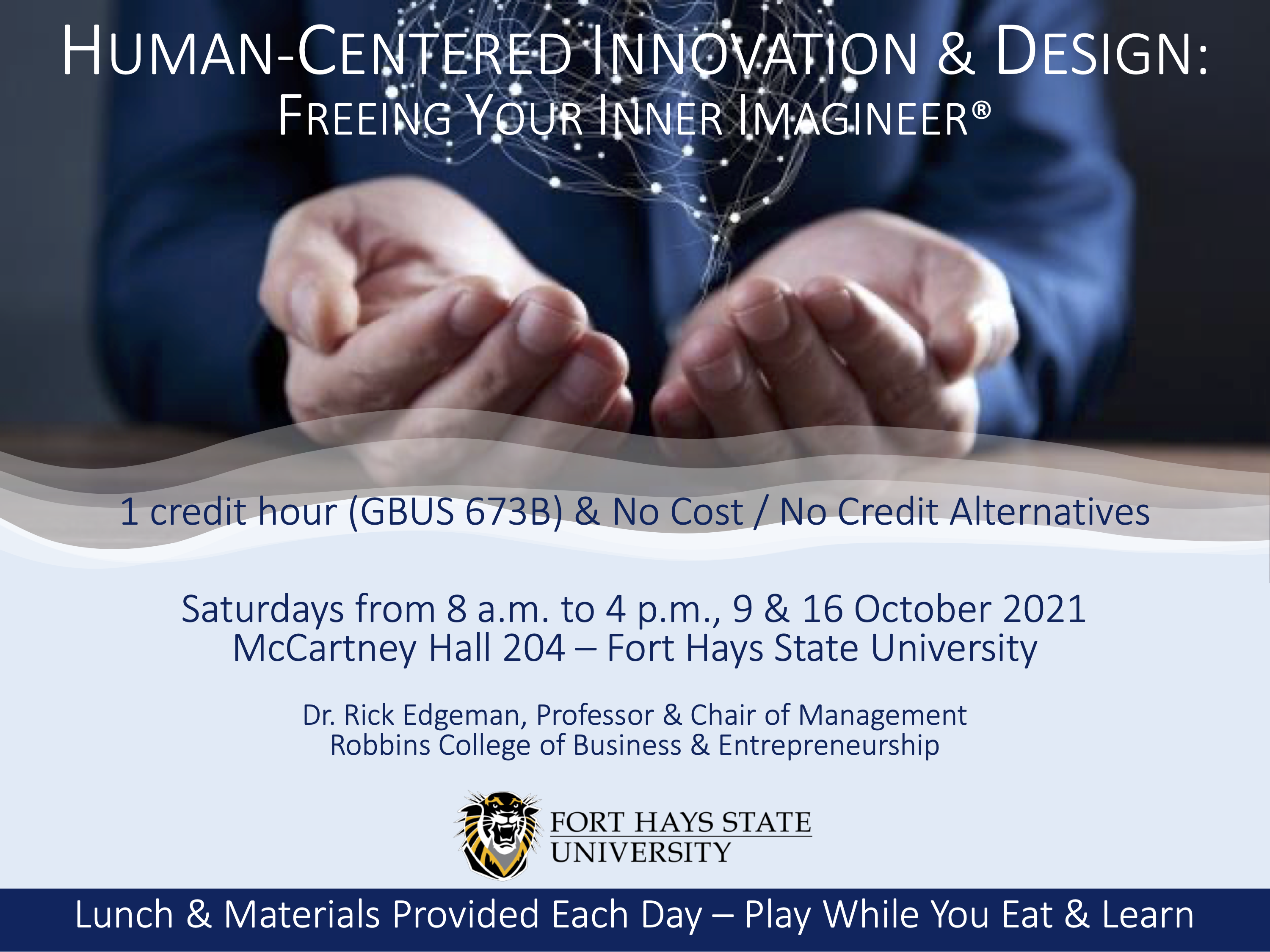 Professor Schwaller's course allows students to earn 1-credit hour from participating in Kansas Startup weekend November 12,13, & 14, 2021. Kansas Startup is open to any FHSU student from any major. Teams are created on-site thus making strangers into instant collaborators. This experience can ALSO be taken for 1-credit hour that counts toward the Entrepreneurship certificate. 
Kansas Startup - a weekend to remember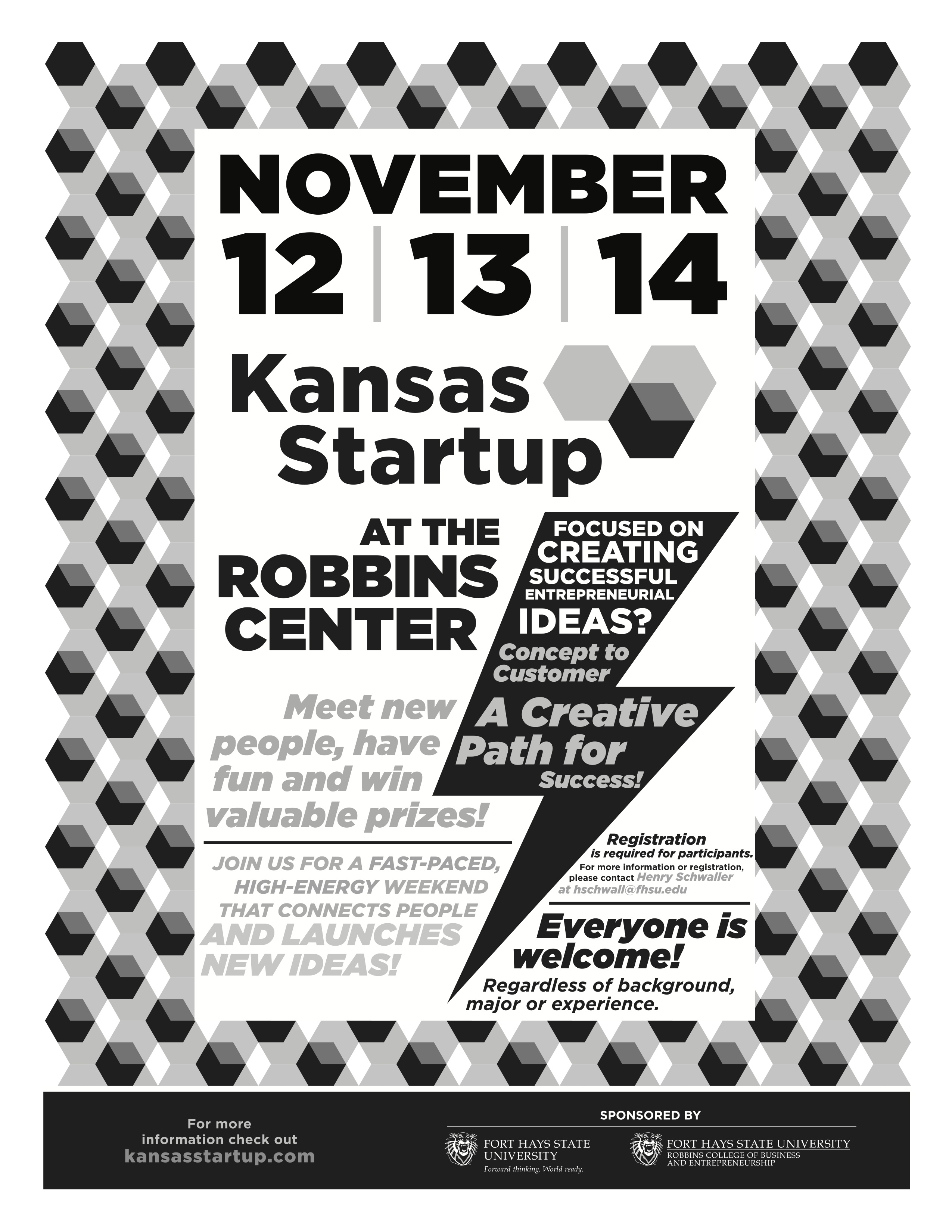 National Engagement with USASBE
Entrepreneurship educators share best practices through their trade association - United States Association of Small Business and Entrepreneurship (USASBE).  After participating monthly in the USASBE events, Dr. Talkington, the Interim Director of the CfE was selected as the Track Chair of the Innovative Programming track for the national conference for USASBE. This involvement in USASBE has already showcased FHSU among the thousands of members and exposure will broaden with the CfE's presence at the national USABSE conference at NC State University in Raleigh, NC in January 2022. 
Save the Date: Faulkner Challenge March 26, 2022
Planning for the $10,000 Faulkner Challenge business plan competition is underway. This competition will be open to all students across Kansas: high school, trade and vocational schools, community colleges, and universities. 
2020-2021 News
Dr. J.A. Talkington was named as the Interim Director of the Center for Entrepreneurship (CfE) in August 2020. She also serves as an Assistant Professor of Management. She holds a PhD in Environmental Science, an MBA, and a B.S. in Marketing and also brings a specialization in sustainability and innovation to the CfE. 
The Center for Entrepreneurship is directly involved with the Entrepreneurship Certificate. The Management faculty who teach Entrepreneurship courses are Dr. Kunal Sevak, Professor Henry Schwaller, Dr. Rick Edgeman, and Dr. Jane Talkington.
The CfE's directive for the 2020-21 academic year included mentoring of the residents of Hansen Hall, supporting Kansas Start-Up (Fall 2020) and facilitating The Faulkner Challenge (March 2021), collaborating on the new Entrepreneurship curriculum, and directing the social entrepreneurship project "Get Smart about COVID-19™" outreach.
The full story about Get Smart™ was published in an academic journal about sustainability,  The Solutions Journal. Read the whole backstory of this experimental and unique social entrepreneurial initiative.
The Johns Hopkins University Contacting Tracing certificate curriculum was utilized to educate the public and campus communities during the academic year 2020-2021. Six zoom workshops were delivered as a way to catalyze a science-based conversation about COVID-19. Over 60 FHSU students completed the certificate from Johns Hopkins University and some initiated their own outreach campaigns to qualify to apply for the Get Smart™ scholarship competition in April 2021.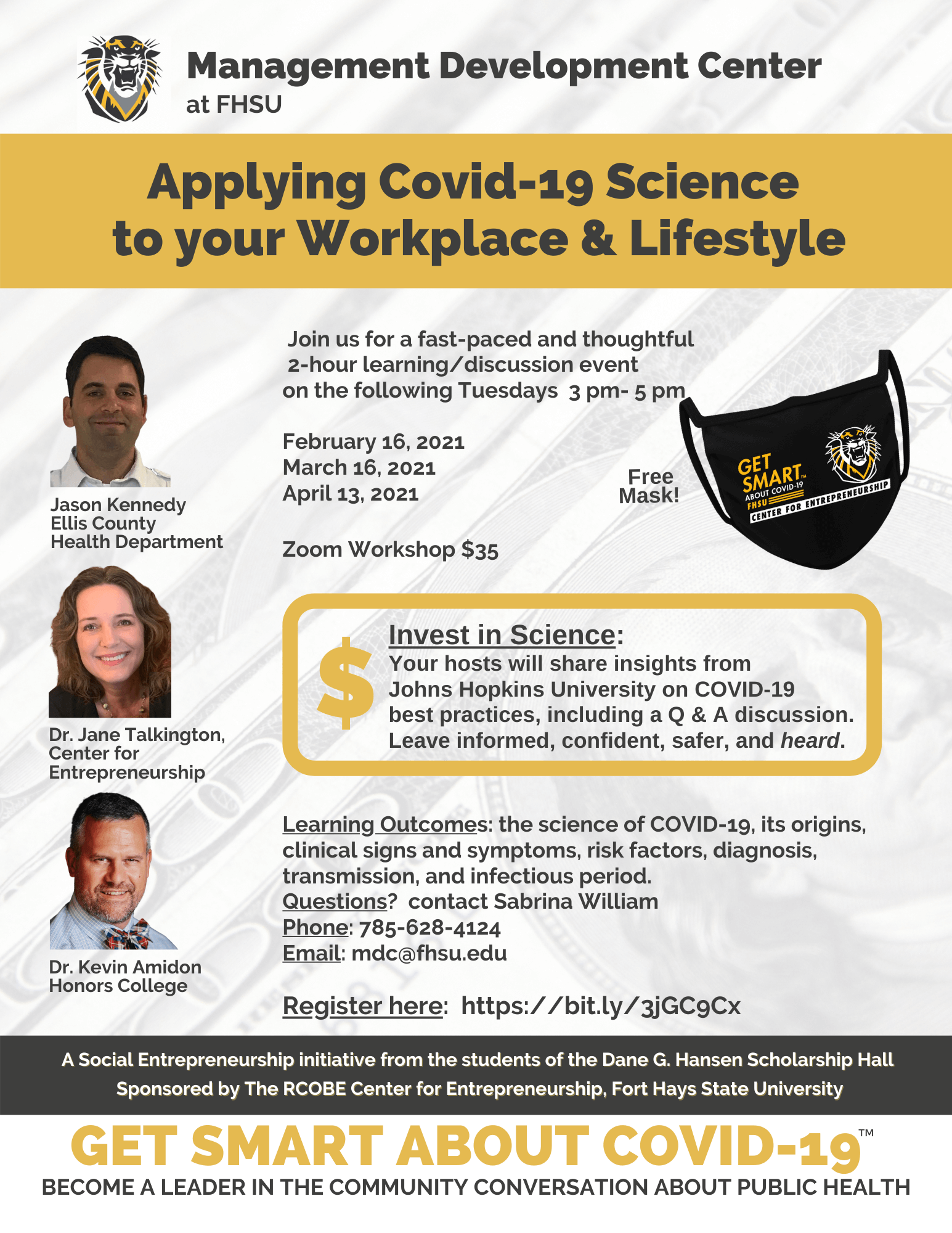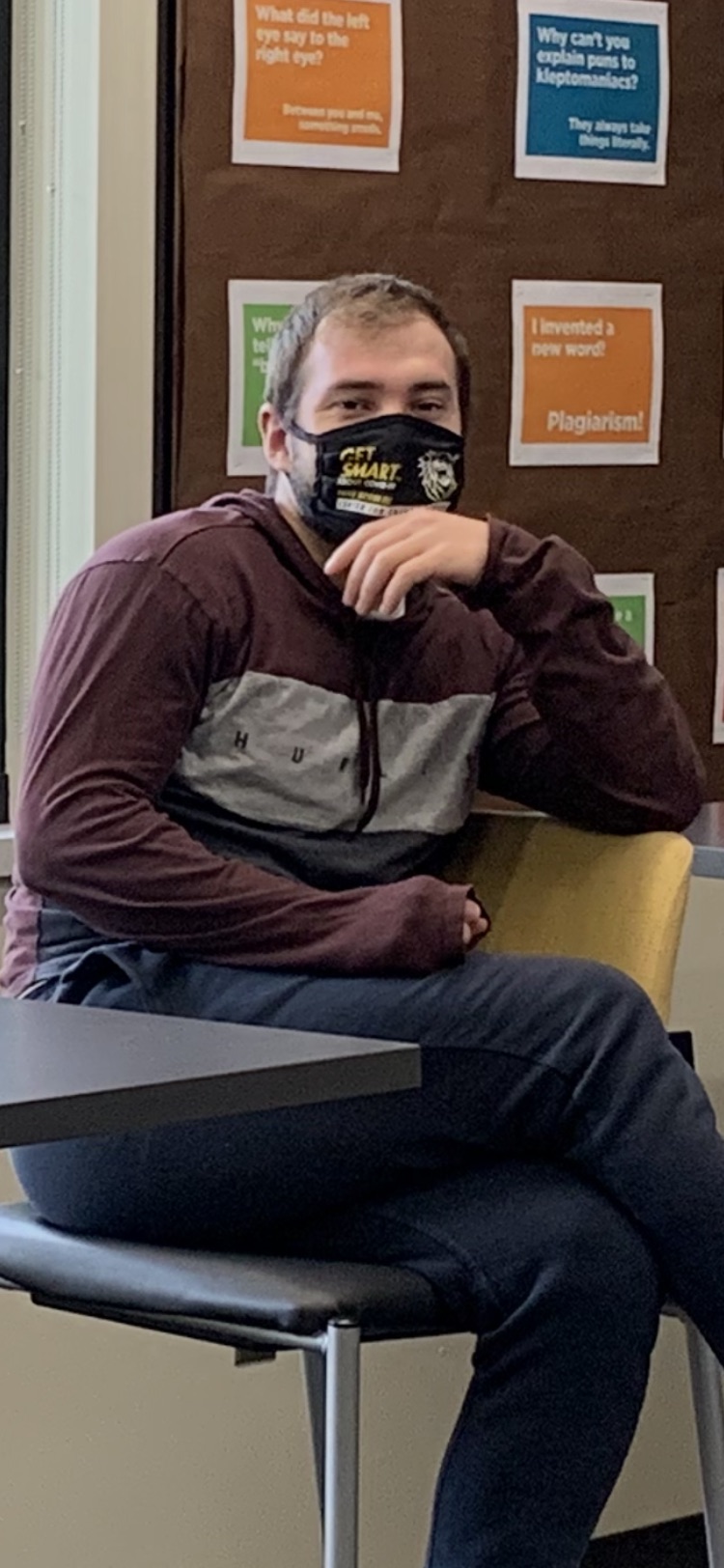 Ronald Storrer (pictured above) was ALL SMILES under the Get Smart™ face mask from being awarded the $1,000 Scholarship for his engagement in Covid-19 peer education.