Coming to a show?
Performance Location
All Encore Series performances take place in the Beach/Schmidt Performing Arts Center located inside Sheridan Hall on the Fort Hays State University Campus.
Sheridan Hall is located at 601 Park St, Hays, KS 67601.
    From I-70 take:
Exit 159 (US 183/Vine Street) South to 8th Street. Turn west on 8th Street to Park Street. Turn south on Park Street for parking OR
Exit 157 (US 183 Bypass) South to 8th Street. Turn east on 8th Street to College Drive or Park Street for parking.
General Information
All shows begin at 7:30 PM. Doors open 30 minutes prior to curtain time.
Please arrive 15-30 minutes before the start of the performance. Individuals will not be seated after a performance begins except at appropriate times during the program. Patrons may be asked to stand at the back of the hall or to sit in the unreserved seating section.
Wheelchair accessible areas are available in the Beach/Schmidt Performing Arts Center. Please let us know if seating in this area is required and if a guest will need a seat nearby.
To preserve the theater experience children 4 and under will not be admitted. Use discretion in deciding if programs are suitable for children 5-17 years in age; all children must have tickets.
Following each performance and at the end of the season, visit www.fhsu.edu/encore to provide feedback about the Encore Series.
Theatre Etiquette
All mobile devices must be turned off during all performances.
The use of cameras and recording devices during performances is strictly prohibited.
Please check all coats in the Coat Room ahead of the performance.
Please remain in your seat during the performance. Guests are encouraged to use the restroom before the show and during intermission.
No food or drink is allowed in the theatre and may only be consumed in the lobby.
Do not be afraid to laugh, applaud, and show your appreciation for the performers' hard work.
Please remain in your seat until the curtain call is over and the house lights have come up.
Please observe the rules of common courtesy. Be quiet during the performance, do not cut in line at the restroom, and respect the theatre-going experience of everyone around you.
Specially-designed hearing aids, using the stage sound system, are available at no cost. They may be obtained at the box office.

Large-type programs may be requested from the ushers at each performance.
Hotel Information
Staying overnight following a performance? We encourage you to support the Fairfield Inn by Marriott, the official hotel of the Encore Series.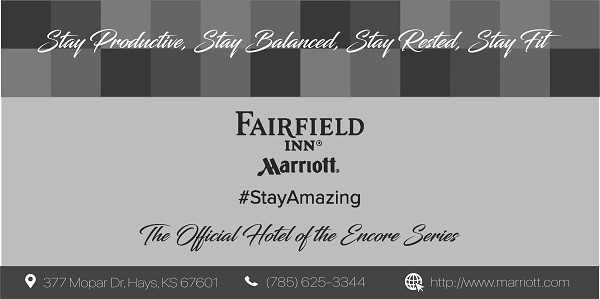 Fairfield Inn by Marriott
377 Mopar Dr., Hays, KS 67601
(785) 625-3344